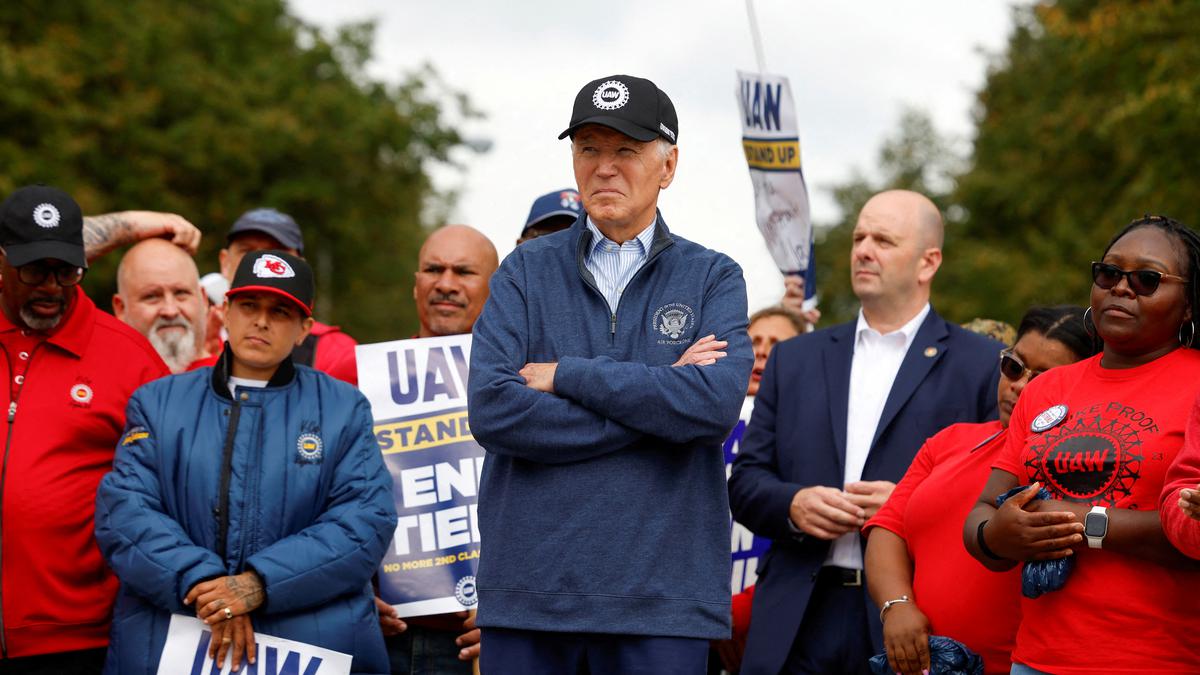 Joe Biden makes history by joining U.S. picket line
The Hindu
Biden, 1st sitting US Pres. to stand on picket line, joins striking auto workers in Michigan to pitch for blue-collar votes vs. Trump. Wearing UAW cap, he urged automakers to "step up" & agreed workers should get 40% increase. Trump visiting non-union plant, attacking Biden's "draconian" push for electric vehicles. Biden's "Bidenomics" message not getting through to voters, but he urges doubters to "stick with it."
Joe Biden became the first sitting U.S. president to stand on a picket line on September 26, joining striking auto workers in Michigan in a bold pitch for blue collar votes against likely election rival Donald Trump.
Wearing a United Auto Workers (UAW) union baseball cap, the Democrat used a bullhorn to tell red-shirted employees they deserved "a hell of a lot more than what you're getting."
His short but symbolic trip came a day before Republican former president Mr. Trump visits Michigan, the historic heart of the U.S. car industry and a key battleground for the 2024 election campaign.
"They're doing incredibly well and guess what, you should be doing incredibly well too," Mr. Biden said to cheers from placard-waving union members.
Sporting a blue zip-up top with a presidential seal, Mr. Biden urged automakers Ford, General Motors and Stellantis to "step up for us."
Mr. Biden then shook hands with union workers, closely watched by Secret Service agents, and agreed when asked if employees should get a 40% increase.
"It meant a lot," said Carolyn Nippa, 51, an inventory control employee at the GM plant after she fist-bumped the U.S. president.