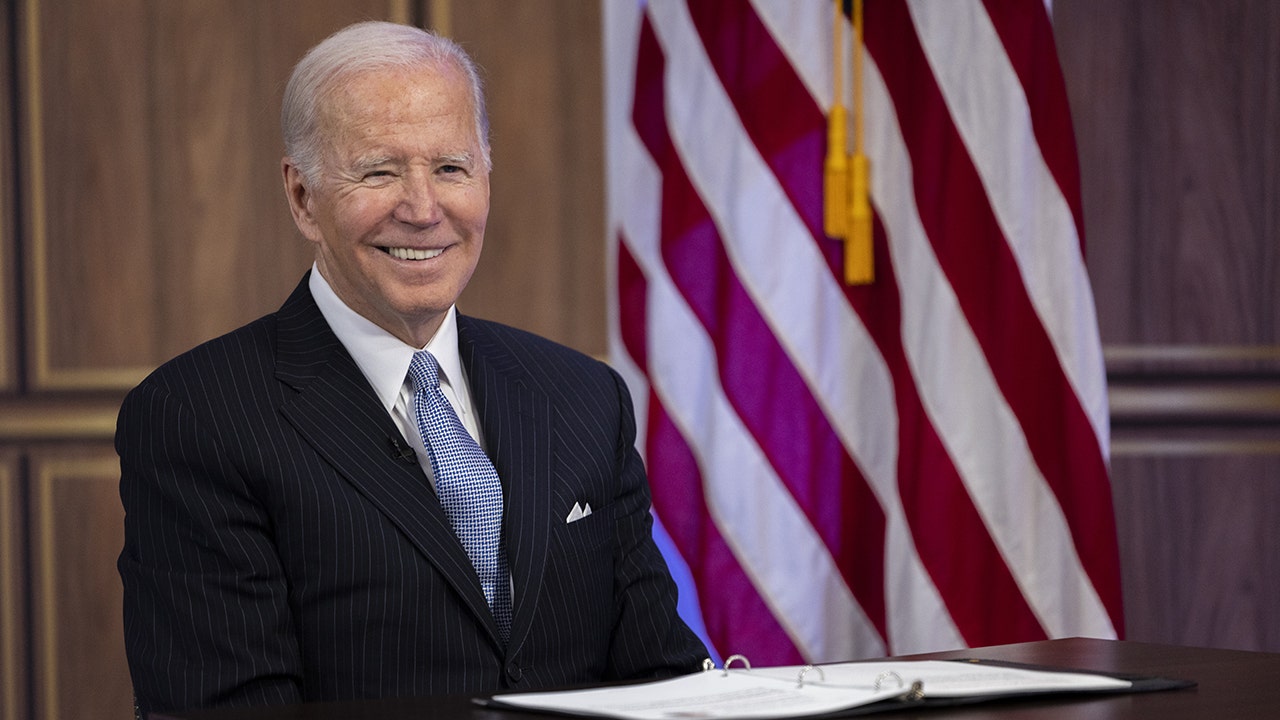 Joe Biden celebrates turning 80 years old day after Naomi Biden's White House wedding
Fox News
Joe Biden is celebrating his 80th birthday at the White House Sunday, becoming the only U.S. president to do so while in office. Biden's health and age are often questioned.
On Sunday, the president will be joined by First Lady Jill Biden and other family members at the White House for a birthday brunch, continuing their family tradition to meet the Wednesday before Thanksgiving, the Washington Post reported. President Joe Biden and First Lady Jill Biden attend the wedding of Peter Neal and Naomi Biden Neal on the South Lawn of the White House on November 19, 2022 in Washington DC. (Adam Schultz/The White House via Getty Images) Naomi Biden, 28, granddaughter of US President Joe Biden, and Peter Neal, 25, walk to the White House following their wedding on the South Lawn in Washington, DC, on November 19, 2022. (BRENDAN SMIALOWSKI/AFP via Getty Images)
The family is already in Washington, D.C. as they were gathered for Naomi Biden's wedding. She and Peter Neal were married at the White House on Saturday.
More Related News
Sen. Bob Menendez, D-N.J., was hit with a federal indictment Friday that alleges he and his wife were involved in a corrupt scheme that netted them hundreds of thousands of dollars.
FOX News contributor Jonathan Turley tells "America's Newsroom" that Sen. Bob Menendez' bribery charges will "rock" Washington D.C. as he is a "fixture" of the city.
Republican presidential candidate Nikki Haley was asked how former President Donald Trump would be remembered in 100 years, and she shared both positive words and some criticism.
Sen. Manchin plans a bipartisan resolution to reinstate Senate's dress code, following Schumer's recent relaxation of the rules to accomodate Democrat Senator John Fetterman.
Mayor Rolando Salinas of Eagle Pass, Texas, said President Biden bears some responsibility for the migrant crisis overwhelming his city and called for the government to enforce the law.
New Jersey Democratic Senator Bob Menendez and his wife will be indicted on bribery charges in connection with their corrupt relationship with New Jersey businessmen, prosecutors said.
A 911 call has been released capturing a South Carolina resident and F-35 fighter jet pilot asking for help following a crash over the weekend.
Police revealed two suspects were arrested in connection with a shooting after an Albuquerque Isotopes game on Sept. 6 that left one child dead.
The Biden administration says it will redesignate Afghanistan for Temporary Protected Status, granting additional deportation protections and work permits for thousands.
Investigators have shed light on the public housing system in Massachusetts, which seems to be mismanaging millions of taxpayer dollars without providing services to the needy.
The Justice Department says a contractor, who also worked for the State Department, faces espionage charges for allegedly sharing classified information.