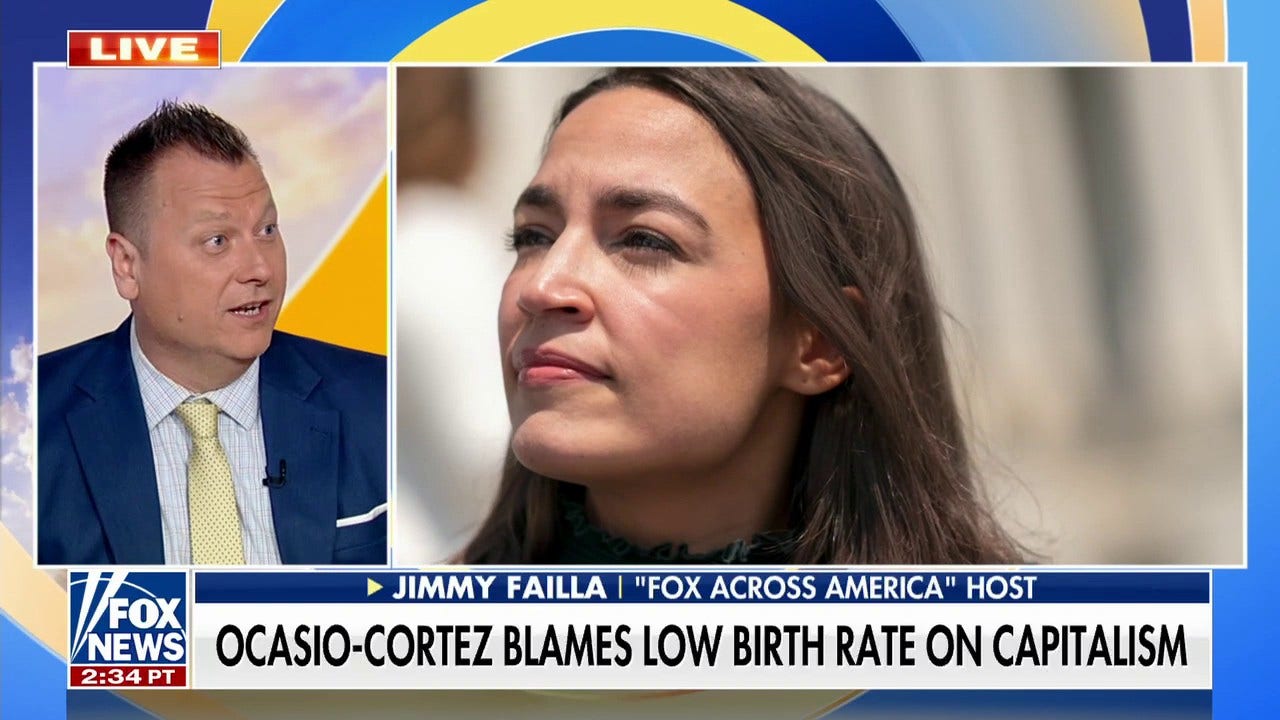 Jimmy Failla roasts AOC for new capitalism complaint: 'A low-IQ TikToker who happens to serve in Congress'
Fox News
"Fox Across America" host Jimmy Failla blasted Rep. Alexandria Ocasio-Cortez for her latest claim that the "burdens of capitalism" are leading to a low birth rate.
JIMMY FAILLA: You've always got to qualify this through the lens of, AOC is a low-IQ TikToker who happens to serve in Congress. Okay, when she says we need immigration because of Social Security and funding, stuff like that. Yes. But the caveat there is we need legal immigration, because legal immigration is what contributes to Social Security and funds the systems. What they're encouraging on the Democratic side of town is anything but legal immigration. But going one step further, young people aren't having kids. Yes, they're waiting longer. But also, your party is championing the idea of not having kids as a badge, abort them. They're walking around like that's a badge of honor now. We went from abortion is safe, legal and rare to like 'I'm so proud it's abortion Tuesday.'
WATCH THE FULL INTERVIEW BELOW:
More Related News
Philadelphia is banning guns at the city's recreational facilities, which have seen 300 gun violence incidents since 2019, officials said Tuesday.
Sen. Ted Cruz discusses how the Biden administration is being "racist" by not doing anything to remedy the situation at the border on "Jesse Watters Primetime."
Fox News host Tucker Carlson reacts to the gas leaks from the Nord Stream pipelines and analyzes what may have caused the incident on Tuesday's "Tucker Carlson Tonight."
GOP Sen. John Kennedy offers some Pelican State wisdom on "Jesse Watters Primetime" about what's really behind the crime surge in major cities across America.
An El Paso woman and a 15-year-old juvenile were arrested Monday in connection with a traffic stop earlier this month where authorities discovered a kidnapped infant.
A New York man has pleaded guilty to obstruction of justice and illegal possession of a weapon after he was found guilty of attempted kidnapping and trafficking.
Republican Gov. Brian Kemp of Georgia says he strongly supports the Atlanta Braves keeping their name. Kemp teamed up with Virginia Gov. Glenn Youngkin at a re-election rally
Former Secretary of State Mike Pompeo says he has a new mission – to battle what he terms is "a woke military," as the West Point graduate launches a campaign
The US Army fired Javeline anti-tank missiles from seven-ton robots during a series of war preparations at a recent exhibition in Fort Worth, Texas
Fox News host Jesse Watters shreds the Democratic Party over their handling of the crisis at the southern border on "Jesse Watters Primetime."
The "Special Report" All-Star panel offered predictions on the political implications of the national crime wave and sounded off on the government spending bill.