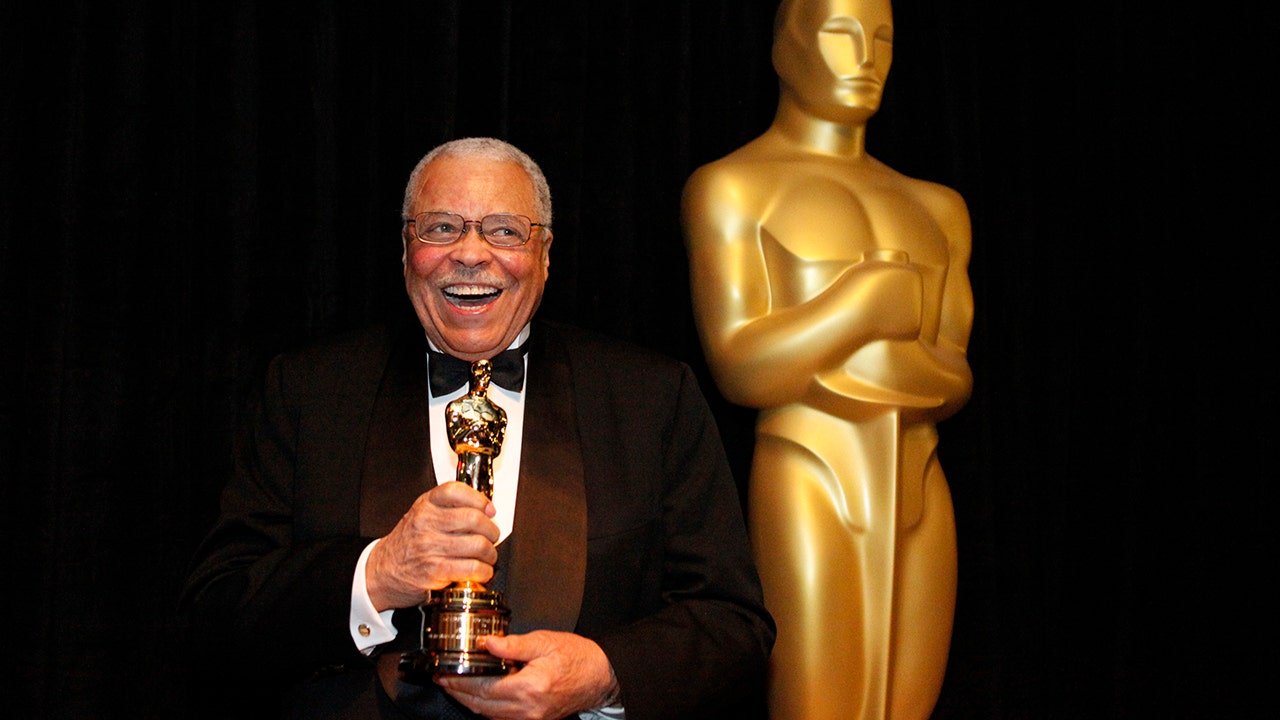 James Earl Jones, the legendary voice of Darth Vader, has officially retired from the role
Fox News
James Earl Jones has officially announced his retirement from voicing the Star Wars character Darth Vader, a role he has played for 40 years. He signed over rights to use his voice.
James Earl Jones with his honoroary Oscar at the 84th Annual Academy Awards show at the Hollywood and Highland Center in Los Angeles, CA on February 26, 2012. (Al Seib/Los Angeles Times via Getty Images) A Darth Vader helmet and mask from the film "The Empire Strikes Back" on August 28, 2019 in Calabasas, California on September 25 and 26. (FREDERIC J. BROWN/AFP via Getty Images) James Earl Jones at GQ Man of the Year awards, New York, October 21, 1998. (Steve Eichner/Getty Images) Close-up of American actor James Earl Jones, headphones on his head, as he speaks in a microphone in a recording studio, Hollywood, California, July 10, 1991. (Edmund Eckstein/Getty Images) In this June 12, 2016 file photo, James Earl Jones arrives at the Tony Awards in New York. (Charles Sykes/Invision/AP, File)
"He had mentioned he was looking into winding down this particular character," Matthew Wood of Lucasfilm told the magazine. "So how do we move forward?"
More Related News
Kindred Motorworks has revealed a new 1947-1953 Chevrolet 3100 pickup converted to run on electric power that it is now selling for prices starting at $159,000.
As a Hispanic American, I decided to live outside the race box and rejected getting into Harvard Law school by affirmative action. That's real freedom.
Twitter is losing more employees a day after CEO Elon Musk gave them a deadline to choose to work "hardcore" or resign with severance pay.
The Qatar government is expected to roll out a surprise ban the sale of beer at the World Cup tournament, which is set to begin in just two days.
Some parents in Washington state are incensed by a school district policy that permits teachers to withhold a student's preferred pronouns and gender identity from family.
Mayflower passenger Edward Winslow wrote the only contemporary account of the Pilgrims' first year in Plymouth, including the story of the first Thanksgiving in 1621.
Law enforcement authorities have reportedly raided the homes of a Nevada man who operated a website that published information on the secretive Area 51 military base.
At the COP27 U.N. climate conference, Jordan and Israel signed an agreement to conserve and protect the Jordan River. The river is nearly running dry due to climate change and pollution.
North American railroads created time zones to bring sanity to scheduling transcontinental travel on this day in history, Nov. 18, 1883. The system was quickly adopted around the world.
Cancer screenings are still lagging behind pre-pandemic levels. The interruption may likely cause a delay in disease diagnoses and proper treatment.
Crypto-kid Sam Bankman-Fried is being sued in Miami in connection with the implosion of his FTX currency exchange, of which Jeanine Pirro criticized.