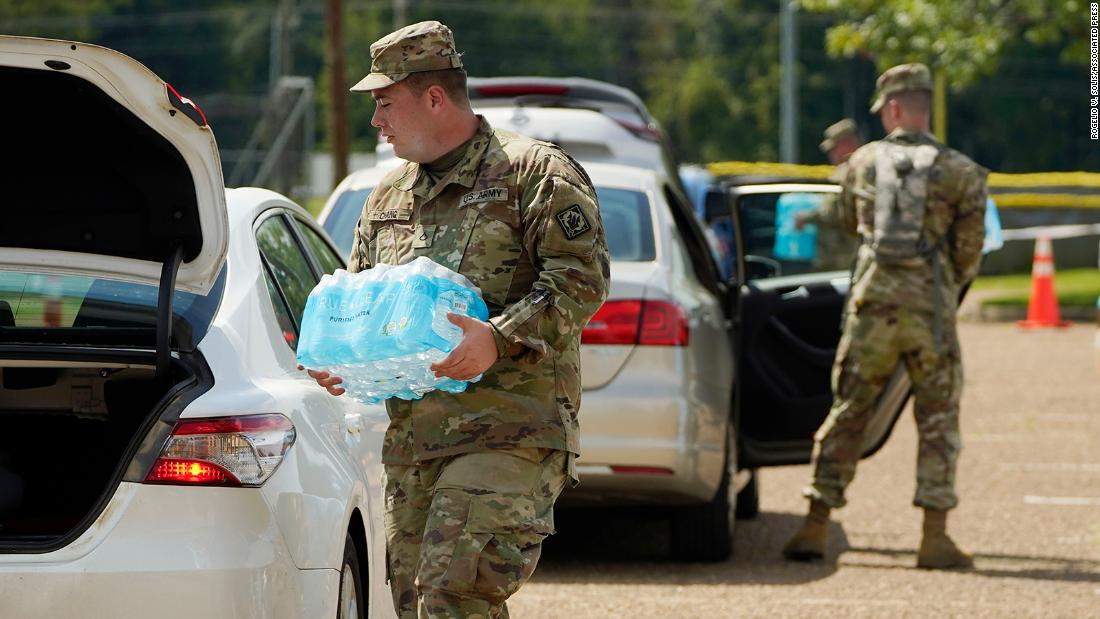 Jackson, Mississippi, residents file class action lawsuit against city over water issues
CNN
Four residents of Jackson, Mississippi, have filed a class action lawsuit against the city, the mayor, a former mayor and several others regarding the city's water issues.
The 99-page complaint filed last week is asking for an unspecified amount of relief to "remediate the harm caused by lack of access to safe water," it says.
The plaintiffs are also asking for the pipes to be fixed; water bills canceled or not collected on; a system to regularly test the water in the city; establish medical testing for lead in a person's body for residents who were exposed to the unsafe water; and establish community health systems.
More Related News
President Joe Biden on Friday presented Sir Elton John with the National Humanities Medal, surprising the music icon following a performance on the South Lawn of the White House.
The autopsy report for Elijah McClain, an unarmed Black man who died after a struggle with police in Colorado, has been changed in response to new evidence from a grand jury investigation, Adams County Chief Coroner Monica Broncucia-Jordan, confirmed Friday.
Director and screenwriter Perry discussed the making of "A Jazzman's Blues," a Netflix drama that weaves a murder mystery and love story into a larger tale about racism in the Deep South in the 20th century.
An Ohio man has been sentenced to prison for waging a 12-year campaign of violent threats against former "CSI: Miami" actress Eva LaRue and her daughter. He sent dozen of letters signed by "Freddie Kreuger," threatening to rape and kill LaRue and forcing her family to flee their home before the FBI finally caught him.
The Central Tonga Islands welcomed the birth of a new baby -- a baby island, that is.
The ninth named tropical storm of the 2022 Atlantic hurricane season has formed across the central Caribbean Sea, and forecasts show Florida may soon be impacted by its first major hurricane since 2018.
A dugout canoe used by indigenous people 3,000 years ago recently recovered from Wisconsin's Lake Mendota is the oldest canoe ever found in the Great Lakes region, the Wisconsin Historical Society said Thursday.
Months after Joe Biden's 2020 victory over Donald Trump in Michigan had been certified, and confirmed by audits and voting reviews, a clerk in rural Barry County received an unusual and confusing request from Matthew DePerno, an attorney in Kalamazoo.
When Newt Gingrich released the famed "Contract with America" in September 1994, it was chock-full of very big ideas.
Employees of the Department of Homeland Security Inspector General's office are calling on President Joe Biden to fire Inspector General Joseph Cuffari, according to a letter obtained by the Project on Government Oversight.
The National Republican Congressional Committee is canceling all their ad reservations in Ohio's 9th Congressional District, according to CNN's ad tracker AdImpact, a sign that Republicans are losing faith in J.R. Majewski's controversial bid to unseat Democratic Rep. Marcy Kaptur.