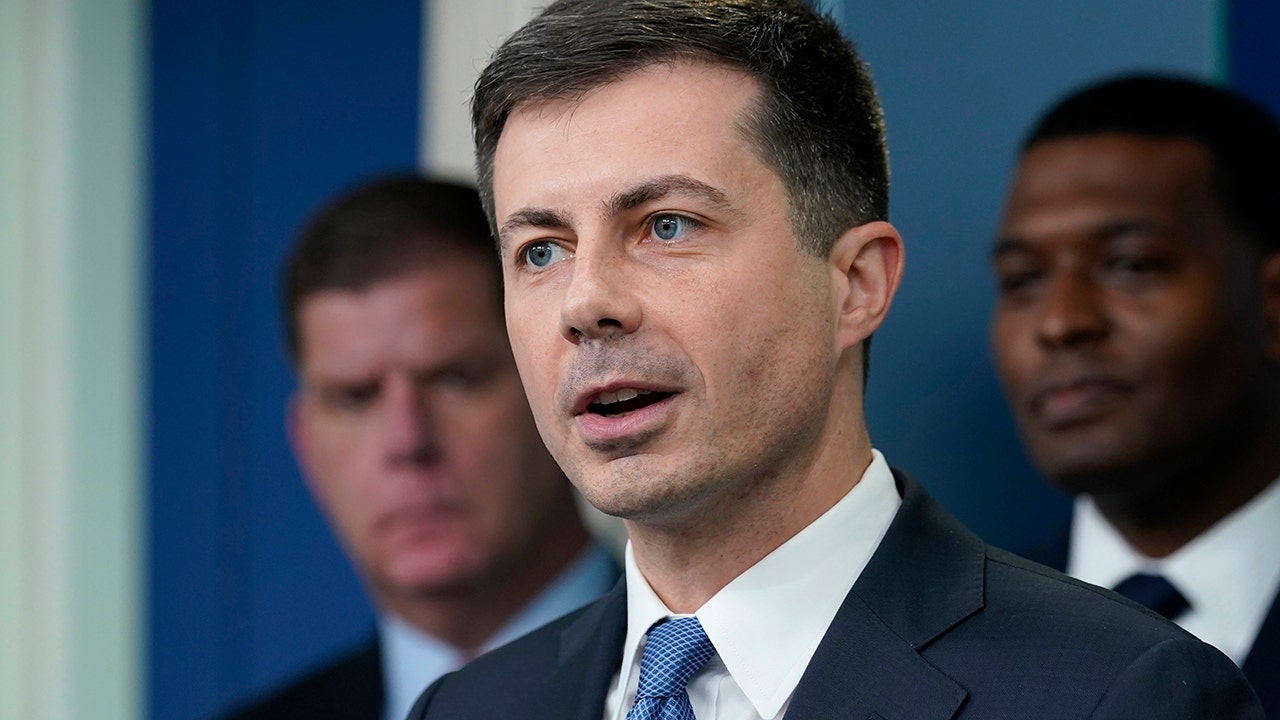 Is Pete Buttigieg's political future grounded forever after Southwest holiday travel disaster?
Fox News
Over the Christmas and holiday season, more than 16,000 flights were canceled. Transportation Secretary Pete Buttigieg has been under fire for the travel nightmare.
The Southwest fiasco was not the first blemish on Buttigieg's resume. It was the latest episode in a growing pattern of events. Pete Buttigieg (USDOT) Secretary of Transportation Pete Buttigieg speaks at the North American International Auto Show in Detroit, Wednesday, Sept. 14, 2022. (Associated Press) Transportation Secretary Pete Buttigieg appeared on ABC's "The View" on April 8, 2022 and discussed high gas prices and inflation. (Screenshot/ABC) Secretary of Transportation Pete Buttigieg and Chasten Buttigieg attend a reception ahead of the start of the Invictus Games The Hague 2020 on April 15, 2022, in The Hague, Netherlands. (Chris Jackson/Getty Images for the Invictus Games Foundation) Colin Reed is a Republican strategist, former campaign manager for Massachusetts Senator Scott Brown and co-founder of South and Hill Strategies.
Southwest and its leadership will face tough questions about their outdated technology and misplaced priorities. At the top of that list is their obsession with going green and shoveling millions of dollars toward "carbon neutrality" to appease the woke crowd. No word yet on how many emissions were saved this week amid the mass grounding of flights.
For Transportation Secretary Buttigieg, the headaches are only just beginning. Critics are questioning the credentials of a 40-year-old former mayor of a city of 100,000 residents to oversee an agency with nearly 60,000 employees.
More Related News
Vice President Kamala Harris came under intense scrutiny on Twitter after omitting right to "life" from a Declaration of Independence quote used in her speech.
On Monday former Nebraska Gov. Pete Ricketts was sworn in as the 100th U.S. senator, taking the place of former Sen. Ben Sasse, who retired to be president of the University of Florida.
Rarely had there been such intense scrutiny focused on the House of Representatives prior to the first week of January as lawmakers struggled to elect a speaker.
Former President Donald Trump will stop on Saturday morning in New Hampshire, the state that for a century's held the first presidential primary in the race for the White House.
World leaders converged on Davos, Switzerland, last week to talk about major issues including climate change, but traveled largely to the summit on private jets.
Hawaiian residents are leaving the islands to live in more affordable U.S. cities, after the median price for a single-family home in Honolulu increased to over $1 million.
The White House declined to say whether the DOJ will conduct a search of President Biden's Rehoboth, Delaware residence — a move legal experts say lacks transparency.
House Republicans proposed a bill that would punish leakers of Supreme Court material with a lifetime ban from the federal court system, after the leak of a high-profile opinion last year.
Texas GOP Senator Ted Cruz is reintroducing his bill to reinstate military service members who were fired under the Biden administration's COVID vaccine mandate and give them back pay.
The U.S. Coast Guard intercepted a 50-foot boat carrying 396 migrants near a remote island located between Florida and Cuba, officials in the Bahamas said.
On Saturday, Americans learned that still more classified documents had been found in a Biden residence. This is the fifth time documents have been discovered since November.