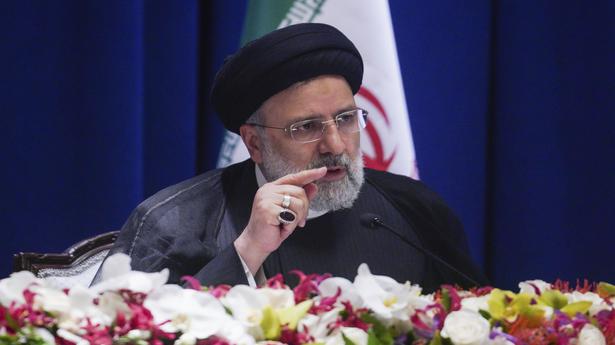 Iranian leader vows 'steadfast' probe of young woman's death
The Hindu
Iran's president says the death of an Iranian woman in the custody of the country's morality police for violating the dress code must be "steadfastly" investigated
The death of an Iranian woman in the custody of the country's morality police must be "steadfastly" investigated, Iran's president said Thursday, even as he turned the tables on the country he was visiting for the U.N. General Assembly and asked: What about all the people killed by American police?
"Did all these deaths get investigated?" Ebrahim Raisi said at a news conference held in New York on the sidelines of the annual meeting of the world's leaders. He lamented what he said were "double standards" in the West with regards to human rights.
Of Mahsa Amini's death, which has produced clashes between protesters and security forces in Iran, he said authorities were doing what they needed to do.
"It must certainly be investigated," he said. "I contacted her family at the very first opportunity and I assured them we would continue steadfastly to investigate that incident. ... Our utmost preoccupation is the safeguarding of the rights of every citizen."
Clashes between Iranian security forces and protesters angry over the death have killed at least nine people since the violence erupted over the weekend, according to a tally Thursday by The Associated Press. Iranian police say Amini, detained for violating the morality police's strict dress code, died of a heart attack and was not mistreated. Her family has cast doubt on that account.
The scope of Iran's ongoing unrest, the worst in several years, still remains unclear as protesters in more than a dozen cities — venting anger over social repression and the country's mounting crises — continue to encounter security and paramilitary forces.
Mr. Raisi, who addressed the General Assembly formally on Wednesday, pointed out that bad things happen to people at the hands of authorities everywhere.
More Related News
Unveiling the edition of the TMC mouthpiece 'Jago Bangla', Ms. Banerjee also took on social media trolling and alleged that outsiders had been hired to spread misinformation
The victim's father alleged while speaking to media persons that the 'bulldozer action' had destroyed evidence
President of India Droupadi Murmu was accorded civic honour by Hubballi Dharwad Municipal Corporation(HDMC) on September 26
Congress general secretary in charge of communications Jairam Ramesh also shared what he said was a police complaint by Kerala MP Hibi Eden against a particularly "vicious bhakt"
Both the Congress and Communists are trying to be on the same line to face BJP at the national level, says Congress leader
'Regional parties controlled by families can never ensure speedy development of State'
The latest editorial of People's Democracy has quoted Ms. Banerjee's statements at press conferences and said that she "has been making some new discoveries recently".
A case had been registered last week based on a complaint by the woman anchor of a YouTube channel