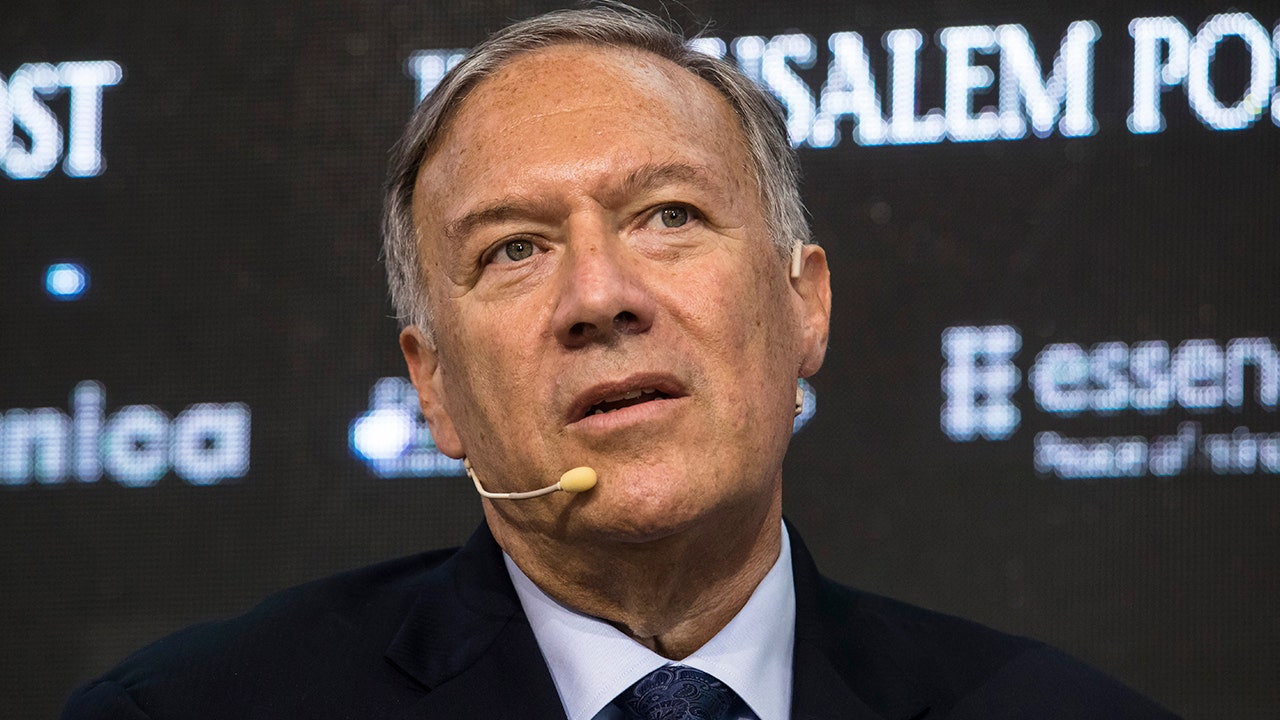 Iran again threatens to assassinate Pompeo: 'Live in fear'
Fox News
Twitter accounts tied to the Iranian government and the daughter of former Iranian military leader Qassem Soleimani threatened Trump Secretary of State Mike Pompeo.
"[P]ompeo whines about Iran on Saudi TV. Home of 9/11 plotters," Zainab Soleimani tweeted Friday, adding, "Live in fear liar." The tweet included an image depicting Pompeo in a cage.
Soleimani's message was repeated in Arabic two days later by a Twitter account affiliated with the Iranian government. That account tagged Zainab Soleimani, referring to her as the daughter of the "martyr" Qassem Soleimani. That post featured an image of Pompeo with crosshairs on his head and flames coming from below.
More Related News
The Ukrainian Recovery Conference says Ukraine's continued progress on human rights and LGBT inclusion "will be essential" to Ukraine's recovery after Russia's invasion.
Pope Francis shot down rumors that he will soon resign and said he is planning to visit Canada this month. He hopes to then travel to Moscow and Kyiv.
Four Christian ministers spoke to Fox News Digital about a new Gallup poll that shows 81% of Americans believe in God, which is the lowest rate ever recorded.
Former CNN anchor Chris Cuomo broke his Instagram silence after sharing photos and videos from Ukraine several months after being fired from the network.
A Ukrainian missile strike hit the Russian border city of Belgorod on Sunday, killing three and damaging dozens of buildings, Russian authorities are claiming.
July 4th should be a time for Americans to reflect on the cost of war, what we demand from the men and women in our military and the toll that takes on them.
An advisor to Ukraine President Volodymyr Zelenskyy has predicted Lysychansk, the last remaining stronghold in Luhansk, could soon fall to Russian forces. Russia's military previously captured its sister city Sievierodonetsk.
Russian President Vladimir Putin has waged 'economic terrorism' in Ukraine by deploying landmines throughout farmlands outside of Kyiv.
White House economics adviser Brian Deese told CNN the 'future of the liberal world order' justified high gas prices, referring to the war in Ukraine.
Pope Francis, in a Spanish-language interview with Argentina's national news agency, dismissed the United Nations as "powerless" to affect meaningful change or preserve peace.
North Korea claims those with COVID-19 contracted the disease after they came in contact with balloons flown from South Korea, with South Korea denying the claim.