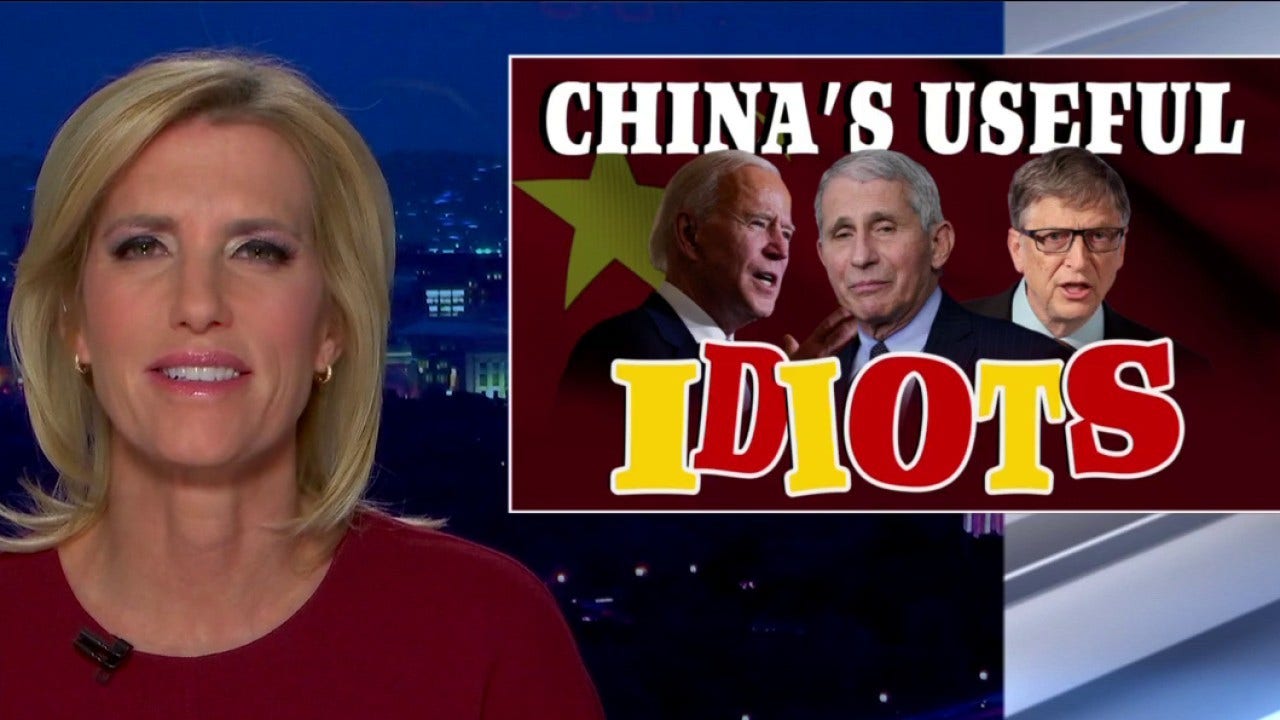 Ingraham accuses Fauci, Gates of being 'apparently fine with a forever pandemic'
Fox News
Dr. Anthony Fauci and Microsoft founder Bill Gates have become "useful idiots" for the long-term economic goals of the Chinese Communist Party, Laura Ingraham argued Tuesday night.
Earlier Tuesday, Washington Post columnist David Ignatius asked Fauci: "When do you think for us here in America, life is going to get back to something like normal? Is that September, November? Is it next year? What do you think?" "You cannot give a definite answer when you have so many moving parts ... when you give a definitive time and it doesn't work out, they say, 'Oh, the scientists were wrong. They gave us wrong information,'" Fauci responded, later adding: "If we really want to talk about true approaching normality, then we've got to attack this at the global level ... whenever there is transmission and viral outbreaks throughout the world, the United States will always be in danger, no matter what we do."
More Related News
The Catholic Archdiocese of Los Angeles released a statement responding to the LA Dodgers' decision to re-invite an anti-Catholic drag group to Pride Night.
Russian propagandist Vladimir Solovyov has a secret family with basketball star Svetlana Abrosimova and is reportedly the father of twins she gave birth to in 2017.
Wagner chief Yevgeny Prigozhin warned there could be a revolution in Russia if Moscow does not start taking the war in Ukraine more seriously.
The U.N. cultural agency has approved a new addition to its world heritage registrar with hundreds of records documenting people who were enslaved in the French colonial empire.
Israel's top military official warned Iran that Jerusalem, along with its allies, have the ability to strike Tehran's nuclear program as the security threat in the region remains high.
Mike Pence and 107 other former world leaders signed a letter to President Biden and his counterparts calling on them to get tough on Iran and support Iranian protesters.
Russia said it has squashed an attack in its Belgorod region by anti-Putin groups after fighting lasted 24 hours and some 70 attackers were reportedly killed.
Syrian President Bashar Assad was welcomed back into the Arab League for the first time in more than a decade, as regional states look to end the country's status as an international pariah.
President Biden's announcement that the U.S. will join Ukraine's fighter jet coalition marks the latest backtrack from the White House on what military aid is necessary.
Thousands of United Methodist Church congregations have voted on whether to stay as debates over the role of LGBTQ people in the church continue.
The Superhumans Center in Lviv aims to become Ukraine's first venue for reconstruction surgeries by adding prosthetics and offering rehabilitation to those injured.