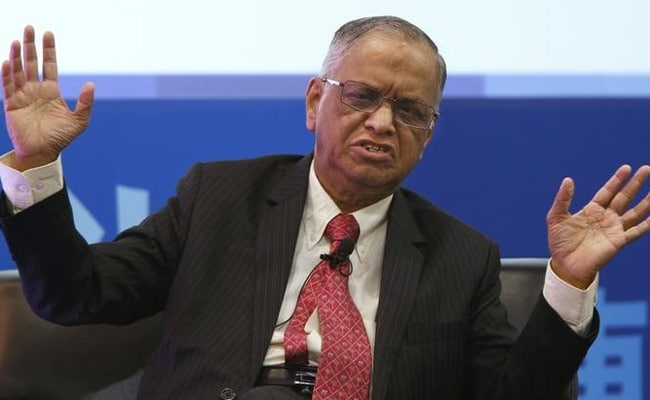 India "Stalled" During Congress-Led UPA Era, Says Narayana Murthy
NDTV
Narayana Murthy said when he left HSBC (in 2012), India's name hardly found a mention during meetings, while China's name was taken nearly 30 times.
N R Narayana Murthy, co-founder of IT giant Infosys, on Friday lamented that economic activities in India were "stalled" and decisions were not taken by the Manmohan Singh government in time in the Congress-led UPA-era.
During his interaction with young entrepreneurs and students at the Indian Institute of Management - Ahmedabad (IIMA), Mr Murthy expressed confidence that young minds can make India a worthy competitor of China, the world's second-largest economy.
"I used to be on the board of HSBC in London (between 2008 and 2012). In the first few years, when China was mentioned two to three times in the boardroom (during meetings), India's name would be mentioned once," said the well-known businessman in response to a question on where he sees India in the future.
"But unfortunately, I don't know what happened (to India) afterwards. (Former PM) Manmohan Singh was an extraordinary individual and I have tremendous respect for him. But, somehow, India stalled (during UPA-era). Decisions were not taken and everything was delayed," said Mr Murthy.
More Related News
PFI wing Social Democratic Party of India said ban by BJP government "direct blow on democracy and rights of people enshrined in IndianConstitution"
The prime minister said he looks forward to working together to strengthen bilateral relations.
PM Modi will inaugurate the first phase of the Mahakaleshwar Temple Corridor project on October 11.
The prominent intersection in Ayodhya named after Lata Mangeshkar will be virtually inaugurated by PM Modi today.
S Jaishankar said that a large part of his deliberations with Antony Blinken were devoted to the strengthening of their bilateral relationship.
Delhi Crime: According to police, the incident took place on Monday when the junior resident doctor was conducting a regular check up of all the inmates.
A government notification saidthe PFI and its affiliate organisations orfronts have been declared "unlawful association" with immediate effect under the Unlawful Activities (Prevention) Act (UAPA).
India Covid Live: The death count climbed to 5,28,562 with 32 fatalities which includes 22 deaths reconciled by Kerala, according to the Union health ministry.
As per police records, both the killed terrorists were categorized terrorists and were linked with the proscribed terror outfit Jaish-e-Mohammed (JeM).
The High Court of Jharkhand was hearing a criminal writ petition filed by the woman who claimed that she is being forced to marry a man double her age by her relatives.
The complaint also names at least seven other content creators, and police said that a search is on to arrest them.