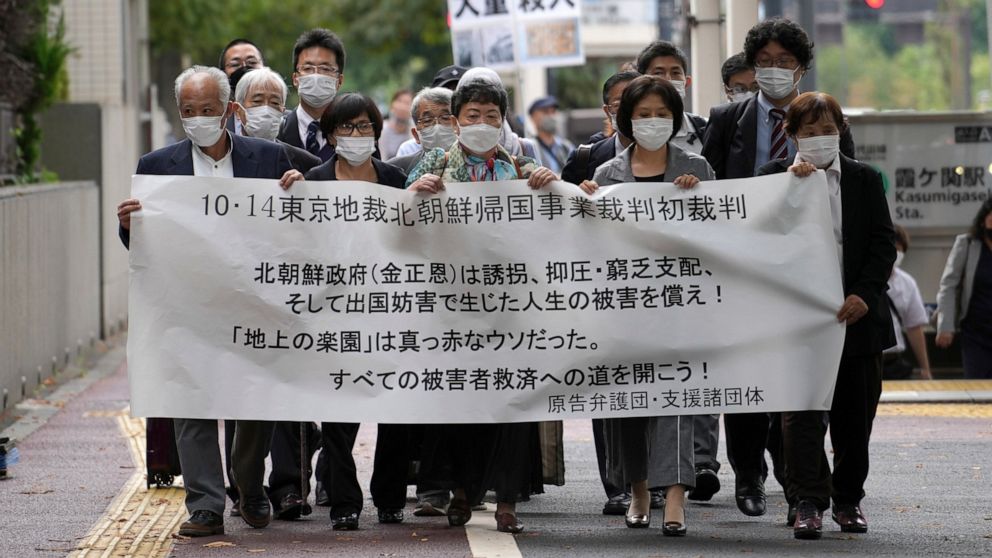 In Japanese court, 5 ask N. Korea to pay for their suffering
ABC News
A Japanese court is hearing from five people who say there were promised "paradise on Earth" in North Korea but suffered instead and now want the country to compensate them
TOKYO -- A Japanese court on Thursday is hearing from five people who say there were promised "paradise on Earth" in North Korea but suffered human rights violations instead and now want the country and its leader Kim Jong Un to compensate them.
The hearing became possible after the Tokyo District Court in August agreed to summon Kim Jong Un to speak, according to Kenji Fukuda, a lawyer representing the plaintiffs. They are not expecting Kim to appear or to compensate them if the court orders it, but Fukuda hopes the case can set a precedent for negotiations between Japan and North Korea on seeking the North's responsibility and normalizing diplomatic ties.
Hundreds of thousands of Koreans came to Japan, many forcibly, to work in mines and factories during Japan's colonization of the Korean Peninsula — a past that still strains relations between Japan and the Koreas.
In 1959, North Korea began a massive resettlement program to bring overseas Koreans home and to make up for workers killed in the Korean War. The program continued to seek recruits, many of them originally from South Korea, until 1984.
More Related News
In the capital of Ethiopia's Tigray region, a year of war and months of government-enforced deprivation have left the city of a half-million people with a rapidly dwindling stock of food, fuel, medicine and cash
Taiwan's president has paid her respects at a morgue to the dozens of people killed in a deadly inferno that ripped through an aging tower block earlier in the week
The leader of outgoing German Chancellor Angela Merkel's party has urged supporters to emulate the unity and discipline of their victorious opponents
Leaders from across the political spectrum have come together to pay tribute to a long-serving British lawmaker who was stabbed to death in what police have described as a terrorist incident
The Islamic State group says its members are responsible for a deadly suicide bombing on a Shiite mosque in southern Afghanistan
Indonesian authorities say three people were killed and another seven were injured when a moderately strong earthquake and an aftershock hit Indonesia's resort island of Bali