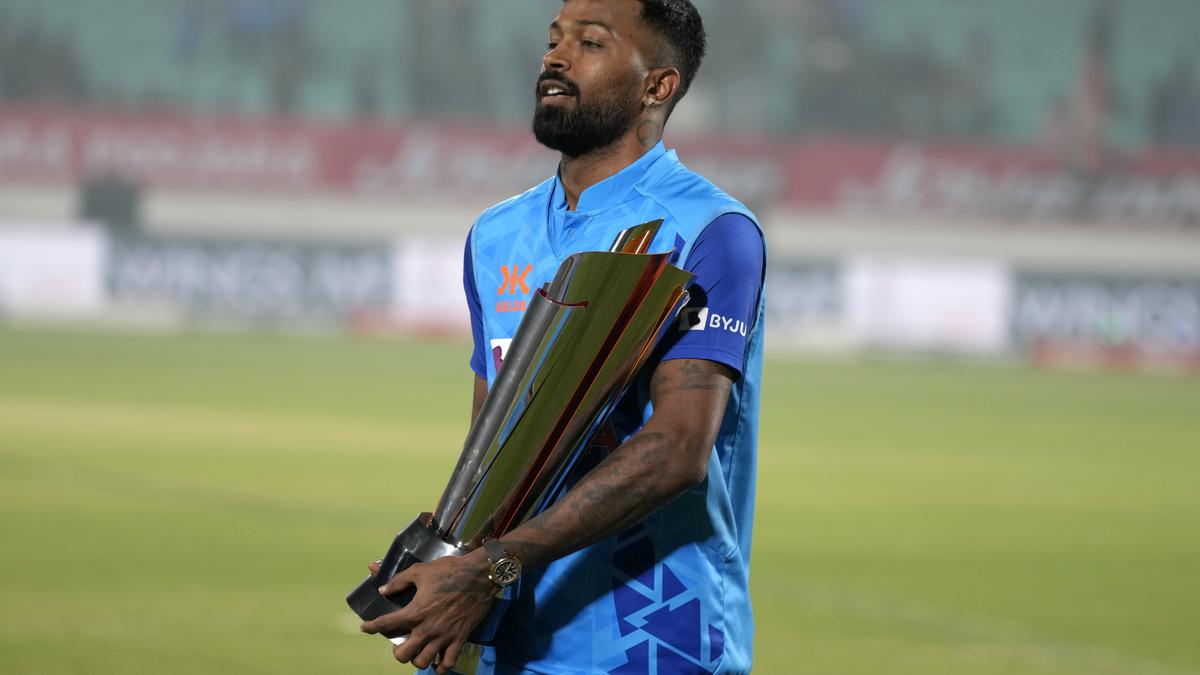 If I am a bowler, I will be disheartened with shot he plays: Hardik Pandya on Suryakumar Yadav
The Hindu
Hardik Pandya lauded Suryakumar Yadav in the post-match presentation ceremony after win over Sri Lanka in a knock of 112 not out of 51 balls to power India
Suryakumar Yadav has earned the plaudits of his skipper Hardik after playing a match-winning knock of 112 not out of 51 balls to power India to a 91-run win over Sri Lanka in the third and final T20I to clinch the three-match series 2-1 here at the Saurashtra Cricket Association Stadium on Saturday.
"He has been surprising everyone and making everyone know that batting is very easy. If I am a bowler, I will be disheartened with the shot he plays. He has played blinders after blinders," said Hardik Pandya about Suryakumar Yadav in the post-match presentation ceremony.
Playing just his second international match Rahul Tripathi played a quickfire knock of 35 of just 16 balls hitting five fours and two sixes to help India in scoring a massive 228/5 in 20 overs." Special mention to Rahul Tripathi as well, who played so well with the ball moving. Don't need to tell much to Sky much, whenever he finds a situation when he is not sure, we try to find a solution. More often than not he has been doing it all on his own," said Hardik Pandya.
Axar Patel was consistent with both bat and ball throughout the series and therefore bagged the 'Player of the series award'. The southpaw slammed a half-century in the previous match and also scored 21 off 9 balls in the third T20I. With the ball too he chipped in with a wicket of Kusal Mendis to give India the first breakthrough in the match. "Very proud of Axar. This series will give him a lot of confidence. It adds a lot of value to the team as well," said Hardik Pandya.
Hardik Pandya-led side has registered a 2-1 T20 series win over Sri Lanka and will go into the ODI series high on confidence as Rohit Sharma will lead the campaign in the first match in Guwahati on Tuesday.
More Related News
Asian Games | India 1-0 Bangladesh: late Sunil Chhetri strike keeps India alive in Asian Games, Dheeraj Singh and Marma's heroics keep game alive before Chhetri's winner
MRF MMSC FMSCI Indian National Car Racing Championship (INCRC) 2023 resumes at Madras Int'l Circuit with 50+ entries. 13 races incl. Formula 2000, 1500, LGB 1300, Touring Cars & MRF Saloons (Toyota Etios). Practice, qualifying & races on Fri, Sat & Sun. T.S. Diljith (DTS Racing) & Raghul Rangasamy (MSport) lead Super Stock & Formula LGB 1300 categories respectively.
Rohan Bopanna, 43, is an elder statesman of Indian tennis. He is excited to lead the pack at the Asian Games and wishes to inspire the next generation to push all limits. He believes that faith and belief are the only things that matter for success. He is an outspoken advocate of rewarding merit without caveats and feels there should be clear criteria for achievement in each sport. He is open to different roles if it makes a difference to the sport and athletes.
PM Modi to lay foundation stone of int'l cricket stadium in Varanasi on Sep 23. He'll also inaugurate 16 Atal residential schools built across U.P.
Antim Panghal shocks reigning champ, enters semis of World Championship. Can still earn Olympic quota if she wins bronze medal bout. Won 1st 3 bouts of day, outplayed Parrish 3-2, Zasina by technical superiority, Malysheva 9-6.
ISL opens 10th season; Indian team under-prepared for Asiad match vs. Bangladesh; AIFF & FDSL need better comms for sport to thrive; Mohun Bagan, Mumbai, Bengaluru, Goa & Odisha look strong; tight battles expected.
Marc Marquez finally got his visa and will arrive in India for the inaugural MotoGP race this weekend. Most riders have already reached or are en route to the country. Reigning champion Francesco Bagnaia, his chief rival Jorge Martin, and KTM rider Jack Miller visited the Buddh International Circuit on Wednesday. Martin trails Bagnaia by 36 points and will look to reduce the lead.
Indian team to compete in Deaf World Tennis Championship in Greece. Chief coach optimistic of good performance. Prithvi Sekar spearheading team, competing in World Railways Games. Team to feature individual events, singles, doubles, and mixed doubles. Jafreen Shaik and Bhavani Kedia to compete in all three events. Arshit and Sivaji Pilla to try to assert their game in World Championship.
As the city sleeps, footballers across the city are dribbling and tackling their way around a six-day work week by being on the ball
The Hindu's Morning Digest brings readers a select list of stories to start the day