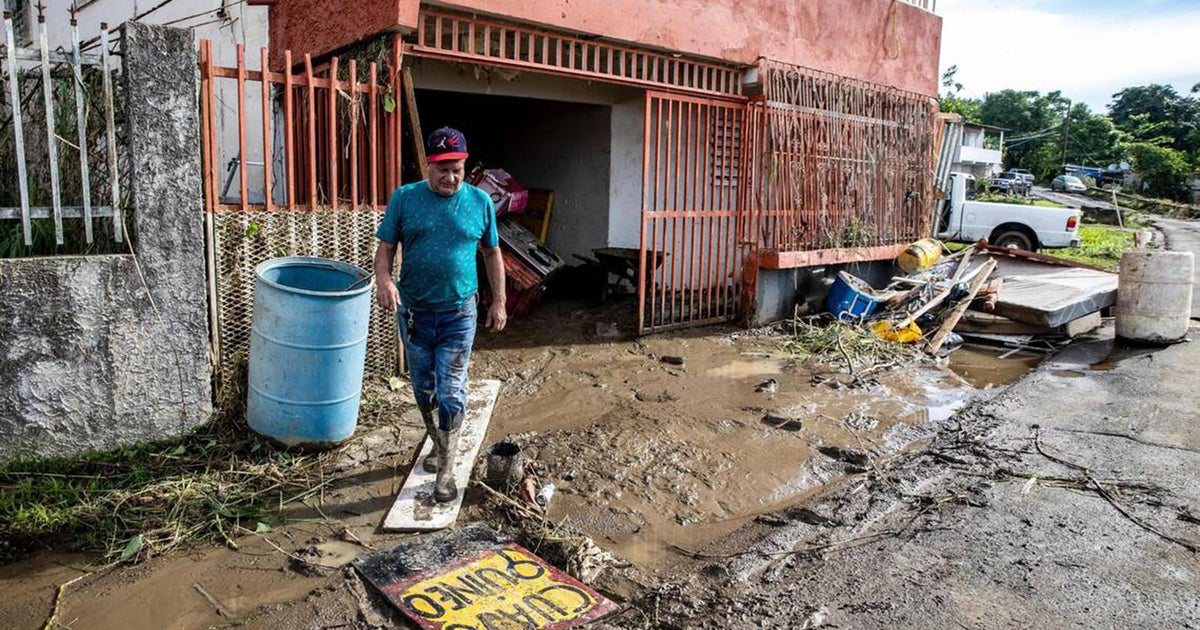 Hurricane Fiona closes in on Bermuda as Category 4 storm; Thousands in Puerto Rico still without power
CBSN
After causing major destruction in Puerto Rico — and then hitting the Dominican Republic and Turks and Caicos Islands — Hurricane Fiona was scheduled to pass close to Bermuda late Thursday as a Category 4 storm. Bermudan authorities were opening shelters and announced schools and offices would be closed Friday.
As of Thursday evening, the U.S. National Hurricane Center said Fiona had maximum sustained winds of 130 mph. It was centered about 305 miles southwest of Bermuda, heading northeast at 20 mph.
Hurricane-force winds extended outward up to 70 miles from the center and tropical-storm-force winds extended outward up to 275 miles.
More Related News
Mexico City — A powerful earthquake with a preliminary magnitude of 6.8 struck Mexico early Thursday, causing buildings to sway and leaving at least one person dead in the nation's capital. Residents huddled in streets as seismic alarms blared.
United Nations — Speaking in English to the 193-nation United Nations General Assembly, Ukrainian President Volodymyr Zelenskyy delivered a pre-recorded message to a standing ovation, with the exception of the Russian delegation and a handful of other countries, in the Hall filled with world leaders and his own wife, first lady Olena Zelenska.
French authorities are investigating threats against an exiled Russian dissident after he reported seeing a laser sight light in a possible assassination bid, a source close to the probe said on Tuesday. Vladimir Osechkin, who leads the Gulagu.net NGO that specializes in uncovering abuses in Russian prisons, is a refugee in France and is based in the resort town of Biarritz on its southwest coast.
Hurricane Fiona blasted the Turks and Caicos Islands on Tuesday as a Category 3 storm after devastating Puerto Rico, where most people remained without electricity or running water. Hurricane conditions slammed Grand Turk, the small British territory's capital island, on Tuesday morning after the government imposed a curfew and urged people to flee flood-prone areas.
Fiona strengthened into a major hurricane as it barreled toward the Turks and Caicos Islands Tuesday, prompting the government of the British territory to impose a curfew.
Before he became King Charles III, the eldest son of Queen Elizabeth II held the title Prince of Wales for longer than anyone in history.
King Charles III and Queen Elizabeth's other three children will be joined by the Prince and Princess of Wales, Prince George, Princess Charlotte, Prince Harry and Meghan and several others in walking in the procession behind her coffin at her funeral on Monday, according to the order of service released Sunday night by Buckingham Palace.
Official mourning for Queen Elizabeth II, the U.K.'s longest-reigning monarch, culminates Monday morning with her state funeral in Westminster Abbey in London. The guest list for the service includes around 500 foreign dignitaries, including about 100 heads of state — President Biden among them — and after years of planning, an extensive security operation is being put to the test.
The EU presidency on Saturday called for the establishment of an international tribunal for war crimes after new mass graves were found in Ukraine.
All eight of Queen Elizabeth II's grandchildren stood in silent vigil beside her coffin Saturday, capping another huge day in which thousands came to pay their respects to the monarch. Many had huddled in line amid waits that stretched up to 16 hours, enduring London's coldest night in months.