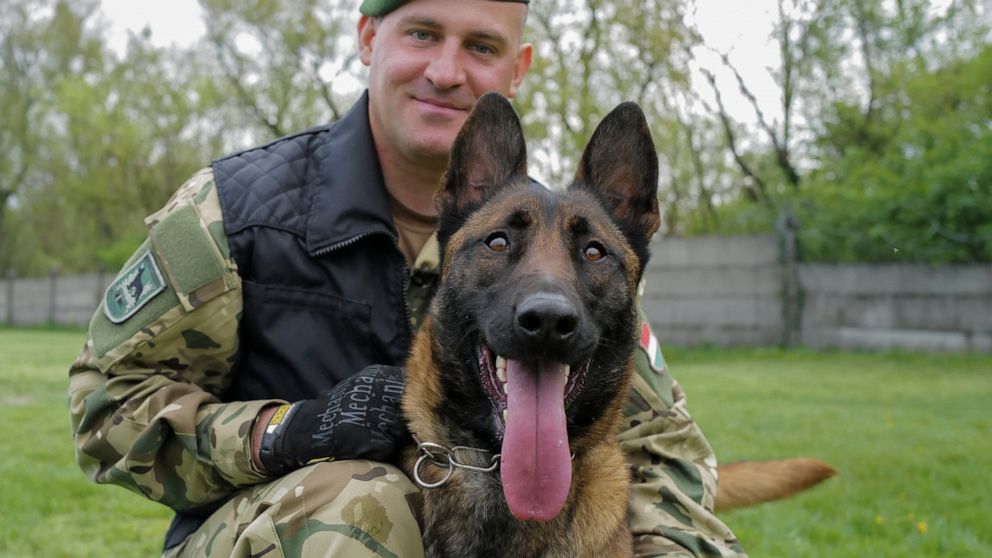 Hungary's military finds mission in life for abused dog
ABC News
Hungary's military has found a new mission in life for a talented dog who was rescued from abusive owners
BUDAPEST, Hungary -- Hungary's military has found a new mission in life for a talented dog who was rescued from abusive owners, recruiting 2-year-old Logan to serve in counterterrorism operations for an elite bomb squad.
The Belgian shepherd is undergoing intensive training as an explosives detection dog for the explosive ordnance disposal and warship regiment of the Hungarian Defense Forces.
At the unit's garrison on the Danube River in the capital Budapest, Logan receives daily socialization and obedience exercises, and is trained to recognize the smell of 25 different explosive substances.
"He has already started to learn how to smell explosives in a completely homogeneous environment, and he has also started to learn how to search motor vehicles and ships," said Logan's trainer, Sgt. 1st Class Balazs Nemeth.
More Related News
The head of the U.N.'s World Food Program is telling billionaires it's "time to step up" as the global threat of food insecurity rises because of Russia's war in Ukraine
British Prime Minister Boris Johnson has been shadowed by career-threatening scandal for months — but so far has escaped unscathed
U.S. President Joe Biden has met with families of Japanese citizens abducted by North Korea decades ago to show his support for their efforts to win the return of their loved ones
A French government spokeswoman says there will be "zero tolerance" for sexual misconduct by members of French President Emmanuel Macron's newly named government
Ukrainian President Volodymyr Zelenskyy is calling for "maximum" sanctions against Russia during a virtual speech at the World Economic Forum gathering in Davos, Switzerland
The latest edition of the World Economic Forum has kicked off in Davos, Switzerland
Russian forces are bombarding a key city in eastern Ukraine with artillery and missiles in an attempt to take more of the Donbas region
Australia's new prime minister has been sworn into office ahead of a Tokyo summit with President Joe Biden
The Philippine coast guard says a ferry carrying more than 130 people caught fire while approaching a northeastern province and many people escaped by jumping into the sea
An Indigenous migrant who was accused of kidnapping and jailed in a northern Mexico border city has returned to her homeland of Guatemala as a free woman after spending more than seven years in prison without a sentence
Gangs are fighting each other and seizing territory in Haiti's capital with a new intensity and brutality