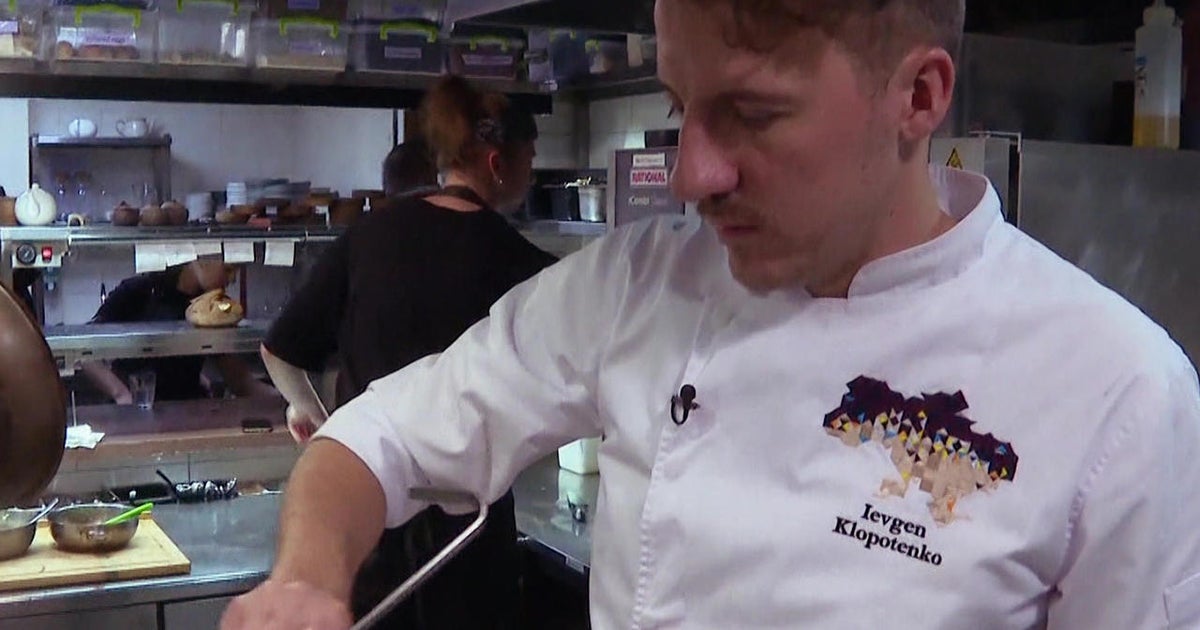 How Ukrainian chef Ievgen Klopotenko defends his country: With food
CBSN
Ukraine's most famous chef, the ebullient Ievgen Klopotenko, is acclaimed for reviving old recipes from before the Soviet era and serving them up to a fashionable crowd in his award-winning Kyiv restaurant, 100 Rokiv. His signature dish is Borsch – the hearty vegetable soup that's enjoyed across Eastern Europe and Russia, but which Klopotenko asserts originated in Ukraine.
In February, before his country went to war, Klopotenko explained to correspondent Holly Williams that Ukraine and Russia, while they have shared history, are moving in very different directions. "Yeah, we are running," he said. "We want to show to the world that we are Ukrainians. We are not Russians."
"You're different?"
More Related News
Iran has sentenced a person to death for taking part in the protests that have engulfed the country since mid-September, the judiciary's news agency said on Monday. The unnamed person was charged with starting a fire at a government building, among other things.
The family of jailed Egyptian-British rights activist Alaa Abdel-Fattah, who began refusing all food and water at the start of the COP27 climate conference last weekend, said on Monday they received a letter from him proving he was still alive.
Residents of Kherson celebrated the end of Russia's eight-month occupation for the third straight day Sunday, even as they took stock of the extensive damage left behind in the southern Ukrainian city by the Kremlin's retreating forces.
Beirut — Israeli airstrikes killed two Syrian soldiers and wounded three others when they slammed into an airbase in the province of Homs, a Syrian army statement said.
Istanbul — An explosion on one of Istanbul's most popular pedestrian thoroughfares killed four people and injured 38 on Sunday, authorities said.
An Iranian man who lived for 18 years in Paris' Charles de Gaulle Airport, and whose saga loosely inspired the Steven Spielberg film "The Terminal," died Saturday in the airport that he long called home, officials said.
Banksy, the elusive British street artist, has painted a mural on a bombed-out building outside Ukraine's capital, in what Ukrainians have hailed as a symbol of their country's invincibility.
A judge in Scotland ruled Friday that a man who has spent almost a year fighting extradition to the United States is Nicholas Rossi, a fugitive alleged to have faked his own death to escape rape allegations.
A powerful underwater earthquake struck Friday off Tonga in the southern Pacific, prompting authorities to issue a tsunami advisory.
Adidas says it still plans to sell Yeezy designs — just with a different name.
Saudi Arabia has released an American woman it took into custody early this week after she tweeted and otherwise spoke out about her efforts to leave the country with her young Saudi-American daughter, according to a U.S. official and a U.S.-based advocacy group Thursday.