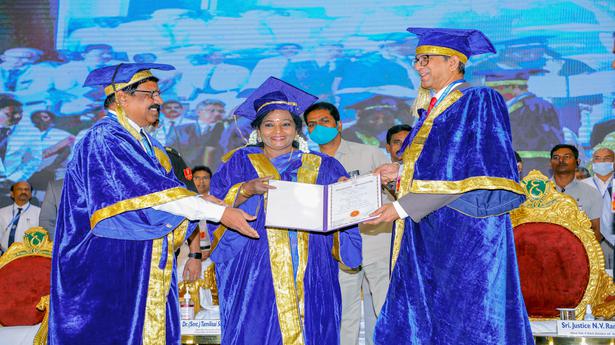 Honouring plurality only will sustain our democracy: N.V. Ramana
The Hindu
Education must mirror the social reality and journey of progress through time'
Chief Justice of India N.V. Ramana has said that the key to the sustenance of our democracy is honouring our plurality and instead of fostering the feeling of "othering", our education should lead us where we can nurture diversity.
Delivering the 82nd Convocation address of Osmania University here, he said education could not be alienated from one's roots and it should mirror the social reality and the journey of progress through time. "Our students must be equipped with the knowledge of history, language, philosophy, politics and economy to bring in transformative power," he said.
"With rapid globalisation and massive developments in science and technology, several cultures and identities are interacting with each other, with increased frequency. Driven by the winds of globalisation, we are moving towards a global culture. As this global culture engulfs the world, the need for sustaining diversity assumes great significance," he felt further adding that the global culture as emerging as a threat to local cultural symbols and identities.
Praising the university, Justice Ramana said Osmania was one of those universities where political participation and scholarly pursuits went hand in hand. This university had produced one of the most remarkable Prime Ministers and statesmen of modern India in the form of P.V. Narasimha Rao and also top politicians who shaped the State and the country.
Chancellor and Governor Tamilisai Soundararajan said hard work was the only ladder of success and asked the students to aim high. University Vice-Chancellor D. Ravinder; Registrar Lakshminarayana, Controller of Exams Nagesh and others were present. Justice Ramana was conferred with Honoris Causa Doctorate on the occasion.
More Related News
Muralidhar K., Deputy Commissioner (Welfare), told The Hindu that the initiative is being taken up as per the new guidelines of the Deendayal Antyodaya Yojana – National Urban Livelihoods Mission (DAY-NULM) where an FSSAI team will train street vendors on the safe parameters to be followed while preparing food
Apart from ordering a probe into the food provided by Firozabad police lines mess, SSP Firozabad Ashish Tiwari also ordered a probe against Constable Manoj Kumar, saying 15 cases were pending against him
Researchers at the Indian Institute of Science (IISc) have now identified a way to estimate ancient seawater temperature by probing tiny bones in the ears of fish
Under the 'Education for All' towards Inclusivity and Empowerment of the Girl Child, Aakash BYJU'S will offer free NEET and JEE coaching and scholarships to around 2,000 underprivileged and girl students
ED is the political tool of the BJP, alleges the former finance minister
It is rolling out initiatives to include folk art, music and theatre in school education
Minister promises immediate construction of permanent footbridge; MLA to bear educational expenses of Sannidhi's younger sister
Competitions in painting, essay writing and debating to be organised