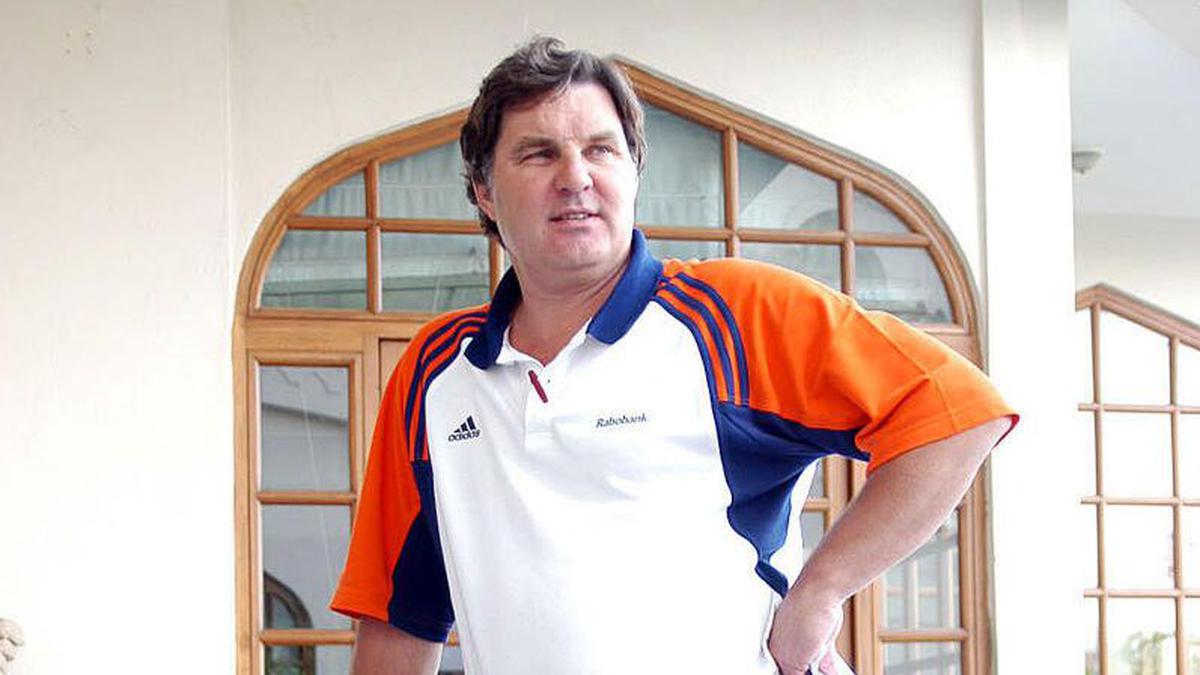 Hockey World Cup | India has a good chance of reaching semifinals, says Ties Kruize
The Hindu
The Dutchman believes the host has two crucial ingredients for success — a good goalkeeper and PC battery
To be the top-scorer in a tournament like the Hockey World Cup is an achievement. To do so twice in consecutive editions takes special talent, especially when it comes at a time when the game was dominated by the Indian sub-continent and was more about 'artistry' and 'skill' than raw power.
As a Dutchman, Ties Kruize did so in 1973 and 1975 — despite wildly contrasting fortunes of the Netherlands team itself -- mastering penalty corners when they were not as ubiquitous as now and playing a huge role in making the sport popular in the country. Now 70 and owner of a financial management and advisory firm Kruize — the Dutch team manager at the 2010 edition — continues to stay updated with the sport.
"It would be great to have an India-Holland final but I don't know, Holland have a new coach and a rather new team with a few youngsters. Then again, it's the Dutch team and we have a very good club system so there's a lot of potential. As for India, I know the advantage of playing at home, especially in India where the crowd is so fantastic. And of course it's all about the quality of game they play. But if India starts properly I think India has a good chance to at least reach the semi-finals," he told in an exclusive interview from The Hague.
"Because they (India) have fantastic skills. And the Australian coach you have (Graham Reid), he has found a good combination between playing spectacular hockey and playing for a win. You have a very good short corner specialist, which is very important in hockey nowadays, and a good goalkeeper. And these two are a good base for a good result for the team, so I have expectations from them, I hope they do well," he added.
Incidentally, Kruize was the president of HC Klein Zwitserland, one of the top Dutch clubs, when current Hockey India president Dilip Tirkey turned out for them in 2005-06, one of the few Indians to play in a foreign league. "I played there all my life and I'm still a member. Dilip was one of the players we asked to come and play, he was very good and a friend. And the centre forward, Gagan (Ajit Singh). They're very, very nice people and very good players, it was great having them," he revealed.
As a player, though, he was almost single-handedly responsible for denying India in the 1973 final, scoring twice to take the game into penalties before India fumbled. But more than a personal success, Kruize sees the Dutch win as the inflection point in the sports growth back home, aided by television much like the 1983 World Cup did to cricket in India.
"I was only 19 or 20 back then, the World Cup was a new competition and it was the first time that a hockey tournament was being televised in the Netherlands. And we started very badly because the first two games we played, against Argentina and Pakistan, we drew the first and lost the second and only had one point. And then, as it always happens in sports, something just happens. And, out of nothing, we started to play good hockey.
More Related News
Coach Todd Clark sees a bright path ahead for Tavish Pahwa
Follow live highlights of the 2022/23 FA Cup final between Manchester City and Manchester United, being played at the Wembley Stadium, London, exclusively on The Hindu football news.
In this profiler by The Hindu, find out about the journey of Red Bull Formula One driver Max Verstappen. Subscribe now to read the full story.
The Pakistan Cricket Board (PCB) is upset at Sri Lankan board expressing its desire to host the entire Asia Cup and has declined the latter's offer to play an ODI bilateral series in the island nation.
BCCI President Roger Binny on Friday said he was not a signatory to the statement on the wrestlers' protest against WFI chief, after members of the 1983 World Cup winning cricket team voiced support
Midfielder Vivek Sagar Prasad gave India the lead in the second minute of the game before Harmanpreet (20th and 30th min) scored twice from penalty corners.
India utilised three spinners during the recent Border-Gavaskar Trophy series with both Ashwin (25 wickets) and Jadeja (22) shinning bright to help their side claim a 2-1 series win
With Pegula joining No. 5 Caroline Garcia, No. 8 Maria Sakkari and No. 10 Petra Kvitova on the sideline, four of the top 10 women's seeds already are gone
Thursday's Junior Asia Cup triumph pushed India's men's hockey team to sole top spot with four titles and coach CR Kumar minced no words on how it was one of the motivations for the entire squad.
Late Indian cricketer A.G. Kripal Singh is a popular name in the annals of Chennai's cricketing history. His ancestors migrated to erstwhile Madras from Amritsar back in the 19th century and have since gone on to cement their place among the city's cricketing elites. A name oft-forgotten in the family's fabled history is that of his wife Esmie Kripal Singh.
This football news article by The Hindu reported that Polish football referee Szymon Marciniak has apologised on June 2, 2023, for speaking at a business event tied to a far-right politician and was confirmed by UEFA to officiate next week's Champions League final.