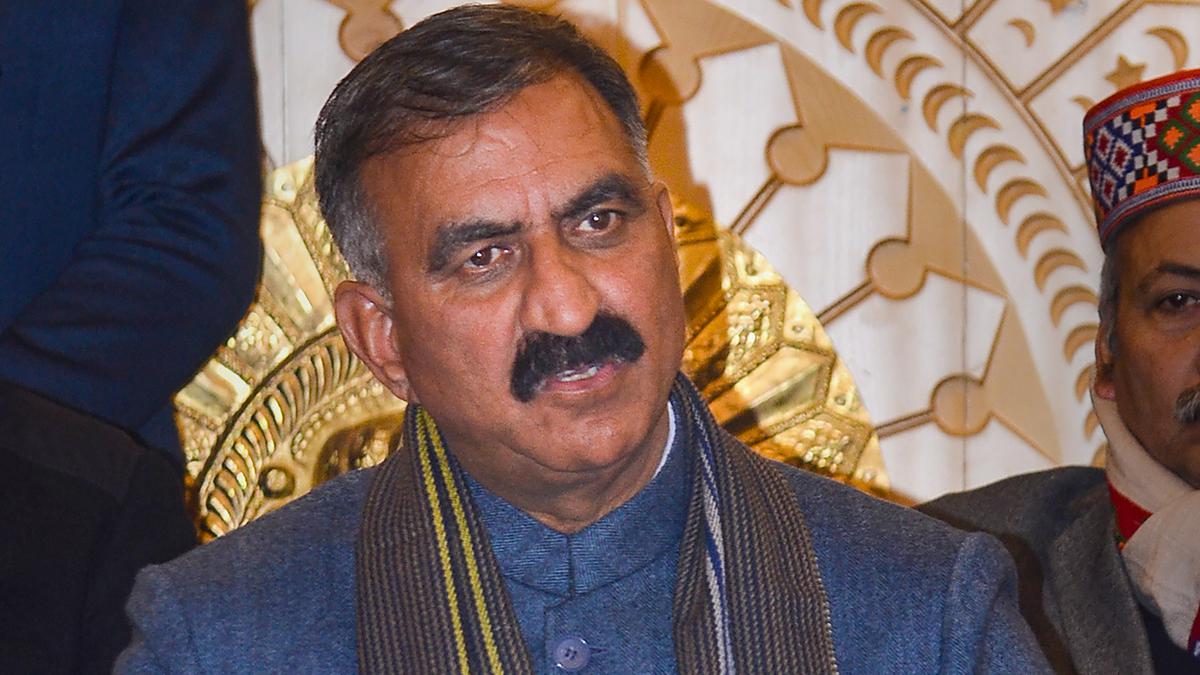 Himachal Pradesh cabinet formed with seven ministers, 6 CPS also appointed
The Hindu
Hours ahead of the Cabinet expansion, Chief Minister Sukhvinder Singh Sukhu announced the names of six MLAs as Chief Parliamentary Secretaries
Himachal Pradesh Chief Minister Sukhvinder Singh Sukhu on January 8 expanded his Cabinet by inducting seven MLAs as ministers, besides six legislators were appointed as Chief Parliamentary Secretaries (CPS).
The Ministers took the oath of office and secrecy at a swearing-in ceremony held in Shimla. The oath was administrated by Himachal Pradesh Governor Rajendra Vishwanath Arlekar at the Raj Bhawan.
The Ministers who have found a place in the cabinet include— Dhani Ram Shandil, Chander Kumar, Harshwardhan Chauhan, Jagat Singh Negi, Rohit Thakur, Anirudh Singh, and Vikramaditya Singh, son of former Chief Minister Virbhadra Singh.
Hours ahead of the Cabinet expansion, the Chief Minister announced the names of six MLAs as Chief Parliamentary Secretaries (CPS). They were administrated the oath of office by the Chief Minister in the State secretariat. The CPSs include—Sundar Thakur, Ram Kumar, Ashish Butail, Kishori Lal, Mohan Lal Brakta, and Sanjay Awasthi.
Interestingly, the Chief Minister had given a list of ten legislators to the party's 'high command' to be inducted as ministers. However, only seven ministers were inducted into the Cabinet. Party insiders said that the 'party high command' had reservations over finalising all the ten names at one go. After the first expansion, the cabinet could be expanded at a later stage, keeping in mind the 2022 parliamentary election.
It was the first cabinet expansion of the Congress government, which came into power in December 2022, after bagging 40 seats in the 68-member Himachal Pradesh Assembly. On December 11, Mr. Sukhu took oath as the Chief Minister of the State and Mukesh Agnihotri as Deputy Chief Minister, and since then the cabinet expansion is awaited.
There can be a maximum of 12 ministers in Himachal Pradesh, including the Chief Minister.
More Related News
Effort for reduction of recurring accidents involving motorists and pedestrians
A total of 1,250 farmers were selected for assistance through individual plans with 10 actionable points for their kharif crops.
The advocates win the sixth edition of CJ's XI versus AG's XI by seven wickets; it is the fifth time that the lawyers have lifted the winner's trophy in the last six years
PALAKKAD A two-day State professional family conference titled Proface organised by the Wisdom Youth
Parts of our history and rich culture and Heritage on the brink of collapse with sinking Joshimath: SJM
Prime Minister Narendra Modi was addressing an NCC rally at the Cariappa Ground in Delhi Cantonment.
'Humanity must unite' is the theme of the festival, which will be held from Feb 5-14
The move follows a review meeting held with senior police officers on January 19, where the complied data revealed a substantial increase in the number of grave crime cases reported in 2022 compared to 2019
The domestic goat (Capra hircus) is a familiar presence in the rural landscape of India and in many
MADURAI Education and equal opportunities for women are the core of Dravidian philosophy and are at
'We are keen on proving that we represent the Kazhagam [AIADMK] genuinely and consider the bypoll an occasion to gain the public's confidence'