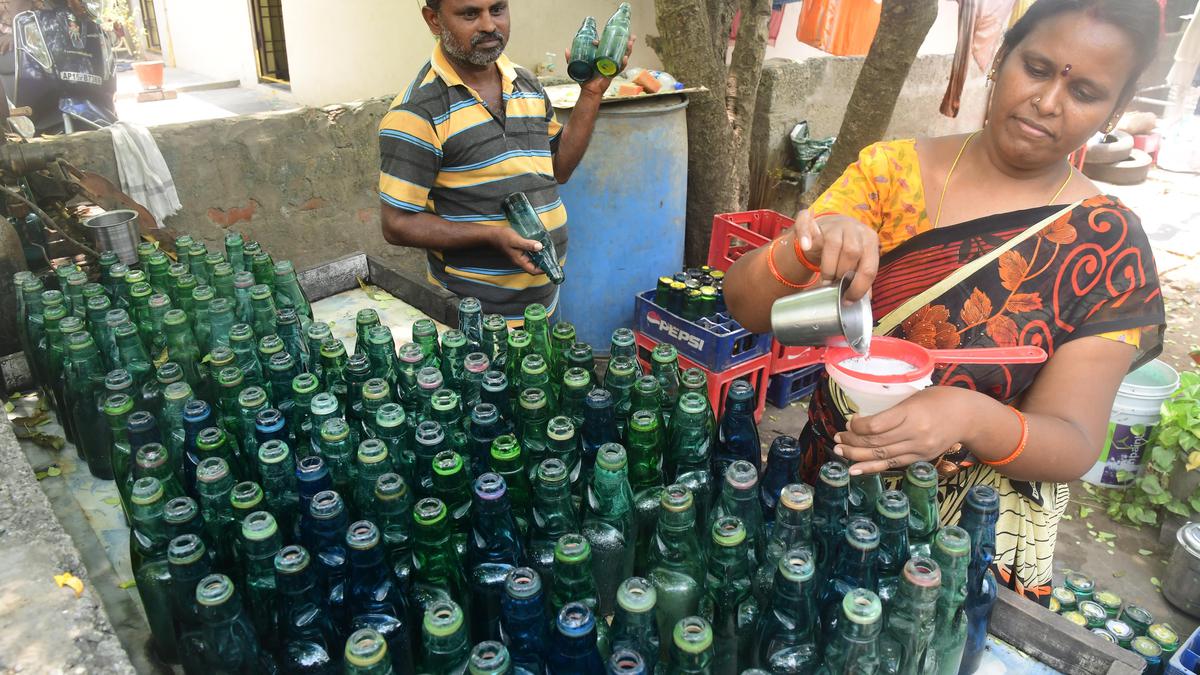 Goli Soda sees a resurgence in demand in Andhra Pradesh
The Hindu
Andhra Goli Soda, is a century-old product, and still continues to be one of the most sought-after drinks and is now available in multi flavours in the market.
Andhra Goli Soda, is a century-old product, and still continues to be one of the most sought-after drinks and is now available in multi flavours in the market.
The drink, popularly known as 'sada (normal) soda' and 'colour soda' is now being manufactured with different flavours, including nimma soda, sweet soda, salt soda, salt and sweet, suganda soda and other varieties.
The locally made soda, popularly known as goli soda, was being sold at ₹15 (sada soda) by roadside vendors, and the price of other varieties was ₹25. However, goli soda is now being sold at ₹50 in some hotels and restaurants.
"In some restaurants, 'codd-necked bottle soda' is being sold at ₹60 in Hyderabad and other places. Goli Soda has become a favourite drink at weddings and other functions," said a soda supplier named Venkatesh.
Though some 50 varieties of soft drinks, flavoured milk and brands were in the market, goli soda, was still in leading and most sought after local-made drink for many.
Balla Veerabhradra Rao, popularly known as Soda Bandi Veerabhadra Rao, and his family members were making and selling goli soda for more than 50 years in Palakol and the neighbouring villages, in West Godavari district.
"My father used to sell soda for five paise. I used to accompany my father when I was ten years old. I began selling goli soda in my childhood for 15 paise. For more than 75 years, Andhra Goli Soda was a favourite of all my family members," says Balla Sada Sivaiah, son of Veerabhadra Rao, who was seen selling sodas on his 'bandi' along with his wife, Prabhavathi.
More Related News
Kuruvai paddy would be raised on 3.59 lakh acres in the Cauvery delta and neighbouring districts this year, M.R.K.Panneerselvam, Minister for Agriculture and Farmer's Welfare, said here on Thursday.
Adobe pushes Firefly AI into big business, with financial cover. To learn more, read the full story on The Hindu.
The officials of the Customs Preventive Division (Ramanathapuram) here have seized 2.5 kilograms of cuboid shaped gold bars worth ₹1.54 crore. Following a specific intelligence, surveillance was mounted in the south sea near Muyal Theevu and the officials spotted a fishing boat in the vicinity. After a pause, when the team moved closer to the suspected boat along the Nochiurani coast in Ramanathapuram district on June 5, the smugglers drove the boat to the shore.
The Supreme Court agreed to hear a plea challenging grant of 15-day interim bail to Raghav Magunta, son of YSR Congress Party MP Magunta Srinivasulu Reddy, by the Delhi High Court.
The Bombay High Court on June 8 extended till June 23 the interim protection from arrest granted to NCB's former Mumbai zonal director Sameer Wankhede in the CBI's case of extortion and bribery against him
Union Home Minister Amit Shah said in the last nine years, the Modi Government has overhauled the country's health infrastructure from primary to tertiary level while ensuring free treatment of up to ₹5 lakh for the poor.
Travel writer and author Zac O'Yeah delves into India's rich culinary traditions in his new book Digesting India
The sacrifices of the Galwan Valley war hero, the late Colonel Santosh Babu were recognised with the first-ever statue of his set up in Kodad town of Suryapet district in the presence of Santosh Babu's parents Bikkumalla Upender and Manjula.
Acting upon allegations that illegal immigrants from Bangladesh and Rohingyas from Myanmar were being allowed to take up reservation in West Bengal, the National Commission for Backward Classes (NCBC) has now launched an investigation into the State's OBC list, Commission Chair Hansraj Gangaram Ahir said.
The Allahabad High Court has held that mere possession or transportation of cows and bullocks from one place to another within the State would not come under the Uttar Pradesh Prevention of Cow Slaughter Act
Land of love in Shamirpet, Hyderabad is a venue with different sets and props for photo and video shoots