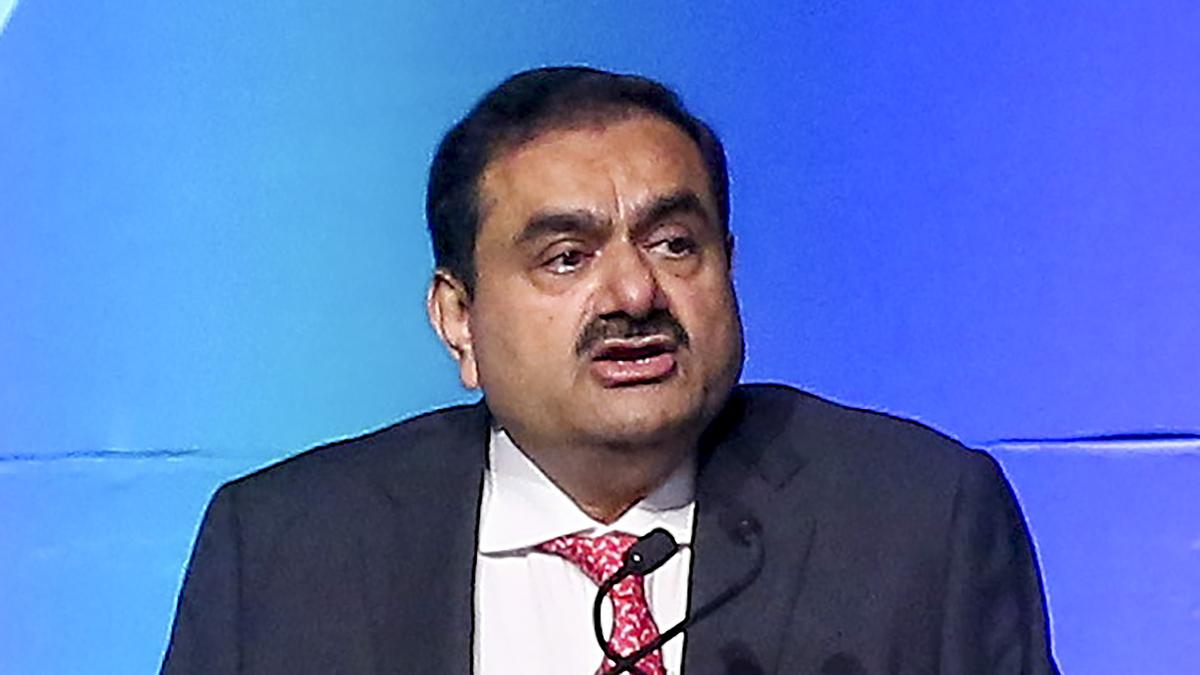 Gautam Adani regrets not completing college education
The Hindu
Adani group continued to grow and today it is the world's largest solar power company and will be the world's largest renewable company by 2030
He dropped out of formal education at the age of 16 in 1978 to take a train to Mumbai to try his luck and three years later made his first killing — a ₹10,000 commission doing a diamond trade with a Japanese buyer.
That marked the beginning of the entrepreneurial journey of Gautam Adani, now Asia's richest man. He, however, regrets not finishing college, saying early experiences made him wise but formal education rapidly expands one's knowledge.
Speaking at the 75th year celebrations of Vidya Mandir Trust Palanpur in Gujarat, Mr. Adani recounted his phenomenal journey that has made his group the world's largest solar power company, largest airport and sea port operator in India, nation's largest integrated energy player, country's second-largest cement manufacturer and a conglomerate with market capitalisation of over $225 billion — all in a span of four-and-a-half decades.
While the dry and tough living conditions of Gujarat's Banaskantha shaped his social behaviour, his father's involvement in what is now known as 'forward trades' gave him the initial learning.
After leaving Banaskantha, Mr. Adani moved to Ahmedabad where he spent four years completing secondary education.
"I was just 16 years old when I chose to give up my education and move to Mumbai," he said. "In this context, a question I often get asked is — why did I move to Mumbai and not work with my family? As many youngsters in the audience would agree, the optimism and desire for independence of a teenage boy is hard to contain. All I knew was that — I wanted to do something different — and do it on my own."
He bought a train ticket and boarded the Gujarat Mail to Mumbai with not much in his pocket.
More Related News
Details of the Ministry of Information and Broadcasting's efforts to create a National Broadcasting Policy emerged on Thursday as the Telecom Regulatory Authority of India (TRAI) consulted stakeholders on the shape such a policy should take. "The Policy may provide a common approach for licenses, oversight, and compliances," TRAI said in its paper, indications that the government is seeking to bring further parity in how digital and legacy mediums like television and OTT streaming are regulated.
DGCA suspends approval of Air India's Flight Safety Chief for one month due to deficiencies in accident prevention work and availability of technical manpower.
Marketskts fall for 3rd day: Sensex & Nifty down 1% on global cues; auto, banking & financials worst hit
The Finance Ministry has dismissed "critical voices" about household savings in the country falling to a multi-decade low, arguing that households are now adding lesser financial assets than in the past because they have started taking loans to buy real assets such as homes and vehicles which is "not a sign of distress but of confidence in their future employment and income prospects". Data released by the Reserve Bank of India this week showed net household financial savings dropped to 5.1% of the GDP in 2022-23. "Vehicle loans have been growing at double digits since April 2022 and more than 20% since September 2022. The household sector is not in distress, clearly. They are buying vehicles and homes on mortgages," the Ministry averred.
DGCA suspends approval of Air India's Flight Safety Chief for one month due to deficiencies in accident prevention work and availability of technical manpower.
Equity benchmark indices declined in early trade on September 21, falling for the third day running, due to a weak trend in global markets and foreign fund outflows.
Click here to know more on rupee vs dollar trading
India mulls mandating drugmakers to audit raw material suppliers annually to ensure quality, patient safety. Compliance with GMP to avoid mix-ups, contamination, errors and build trust. Drugmakers to report faulty manufacture, product deterioration, serious quality problems to LA. Prompt and effective product recall system to be implemented.
Jeep, part of Stellantis, is aiming to double sales volume to 1,200 units/month & increase local sourcing to 90%. It has made Jeep Compass auto affordable & plans to increase sales of Wrangler & Grand Cherokee through localisation & awareness. Exports to 17 countries being explored.
AbhiBus, a bus ticket booking service provider, expects to double revenue from ticket sales at a pan India level and quadruple in Tamil Nadu. With actor Silambarasan T.R. as brand ambassador, the firm has 3,000 operators with 1.20 lakh buses and plans to onboard 350-400 operators with 5,000 buses. Ixigo, the parent company, may go for a public issue next year.
The Bank's economists also raised their inflation forecast for the year to 5.5% from 5% estimated in April and retained their real GDP growth projection for 2023-24 at 6.7%