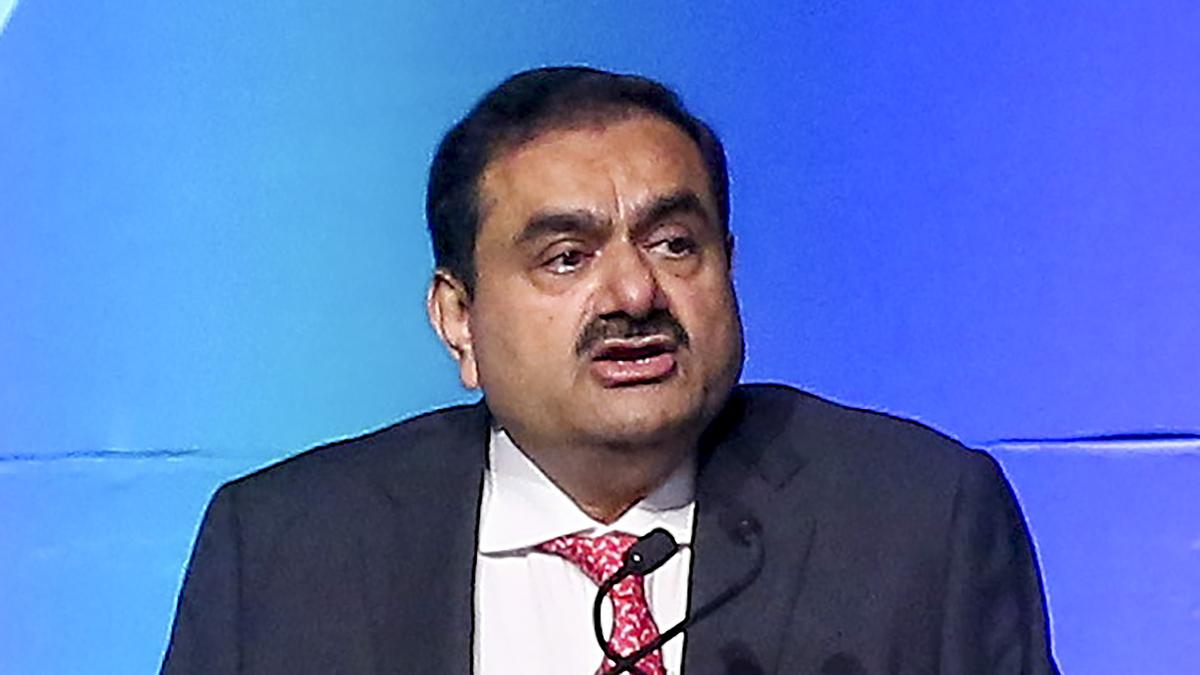 Gautam Adani regrets not completing college education
The Hindu
Adani group continued to grow and today it is the world's largest solar power company and will be the world's largest renewable company by 2030
He dropped out of formal education at the age of 16 in 1978 to take a train to Mumbai to try his luck and three years later made his first killing — a ₹10,000 commission doing a diamond trade with a Japanese buyer.
That marked the beginning of the entrepreneurial journey of Gautam Adani, now Asia's richest man. He, however, regrets not finishing college, saying early experiences made him wise but formal education rapidly expands one's knowledge.
Speaking at the 75th year celebrations of Vidya Mandir Trust Palanpur in Gujarat, Mr. Adani recounted his phenomenal journey that has made his group the world's largest solar power company, largest airport and sea port operator in India, nation's largest integrated energy player, country's second-largest cement manufacturer and a conglomerate with market capitalisation of over $225 billion — all in a span of four-and-a-half decades.
While the dry and tough living conditions of Gujarat's Banaskantha shaped his social behaviour, his father's involvement in what is now known as 'forward trades' gave him the initial learning.
After leaving Banaskantha, Mr. Adani moved to Ahmedabad where he spent four years completing secondary education.
"I was just 16 years old when I chose to give up my education and move to Mumbai," he said. "In this context, a question I often get asked is — why did I move to Mumbai and not work with my family? As many youngsters in the audience would agree, the optimism and desire for independence of a teenage boy is hard to contain. All I knew was that — I wanted to do something different — and do it on my own."
He bought a train ticket and boarded the Gujarat Mail to Mumbai with not much in his pocket.
More Related News
In October 2022, Finance Minister Nirmala Sitharaman had attributed the delay to a software upgrade and assured that credits will be visible soon
Finance Minister Nirmala Sitharaman presented her fifth Budget speech in Parliament on Wednesday
HDFC, Tata Steel, Bajaj Finance, NTPC, Power Grid and HDFC Bank were the major laggards.
A total of 1,090 snags were faced by airlines in the last two years
Industry leaders hail the Union Budget for being beneficial for many sectors, particularly the green energy market
CHENNAI Sundram Fasteners Ltd. (SFL) standalone net profit for the quarter ended December rose 3% to
Arvind Panagariya said his reading of the Economic Survey is that the "narrative that comes across tells the story of a much stronger economy" than the one that is growing at 6.5%.
The Union Budget is presented on February 1, so that it could be materialized before the beginning of the new financial year. Here is a quiz on the budget
Adani Group stocks have taken a beating on the bourses in the recent time after Hindenburg Research made a litany of allegations in its report
Brent crude futures, the global oil benchmark, advanced 0.77% to $83.48 per barrel
Finance Minister Nirmala Sitharaman's fifth straight Budget comes at a time when the economy is slowing and there is a need for increased spending on social sectors as well as ramping up incentives for local manufacturing.