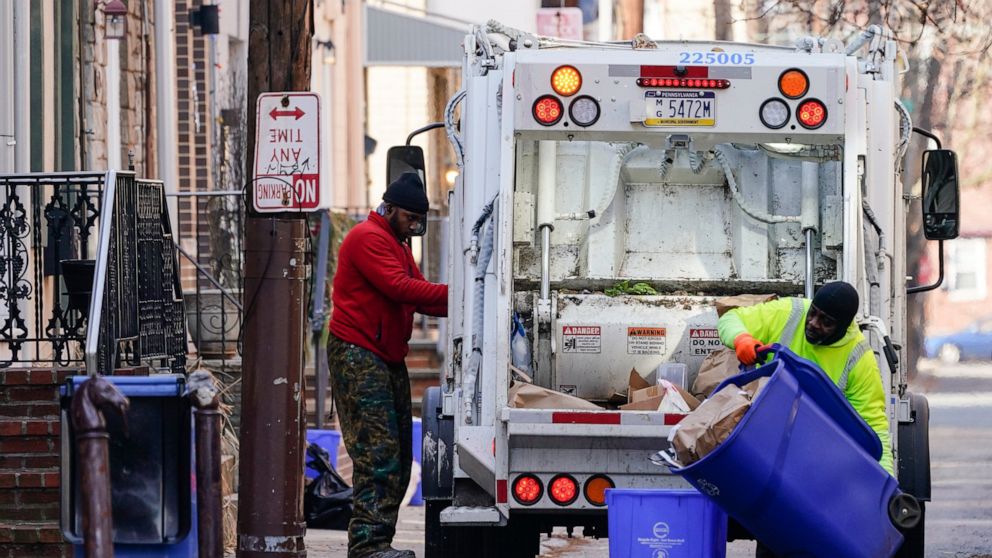 Garbage and recyclables pile up as omicron takes its toll
ABC News
The omicron variant is sickening so many sanitation workers around the U.S. that some cities have had to delay or suspend garbage and recycling pickup, angering residents shocked that governments can't perform this most basic of functions
NASHVILLE, Tenn. -- The omicron variant is sickening so many sanitation workers around the U.S. that some cities have had to delay or suspend garbage or recycling pickup, angering residents shocked that governments can't perform this most basic of functions.
The slowdowns have caused recycling bins full of Christmas gift boxes and wrapping paper to languish on Nashville curbs, trash bags to pile up on Philadelphia streets, and uncollected yard waste — grass clippings, leaves, branches — to block sidewalks in Atlanta.
"It's just a shame," said Madelyn Rubin, who lives in Jacksonville, Florida, where officials have halted recycling.
"You know that they could find the money to do it if they wanted to," she said. "If it was a business that wanted to come in here, they would dump money in to make it happen."
More Related News
Hawaii to require visitors to the state receive a COVID-19 vaccine booster if they want to skip quarantine.
The Joint Chiefs of Staff says Chairman Gen. Mark Milley has tested positive for COVID-19 and is experiencing very minor symptoms
British Prime Minister Boris Johnson is fighting for his career and he has one constant refrain: Wait for Sue Gray
Greece has imposed a vaccination mandate for people 60 and older, as its vaccination rate remains below the European Union average and a spike in infections has put sustained pressure on Greek hospitals