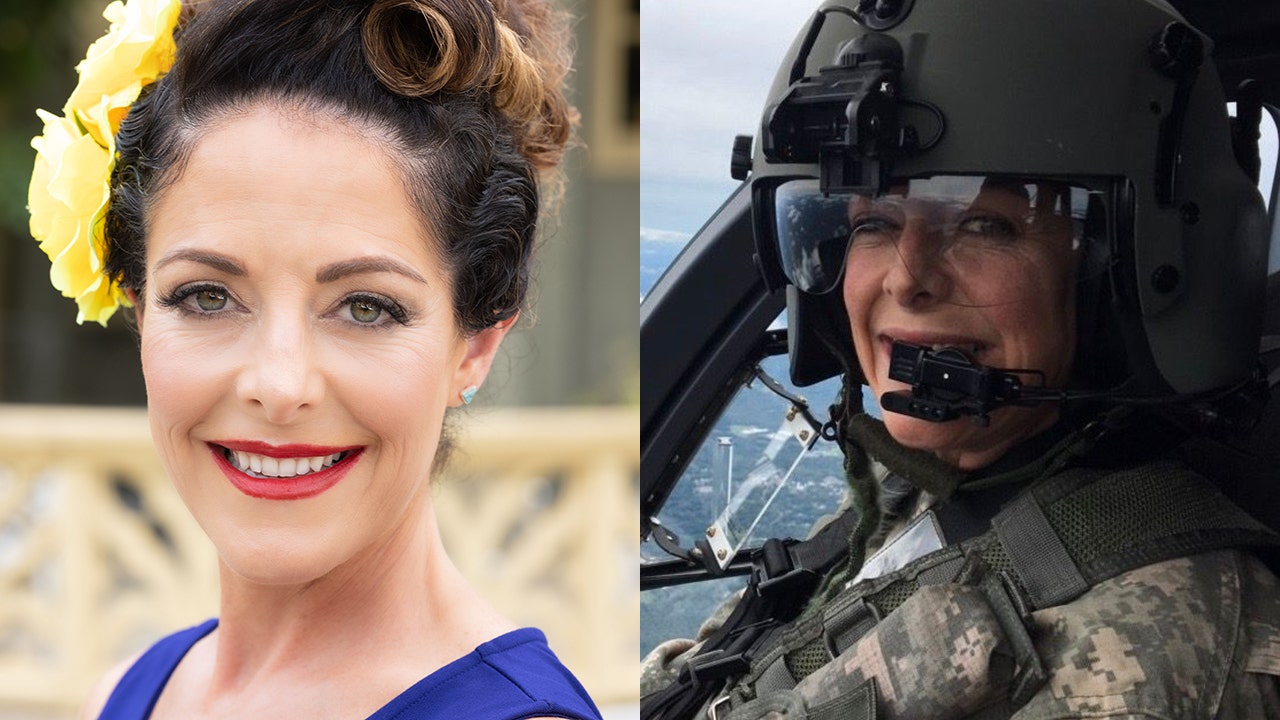 Former Black Hawk helicopter pilot Jana Tobias on posing for Pin-ups for Vets: 'I still can't believe it's me'
Fox News
Gina Elise launched Pin-Ups for Vets in 2006, a nonprofit that produces WWII-inspired bombshell calendars.
"I try to follow as many veteran organizations as possible," Tobias told Fox News. "I came across Pin-Ups for Vets on Facebook and I was just intrigued. I've always loved the 1940s, not because of the clothes, but really the nose art. I'm in aviation, so that has always fascinated me. It was also a time when our country was going through hardship and war. And yet, we as Americans did whatever was possible to motivate and uplift our troops, so they can keep going. I felt like I could contribute."
The 44-year-old's journey is one made fit for the silver screen. As a child, she was enamored with G.I. Joe and the 1984 action film "Red Dawn," about how a group of teenagers band together to defend their country from invading Soviet forces.
More Related News
Sen. Joe Manchin sidestepped questions on whether he was considering a third-party presidential run in 2024, while praising moderate centrists.
Police in Chicago said a verbal altercation led to shooting that killed a 25-year-old woman and wounded six others at a gathering early Sunday.
Chris Beck, a detransitioner and retired Navy SEAL, tells 'Fox News Tonight' why he is against gender surgery and puberty blockers for children.
Thomas Cannon, 79, was arrested Thursday after he allegedly tried to abduct a 7-year-old boy from a Wawa restroom in Maurice River, New Jersey.
A climate activist organization based in the U.K. that organizes tire-deflating operations has expanded its operations to 18 countries and has boasted that
Russian Deputy Foreign Minister Sergei Ryabkov reportedly defended Moscow's decision to suspend the New START nuclear arms treaty as "unshakeable."
Attorney Eileen Den Bleyker explains why she is representing the New Jersey Consortium of Pregnancy Centers in suing the state after a consumer alert alleges the centers engage in deceptive practices.
Gabriel Briguglio, the last living suspect in the murder of James Riddle Hoffa, opens up about how Ralph Picardo misled the FBI, federal prosecutors and media in the investigation.
The first officer to have his name cleared after a botched Army investigation has received his previously denied promotion. But other soldiers are still waiting.
California Democrat Gov. Gavin Newsom said migrants were flown from another state to Sacramento and left on the doorstep of a local church without advance warning.
The body of missing swimmer Curtis Newkirk, Jr., 19, was found by a paddleboarder Wednesday, three days after he failed to return to shore in Jacksonville, Florida.