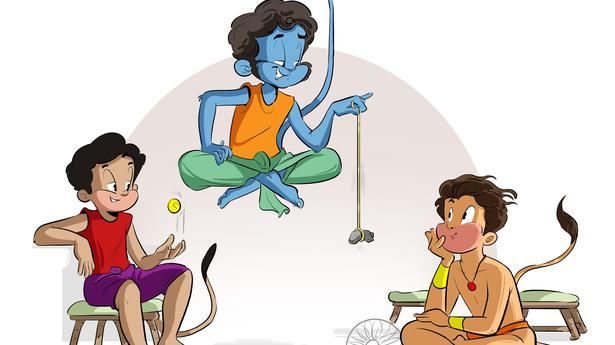 Forces that power us
The Hindu
Nala, Nila and Hanuman try to understand the different types of forces.
Playing with the Centre of Gravity toy that they built makes Hanuman more curious. He directs his questions at Nala's brother Nila.
Hanuman: Are there any other forces that our body uses to stay stable?
Nila: Oh yes. There are nine forces acting on our body at all times.
Nala: Like the planets that revolve around the sun? There are forces that make them orbit the sun and keep them from floating away.
Nila: Not exactly, but these planets are also affected by various forces. When an object has mass (volume of matter) and when it moves, all these forces comes into play.
Hanuman: Don't all planets have mass? In fact, everything that is visible to our eye has mass. And everything is in motion.
Nila: Not only the things we can see, but even invisible matter like air have mass.
More Related News
The Court also issues comprehensive directions on uprooting the exotic and invasive species from forest areas and waterbodies.
The 3800-page encyclopedia contains 418 research articles on 62 tribes including 13 PVTGs
Inauguration of Dasara celebrations at Kudroli Sri Gokarnatha temple in Mangaluru
New Delhi The Supreme Court on September 26 directed the Bombay High Court to hear and decide expedi
Justice Yogesh Khanna asked the investigating agency to submit a 'short reply' while posting the case for further hearing on September 28
Those who took to arms had "no fear" of the government taking action against them
Among other incidents in the IRCTC-operated Ahmedabad-Mumbai Tejas Express referred to in the letters is the collapse of a ceiling panel, which occurred twice in the last year
The three girls were class X students of Sri Hanumagna High School in Cheerala town in Prakasam district
Some onlookers took pictures and videos of the incident and began sharing them on social media
"The Tamil Nadu Government will take action at appropriate time"