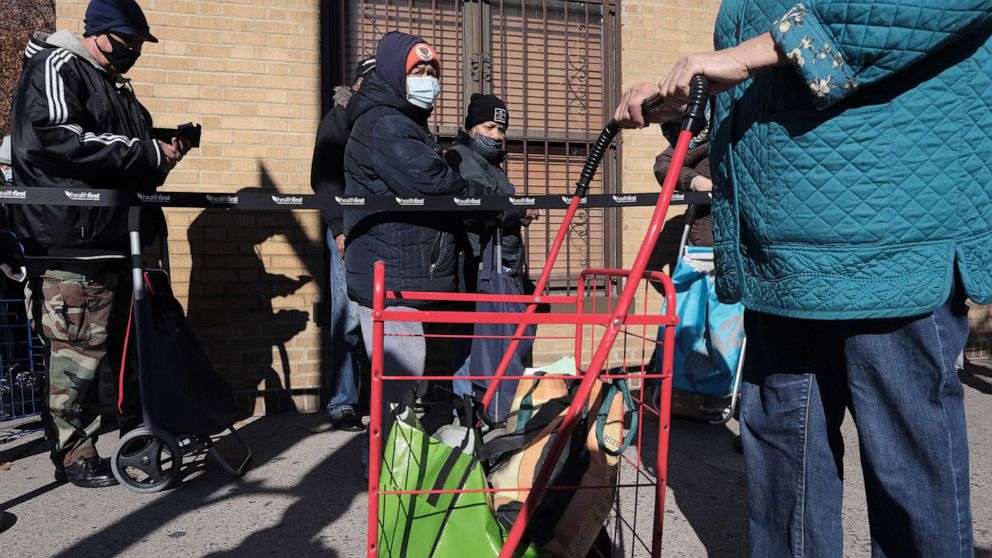 Food insecurity persists, forcing community organizers to act
ABC News
The United States Department of Agriculture found that food insecurity has held steady from 2019 to 2020.
As families gather across the country to celebrate Thanksgiving and give thanks, many are struggling to fill their kitchens with fresh food and groceries.
The U.S. has made virtually no progress toward solving this issue of food insecurity in the last two years, according to United States Department of Agriculture data. More than 10% of U.S. households (13.8 million) were food insecure at some time during 2020, unchanged from 2019, the government said.
This problem has particularly hit Black and brown communities hard.
During the pandemic, residents in Harlem, New York, leaned on local organizations like New York City's The Brotherhood Sister Sol for resources, guidance and food. The group has taken matters of food insecurity into its own hands with a weekly grocery distribution that feeds more than 500 families in the neighborhood.
More Related News
Three students ages 14 to 17 were killed in a school shooting in Michigan on Tuesday. Here is what we know about the lives lost.
Wednesday's Supreme Court arguments over Mississippi's near-total abortion ban marks the culmination of decades' worth of efforts to get Roe v. Wade overturned.
The first video of an FBI interrogation of an alleged Capitol rioter has been released.
Democratic Reps. Ilhan Omar, Rashida Tlaib and Andre Carson on Tuesday night forcefully condemned the anti-Muslim remarks made by Republican Rep. Lauren Boebert.
On this Giving Tuesday, these American-made items are the gifts that keep on giving.
The suspected shooter, a 15-year-old student, was taken into custody.
The House select committee investigating the Jan. 6 Capitol attack plans to move forward Wednesday with criminal contempt proceedings against a former DOJ official.