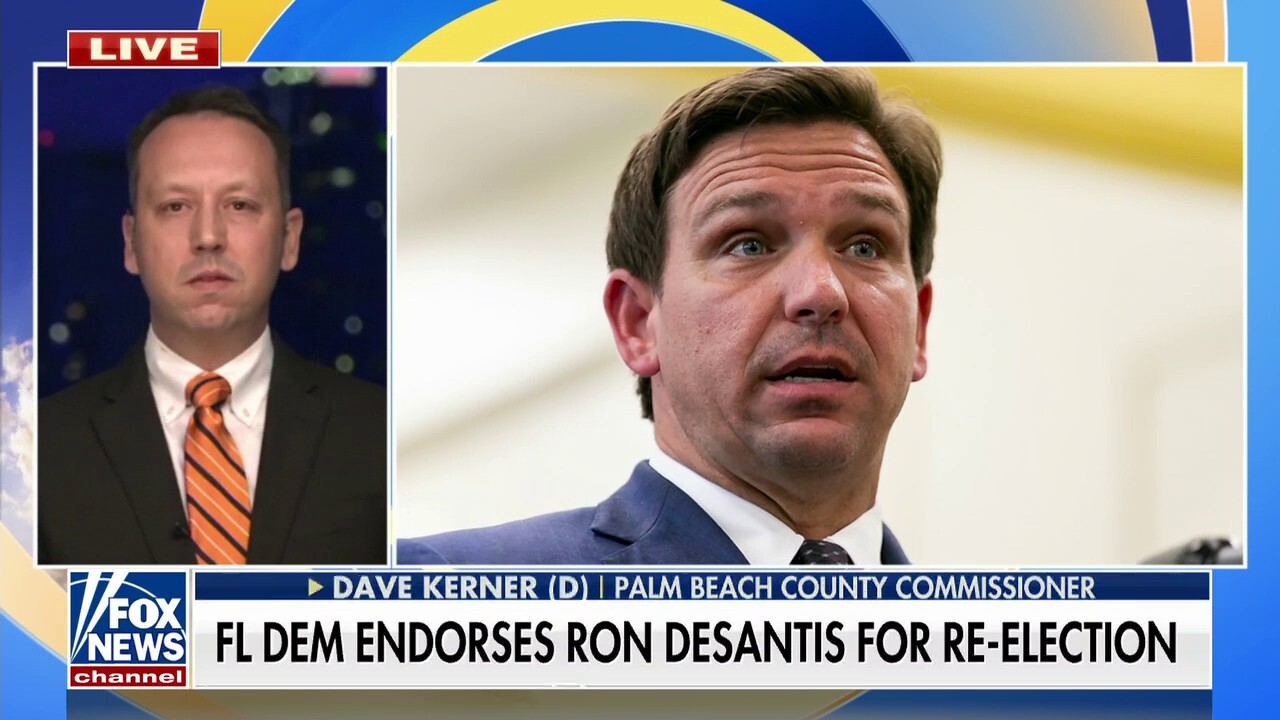 Florida Democrat endorses Gov. Ron DeSantis: 'I am a Floridian and an American first'
Fox News
Palm Beach County Commissioner Dave Kerner (D) joined "Fox & Friends First" to share his decision to endorse Ron DeSantis in his gubernatorial re-election
DAVE KERNER: I've been a registered Democrat since I registered to vote at the age of 18. I don't really see it as going against my party. I'm a Floridian, an American first. But there's a confluence of reasons. The trajectory of our state, which I spoke about in my endorsement, his support for law enforcement, his management of the COVID 19 pandemic. There is's a host of reasons why I endorsed him. ...
There has been a lot of that, what I call sort of shadow support for sure. Obviously, Governor DeSantis is doing an incredible job in Florida. He's America's governor, but there is a lot of support out there. And it's been referred to me by many people that have called me or texted me. You know, it's an act of courage, what you did and you should be proud. And it's not about what I did. It's about the governor's record of service in the state of Florida. But ultimately, it should not be an act of courage and should not be seen as an act of courage.
More Related News
Fox News host Tucker Carlson reacts to the gas leaks from the Nord Stream pipelines and analyzes what may have caused the incident on Tuesday's "Tucker Carlson Tonight."
GOP Sen. John Kennedy offers some Pelican State wisdom on "Jesse Watters Primetime" about what's really behind the crime surge in major cities across America.
An El Paso woman and a 15-year-old juvenile were arrested Monday in connection with a traffic stop earlier this month where authorities discovered a kidnapped infant.
A New York man has pleaded guilty to obstruction of justice and illegal possession of a weapon after he was found guilty of attempted kidnapping and trafficking.
Republican Gov. Brian Kemp of Georgia says he strongly supports the Atlanta Braves keeping their name. Kemp teamed up with Virginia Gov. Glenn Youngkin at a re-election rally
Former Secretary of State Mike Pompeo says he has a new mission – to battle what he terms is "a woke military," as the West Point graduate launches a campaign
The US Army fired Javeline anti-tank missiles from seven-ton robots during a series of war preparations at a recent exhibition in Fort Worth, Texas
Fox News host Jesse Watters shreds the Democratic Party over their handling of the crisis at the southern border on "Jesse Watters Primetime."
The "Special Report" All-Star panel offered predictions on the political implications of the national crime wave and sounded off on the government spending bill.
Former MSNBC host Keith Olbermann offered more details about his personal relationship with Sen. Kyrsten Sinema, D-Ariz., on his podcast "Countdown" on Tuesday.
Washington Post fact checker Glenn Kessler hit Sen. Patty Murray, D-Wash., for falsely claiming that Republicans plan to "end" Social Security and Medicare if they win back the Senate.