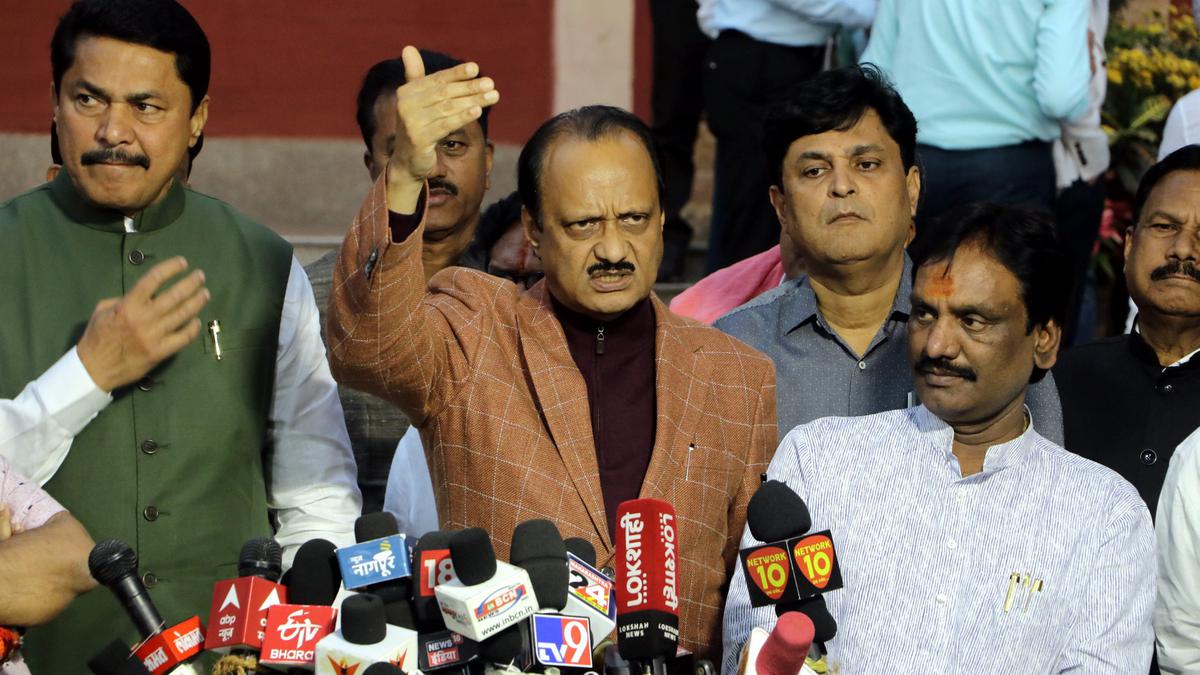 Fissures resurface in MVA over Ajit Pawar's 'soft' stand towards Shinde-Fadnavis govt.
The Hindu
Partners of Opposition MVA accuse him of not being 'forceful' enough on State government; differences with NCP State chief Jayant Patil also reflect a potential struggle for the party's control,
The suspension of Nationalist Congress Party (NCP) State president Jayant Patil for the better part of the Winter Session of the Maharashtra Assembly session and the perceived 'softness' of Patil's party colleague Ajit Pawar (who is Leader of Opposition) towards the ruling Eknath Shinde-Devendra Fadnavis dispensation has again brought tensions within the Sharad Pawar-led party to the fore.
Mr. Ajit, known for his outspoken talk, has long had a chequered career within the NCP.
Be it his 2012 resignation or his 2019 short-lived 'alliance' with BJP's Devendra Fadnavis, Mr. Ajit's unpredictability has startled not just party bigwigs but has had reverberations for the politics of the state as well.
The rift between Mr. Patil, a seven-term MLA from Sangli's Islampur-Walwa constituency who is believed to be a Sharad Pawar loyalist, is also reflective of a potential struggle for control of the NCP after Mr. Sharad Pawar's exit.
Again, Mr. Ajit's 'friendship' with BJP leader and Deputy CM Fadnavis has led his detractors and 'Maha Vikas Aghadi' partners (the Congress and the Thackeray-led Shiv Sena faction) to accuse him of not being 'forceful' enough on the ruling Shinde-Fadnavis government.
According to observers, Mr. Ajit's 'aggression' in cornering the Shinde-led Sena- BJP coalition has been fitful at best.
"The Opposition ideally could have made a big issue of Mr. Patil's resignation, but the necessary momentum from Mr. Ajit was absent. No wonder it prompted a call from Mr. Sharad Pawar to his nephew," said a Mumbai-based analyst.
More Related News
Collector M. S. Sangeetha on Wednesday handed over compensation amount to the family members of those injured in the aftermath of an altercation that broke out during a temple festival in Othakadai in Madurai, last week.
More than 10,000 children took part in 363 summer camps organised by the Greater Visakhapatnam Municipal Corporation (GVMC) in 98 wards, Mayor G. Hari Venkata Kumari has said.
Here is a list of top news developments to look out for from Tamil Nadu on June 8, 2023.
Here are the important developments from Kerala to watch out for today.
Actor Amaan, who started off as a lead actor in TV serials, talks about the struggles of sustaining himself in Kannada cinema
At ZLB 23, the Leela Palace's recently-opened speakeasy, the Gitano-French band Gipsy Kings regaled their audience with music and memories
External Affairs Minister S. Jaishankar will begin on June 8 his two-day outreach programme under the Delhi BJP's month-long campaign to highlight the achievements of the Modi government in the last nine years.
It is a great day for the Andhra Cricket Association as well, says its CEO Siva Reddy
Bengaluru With the Gruha Jyothi scheme all set to start soon, the Energy Department is now keen on recovering payment dues from government defaulters. According to sources in the department, in a recent meeting, Energy Minister K.J. George instructed the electricity supply companies (Escoms) to recover the dues as quickly as possible.
With the efforts of over 1,000 workers clocking hundreds of manhours this season, Anaimalai became the first tunnel boring machine (TBM) to drill through the earth and create a tunnel between Madhavaram and Venugopal Nagar for Chennai Metro Rail's Phase II project
West Bengal Chief Minister Mamata Banerjee on Wednesday distributed ex gratia to the kin of Odisha train accident victims. During the event held at the Kolkata Netaji Indoor Stadium, Ms. Banerjee accused the Union government of suppressing facts.