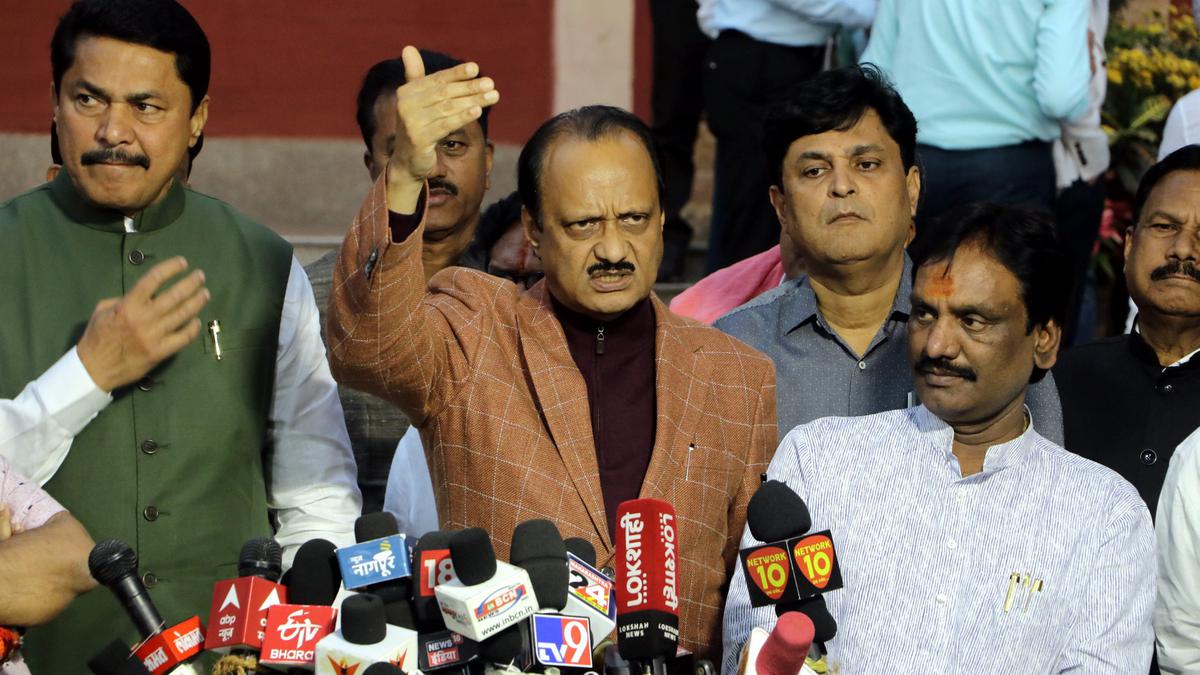 Fissures resurface in MVA over Ajit Pawar's 'soft' stand towards Shinde-Fadnavis govt.
The Hindu
Partners of Opposition MVA accuse him of not being 'forceful' enough on State government; differences with NCP State chief Jayant Patil also reflect a potential struggle for the party's control,
The suspension of Nationalist Congress Party (NCP) State president Jayant Patil for the better part of the Winter Session of the Maharashtra Assembly session and the perceived 'softness' of Patil's party colleague Ajit Pawar (who is Leader of Opposition) towards the ruling Eknath Shinde-Devendra Fadnavis dispensation has again brought tensions within the Sharad Pawar-led party to the fore.
Mr. Ajit, known for his outspoken talk, has long had a chequered career within the NCP.
Be it his 2012 resignation or his 2019 short-lived 'alliance' with BJP's Devendra Fadnavis, Mr. Ajit's unpredictability has startled not just party bigwigs but has had reverberations for the politics of the state as well.
The rift between Mr. Patil, a seven-term MLA from Sangli's Islampur-Walwa constituency who is believed to be a Sharad Pawar loyalist, is also reflective of a potential struggle for control of the NCP after Mr. Sharad Pawar's exit.
Again, Mr. Ajit's 'friendship' with BJP leader and Deputy CM Fadnavis has led his detractors and 'Maha Vikas Aghadi' partners (the Congress and the Thackeray-led Shiv Sena faction) to accuse him of not being 'forceful' enough on the ruling Shinde-Fadnavis government.
According to observers, Mr. Ajit's 'aggression' in cornering the Shinde-led Sena- BJP coalition has been fitful at best.
"The Opposition ideally could have made a big issue of Mr. Patil's resignation, but the necessary momentum from Mr. Ajit was absent. No wonder it prompted a call from Mr. Sharad Pawar to his nephew," said a Mumbai-based analyst.
More Related News
Born in 1928 in Khadaklat in present-day Karnataka, she was known by her mononym 'Sulochana' and acted in more than 300 Marathi and Hindi films.
The Aam Aadmi Party (AAP) on Sunday attacked the Bharatiya Janata Party (BJP) over the Balasore train accident, and said that before the accident, there were complaints of problems with the signalling system and a shortage in manpower, but the Central government had not done anything about these issues.
The silver jubilee celebrations of Amrita Hospital, Ernakulam, were inaugurated on Sunday. Inaugurating the celebrations, Union Home Minister Amit Shah said the hospital had set an example by providing free medical support to needy sections of the society.
Dakshina Kannada Member of Parliament Nalin Kumar Kateel has said that 22 km of the 45 km- long Bikarnakatte-Sanur National Highway widening project has been completed.
A month after Manipur was engulfed in ethnic violence, only 18% of over 4,000 weapons, looted or taken away from police armouries have been surrendered with the authorities.
The Congress had earlier demanded the resignation of Railway Minister Ashwini Vaishnaw and criticised Prime Minister Narendra Modi
Mamata Banerjee announced ₹5 lakh compensation to the kin of the deceased, ₹50,000 to the injured
Members of HB Colony Residents Welfare Association and Visakhapatnam Apartment Resident Welfare Association staged a protest demanding that the APSRTC officials resume city bus 20A service immediately
As many as 32 people from Karnataka, part of volleyball teams, who were stranded after the train accident in Balasore, managed to return on Sunday
The power sector in Tamil Nadu may see a maximum coal demand of 65.7 million tonnes by the financial year 2030 from actual consumption of 27.95 million tonnes in financial year 2022, as per government's report on Integrated Coal Logistics Plan for efficient coal evacuation.
Heavy rain accompanied by strong winds brought down the mercury level in Sivaganga town and its peripheries on Sunday evening..