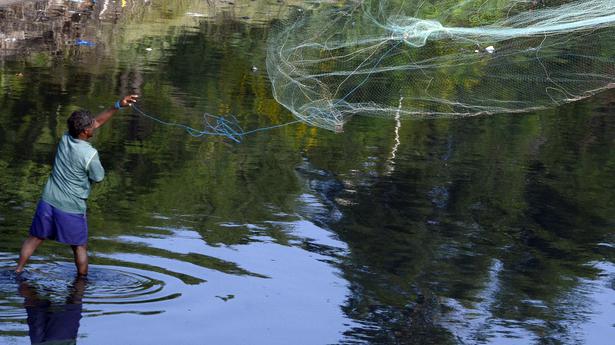 Fishermen oppose pen-shaped memorial in the sea
The Hindu
Various fishermen's associations say the proposed pen-shaped memorial in the sea near the Marina will become an obstruction to the movement of water and sand and lead to closure of the bar mouth of the Cooum
Various fishermen's associations have raised concerns over the construction of a pen-shaped memorial for the former CHief Minister M. Karunanidhi in the sea off the Marina coast. They say the structure will only become an obstruction to the movement of water and the sand and lead to closing of bar mouth of the Cooum.
K. Bharathi, South Indian Fishermen Welfare Association, said that fishermen of Ayodhyakuppam, Mathankuppam and other nearby villages still cast their nets in the Cooum at night to catch fish. "Since it is an estuary, it is where fish from the sea enter to breed. Even now the estuary gets blocked and has to be regularly desilted. If the structure comes up, the block will be even larger and put an end to the livelihood of our men," he said.
J. Kosumani of Tamilnadu Meenavar Makkal Sangam said he and other fishermen did not have anything against the former Chief Minister in whose memory the structure was to come up. "In fact, I was given this name by Kalaignar. My father was an ardent party man. Even he would not want to construct something that would cause trouble to fishermen. The memorial should come up on the shore," he said.
Another community leader said the memorial could be damaged in case of natural disasters. It would become an impediment for fishermen to enter the sea and would lead to sand accretion south of the statue.
More Related News
Audi has opened bookings for the new Q3, which is likely to be launched in India next month. Custome
Decisions would be taken for making better arrangements for pilgrims after talks with religious leaders, says CM Gehlot.
Djokovic also not expected to be able to enter U.S. Open
Train witnesses overwhelming response with an average occupancy of 63%
The West Indies managed only 125/9 in reply of Kiwi's mammoth total of 215/5
Raju Srivastava was admitted to the hospital after suffering a heart attack on August 10, 2022
The court found Google misled some customers about personal location data collected through their Android mobile devices between January 2017 and December 2018.
Delhi flood control room said the water level breached the danger mark and reached 205.99 metres on August 13 morning
C.P. Muhammad Niyas, Judge, Kerala High Court, will inaugurate the programme at M.K. Damodaran Hall near the Kerala High court