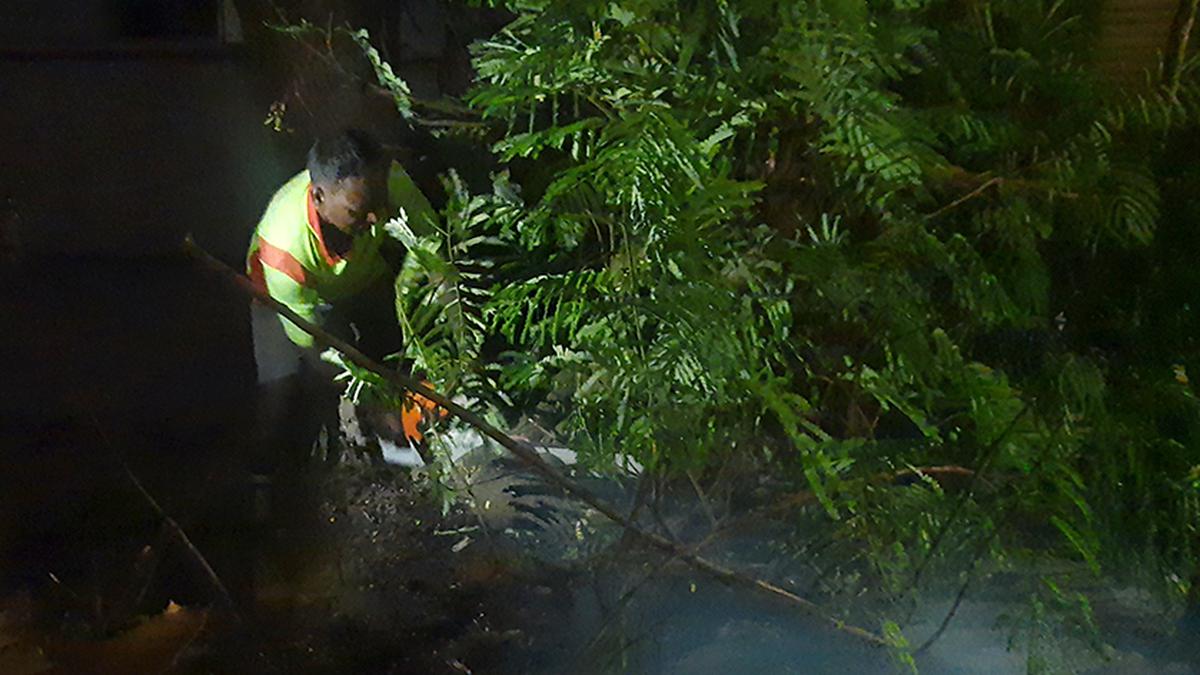 Fire brigade 'frees' lorry at midnight
The Hindu
MADURAI
Fire and Rescue Services personnel of Tallakulam Fire Station cut tree branches to free a container lorry that got stuck a few yards away from a motorcycle showroom on the road that branches off from Lake View Road towards KK Nagar arch in the small hours of Saturday
The container lorry which was coming from Bengaluru on Friday night was moving along the stretch towards the District court when the top of the container lorry hit a few low-lying branches and got stuck. Alerted by the police, the Fire and Rescue Services personnel of the Tallakulam Fire Station swung into action. They cut the branches using ropes and power saw and freed the truck.
It was only on Saturday early morning that the container lorry was able to move forward. The fire brigade, after freeing the lorry, removed the branches strewn all over the road.
A resident of K.K. Nagar who witnessed the exercise said there are many low-lying branches along the stretch. Heavy vehicles such as school buses frequented the stretch and hence the Corporation, Tangedco and other authorities must work in tandem and take steps to prune the trees.
More Related News
The personnel tried to stop a group of six or seven smugglers coming from Bangladesh, taking advantage of the darkness and thick banana orchards
Filmmakers Mahesh Narayanan and Wanphrang Diengdoh discuss the importance of geography in films
Artists and photographers in Hyderabad collaborate to highlight the threat to the banyan trees on the Chevella highway
The civic body operates 351 garbage trucks to transport municipal solid waste. So far, GPS tracking devices have been fixed in 296 garbage trucks.
Demands inquiry on 12 Congress MLAs poaching by BRS
The long wait has diminished neither his passion nor commitment, says former national senior selection committee chairman
The swami will join a mutt in Belagavi district on the invitation of its senior seer
India have been clubbed alongside England, Pakistan, West Indies and Ireland in Group B.
The search operation continued for the second day on Thursday, with the help of deep divers from Thoothukudi. A bag containing gold bars was then recovered from sea
Asked by TMC member Jawhar Sircar whether the appointment of Ms. Gowri was right, Leader of the House Piyush Goyal sought the indulgence of the chair.
One of the mightiest to perish was the Hittite empire, centered in modern Turkey and spanning parts of Syria and Iraq.