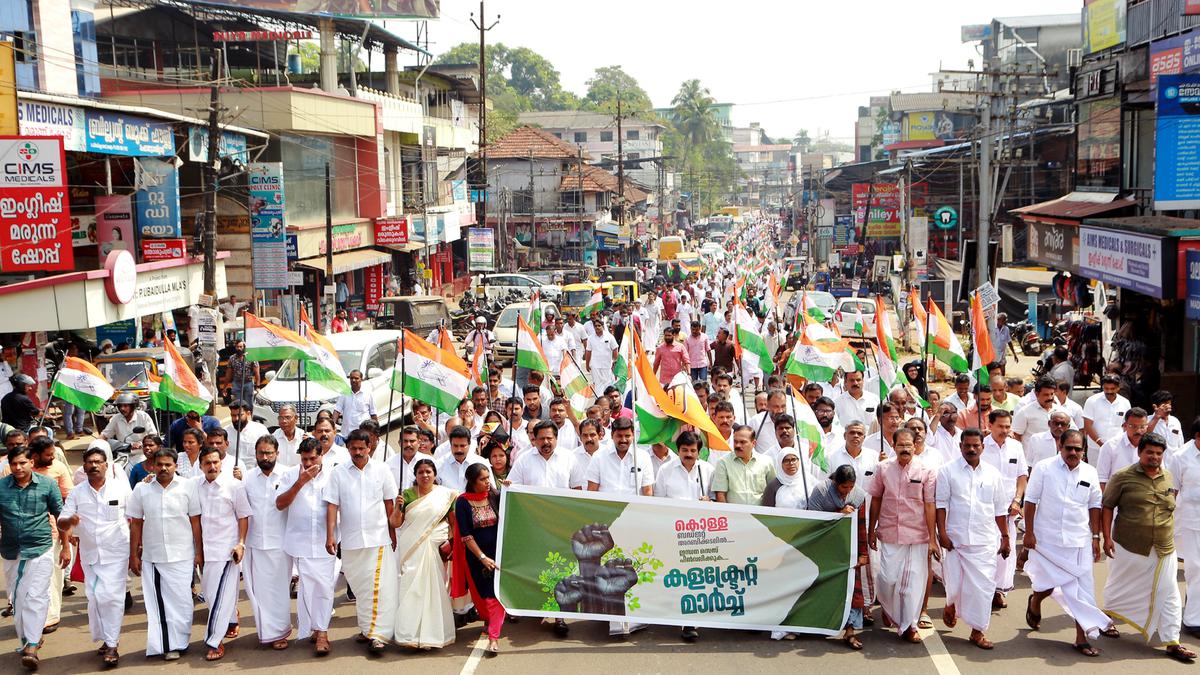 Finance Minister will impose tax even on air if given one more chance to present budget: Congress
The Hindu
MALAPPURAM
Kerala Pradesh Congress Committee (KPCC) vice president V.P. Sajeendran said here on Tuesday that Finance Minister K.N. Balagopal would slap tax even on the air that people breathe if he was given one more chance to present the budget.
Inaugurating a Collectorate march taken out by the Congress demanding withdrawal of cess on petrol and diesel, Mr. Sajeendran said the taxes imposed on people were the biggest ever that the State had witnessed.
The government, he said, was fleecing people without recovering the ₹70,000 crore that ought to have been collected in the last five years.
He alleged that Mr. Balagopal's tax department had failed miserably by losing ₹25,000 crore without updating the GST return forms in the last five years.
District Congress Committee (DCC) president V.S. Joy, Kerala Pradesh Congress Committee general secretary Aryadan Shoukath, former District Congress Committee president E. Mohammed Kunhi, V.A. Kareem, P.T. Ajay Mohan, K.P. Abdul Majeed, V. Baburaj, Hydros Master, and Saseendran Mankada spoke.
More Related News
The stretch along the Hussain Sagar Lake from Indira Gandhi Rotary up to the State Secretariat has become an eyesore, with the recently laid road dug up on the lake's side to accommodate a footpath.
Expanding on the European focus on the Indo-Pacific, the German Ambassador to India Philipp Ackermann said on Friday, "India will be our preferred partner in this endeavour. India is a very courted country right now. Everybody is coming here…"
Andhra University Vice-Chancellor P.V.G.D. Prasad Reddy flagged off the Mobile Air Pollution Monitoring Facility (MAPMF) at the Department of Meteorology and Oceanography on the university campus in Visakhapatnam on Friday
The National Investigation Agency (NIA) has seized more than ₹7.80 lakh in cash and a vehicle as "proceeds of terrorism" in a case related to the recovery of arms and explosives, smuggled from Pakistan
The Greater Chennai Corporation registered a steep increase in property tax collection on March 31, with collection touching ₹50 crore for the first time on a single day
Posters and hoarding mocking 'turmeric board' appear in Nizamabad
Residents of Sinkukandam and 301 Colony, near Chinnakanal, in Idukki launched a day and night protest at Sinkukandam on Friday morning demanding that the High Court-appointed committee should hear them before submitting its report to the court on April 5.
Police reportedly asked Enforcement Directorate officials to approach the Chief Secretary to probe money laundering angle in the leak of question papers of TSPSC examinations
Assam Chief Minister Himanta Biswa Sarma on March 31 threatened to sue his Delhi counterpart Arvind Kejriwal, while slamming Congress leader Rahul Gandhi for being "morally corrupt".
Qualcomm India will support the initiative under its CSR programmes, prototyping centre T-Works said on Friday, announcing the signing of a grant agreement with the tech company for the PCB fabrication facility.
Some parts of Tamil Nadu may receive light to moderate rain till Tuesday. Chennai is expected to get light rain on April 2