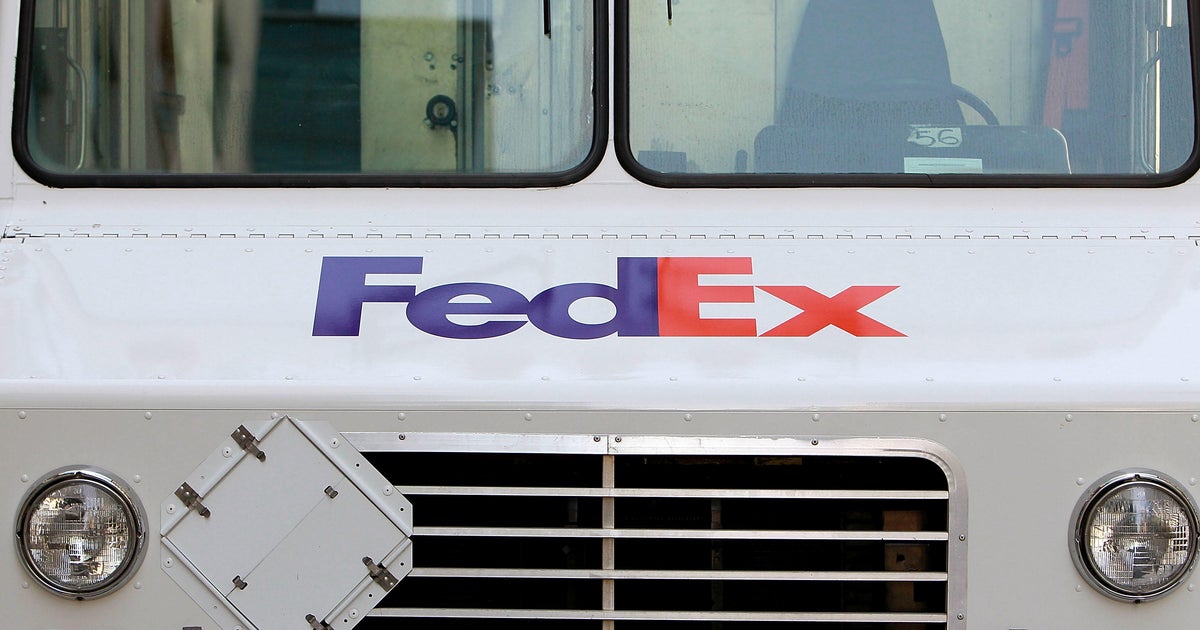 FedEx will raise its shipping rates starting in January
CBSN
FedEx plans to increase shipping rates by an average of 6.9% starting in January as it copes with weaker business demand.
"Effective January 2, 2023, FedEx Express, FedEx Ground and FedEx Home Delivery rates will increase by an average of 6.9%," the company said in a statement on Thursday. "FedEx Freight rates will increase by an average of 6.9%-7.9% dependent on the customer's transportation rate scale."
The rate hike comes after the shipping company warned last week it has seen a drop-off in its global package delivery business. FedEx plans to shutter some storefronts and corporate offices and institute a hiring freeze to tighten costs amid the slowdown. On a Thursday conference call to discuss financial results, FedEx executives pointed to surging inflation as one of its woes.
More Related News
Texas Attorney General Ken Paxton ran out of his house and jumped into a truck driven by his wife, a state senator, to avoid being served a subpoena to testify Tuesday in an abortion access case, according to court documents.
The remains of a Virginia teenager who disappeared nearly 50 years ago have now been identified, police announced Monday. Authorities involved in the longstanding cold case credited advanced DNA tests and "forensic-grade" genome sequencing for the recent discovery, which linked a set of previously anonymous remains to Patricia Agnes Gildawie, who was also called "Choubi."
A U.S. Navy nuclear engineer and his wife entered new guilty pleas Tuesday in a case involving an alleged plot to sell secrets about nuclear-powered warships, a month after their previous plea agreements that had called for specific sentencing guidelines were rejected.
A man convicted in a rape and murder at a University of Alaska Fairbanks dormitory that went unsolved for more than two decades was sentenced to 75 years in prison in Alaska. Steven Downs, of Auburn, Maine, declined to address the courtroom before the just imposed the sentence Monday.
With just six weeks to go before the midterm elections and in some states, voters are already casting their ballots.
U.S. consumers grew more confident for the second month in a row as gas prices continued to fall.
Washington — Staffers in Democratic Rep. Andy Levin's office have voted to form a union, becoming the first in Congress to do so, according to the Congressional Workers Union.
Washington — The Senate on Tuesday is set to begin the process to pass a stopgap measure to keep federal agencies operating ahead of Friday's deadline to avert a partial government shutdown, a bill that faces headwinds due to the inclusion of a proposal spearheaded by Sen. Joe Manchin.
Rep. Liz Cheney — a vocal critic of former President Donald Trump — has signaled that she may leave the GOP, saying, "If [Trump] is the nominee, I won't be a Republican."
A 55-year-old man has been charged in the slaying of a Detroit radio news anchor during an attack that also left two children and their mother injured. Arthur Williamson was arraigned Monday in district court in New Baltimore and ordered jailed on murder, assault with intent to murder and unlawful imprisonment charges.
A U.S. Coast Guard ship on routine patrol in the Bering Sea came across a guided missile cruiser from China, officials said Monday.