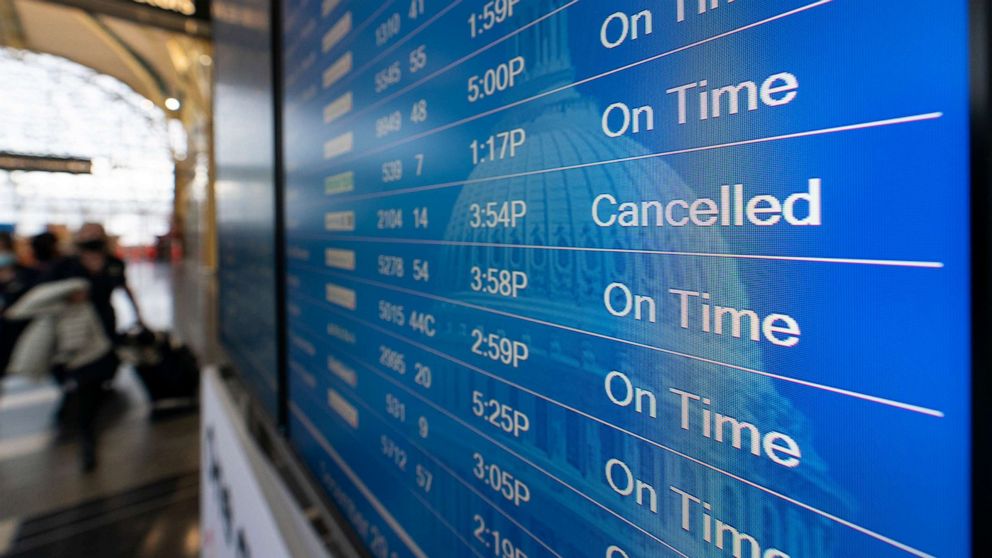 FAA issues warning to travelers amid omicron surge: Delays will continue
ABC News
The agency is dealing with rising cases among air traffic control employees.
The travel chaos continues for an eighth consecutive day Friday, with more than 1,600 U.S. cancellations as of 8:30 p.m. ET. The airlines have been grappling with the one-two punch of bad winter weather and a surge in crew COVID cases that have left them short-staffed, and forced airlines to cancel nearly 10,000 flights since Christmas Eve.
Now the Federal Aviation Administration is warning of staffing issues of its own, such as sick air traffic controllers. In addition, the FAA warned on Thursday that weather, holiday traffic and COVID-19 "are likely to result in some travel delays in the coming days."
"Like the rest of the U.S. population, an increased number of FAA employees have tested positive for COVID-19," the FAA said in a statement. "To maintain safety, traffic volume at some facilities could be reduced, which might result in delays during busy periods."
The travel turbulence couldn't have come at a worse time as millions of Americans travel during what could be the busiest travel period since the start of the pandemic. Roughly 8.5 million fliers are expected to pass through U.S. airports from now until Jan.3, according to estimates from the Transportation Security Administration.