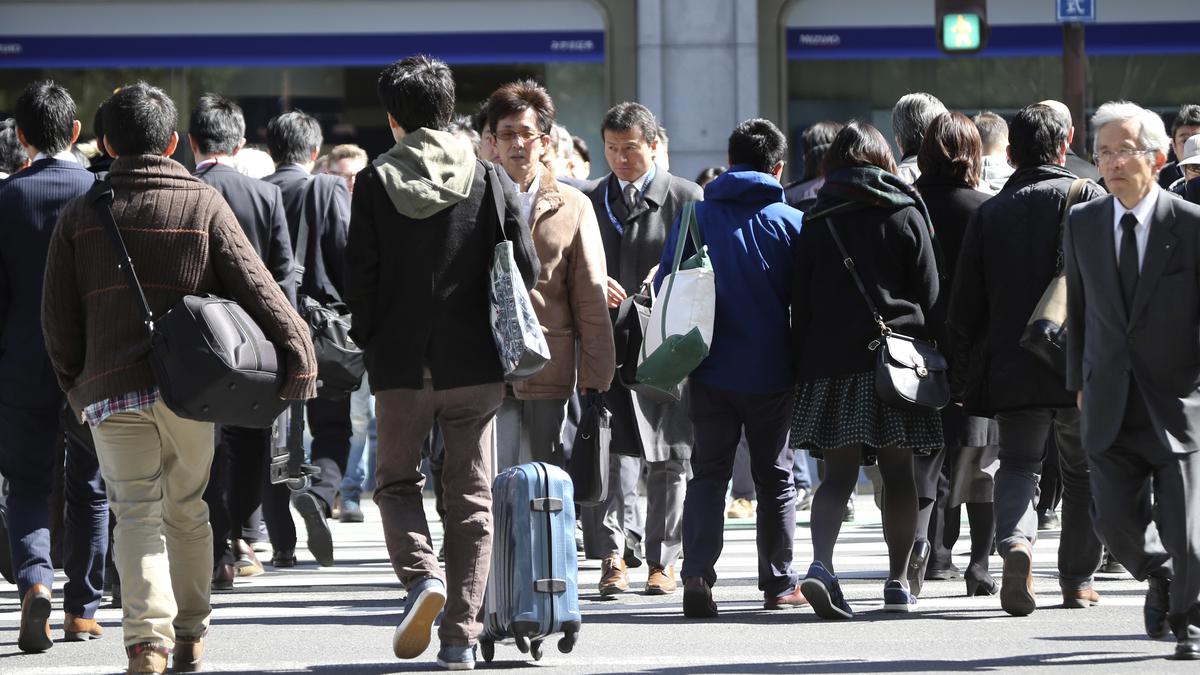 Explained | Why is Japan offering citizens money to move out of Tokyo?
The Hindu
Why is the country encouraging citizens to move out of the Tokyo metropolitan area? What are the likely benefits for citizens? How are rural areas suffering due to overpopulation in the capital region?
The story so far: According to local media reports, Japan will pay up to one million yen (approximately ₹6 lakh) per child to families if they move out of the Tokyo metropolitan area. This amount was previously set at 3,00,000 yen and has been raised to reduce population concentration in the capital area. The new rule will be implemented starting April, the report added.
In 2019, Japan released a revised version of a policy for revitalising its towns, people, and jobs. It included the current and future state of the country's population and aspirations. According to the policy document, the total population of Japan will decrease to around 90 million in 2060 (Worldometer estimates it to be over 125 million currently).
The impact of emigration has been felt sharply in rural areas the most, where the number of local community members have decreased, leading to a shrinkage in local and small-scale economic opportunities. This sets off an adverse chain reaction, the policy document notes. Once people move out and local economies decline, it becomes difficult to maintain essential life services in these areas, and the region loses its charm and functionality.
Japan's two-pronged solution to this problem includes achieving the goal of a vibrant local community and correcting the overconcentration in the Tokyo metropolitan area. Tokyo is also prone to earthquakes, and the overconcentration of the population and economy makes the nation vulnerable to loss. To strengthen its efforts of reducing overconcentration in Tokyo, the government plans to promote immigration and settlements in rural areas through policies like offering a lucrative sum of money. Other plans on the list include improving ties with local communities, creating a profitable economy, and promoting a work-life balance focused on peace of mind.
Tokyo, Saitama Prefecture, Chiba Prefecture, and Kanagawa Prefecture are included in the Tokyo area.
The Regional Revitalisation Migration Support project provides subsidies to people living or working in the 23 wards of Tokyo (including the disadvantaged areas within Tokyo) to move out of the Tokyo metropolitan area and start a business or work. The subsidies are jointly provided by prefectures and municipalities. People who have lived in the 23 wards of Tokyo or in the Tokyo metropolitan area (excluding disadvantaged areas) for a total of five years or more in the last 10 years can, before they move, apply for the subsidy. It is also necessary for the applicants to have lived or commuted in the 23 wards of Tokyo, at least for the past one year. For people who lived in the metropolitan area (excluding disadvantaged areas) and commuted to schools and universities in the 23 wards, the period of commuting to schools is also counted under this project.
The application for the subsidy must be made between the three months and one year of moving into the municipality. It is also important for applicants to show that they intend to live in the area for at least five years.
More Related News
Judge rejects Trump's bid to derail Wash. election interference case; ruling says former President is "not above the law" and can be subject to criminal prosecution. Trump's lawyers argue no other former President has been criminally prosecuted, but Judge Chutkan says "so too are the allegations that a President committed the crimes with which Defendant is charged." Trump faces four criminal cases, including one in Wash. for alleged election interference.
Ukraine's strength has grown, allowing for reopening of Kyiv's airport. Chief of Staff Yermak pledged to diplomats at Boryspil Int'l Airport. Yermak & Sybiga discussed Zelenskiy's 10-pt peace plan: withdrawal of Russian troops, recognition of Ukraine's borders, war crimes tribunal.
Sierra Leone has signed a memorandum of understanding with China Road and Bridge Corporation and Atepa Group's architectural firm to build an eight-kilometer bridge
China and Vietnam are working on a possible significant upgrade of their underdeveloped rail links to boost a line that crosses Vietnam's rare earths heartland
Russia said its troops were progressing in all areas of the Ukrainian front, despite observers seeing little movement
The Philippines inaugurated a new coast guard monitoring base on an island occupied by Filipino forces in the disputed South China Sea
Recent arrests made by Sri Lanka police using a controversial anti-terrorism law, whose repeal remains a key demand of rights defenders in the island nation, has sparked concern among Tamil legislators, activists, and international agencies including the UN
The United Nations deplored the resumption of conflict in Gaza, describing the hostilities as "catastrophic" and urging parties to bring about a lasting ceasefire
United States House voted to expel Republican Rep. George Santos of New York after a critical ethics report on his conduct that accused him of converting campaign donations for his own use
The Department of Justice charged Indian national Nikhil Gupta with conspiracy to commit murder for hire for his alleged role in the plot to kill the Sikh American individual.
Argentina will not join BRICS bloc in 2024 as planned, per President-elect Milei's team. Milei, a right-wing populist, has criticized China and Brazil, and favors US and Israel as allies. Foreign Minister Mondino downplayed BRICS' importance, saying it's more political than economic.