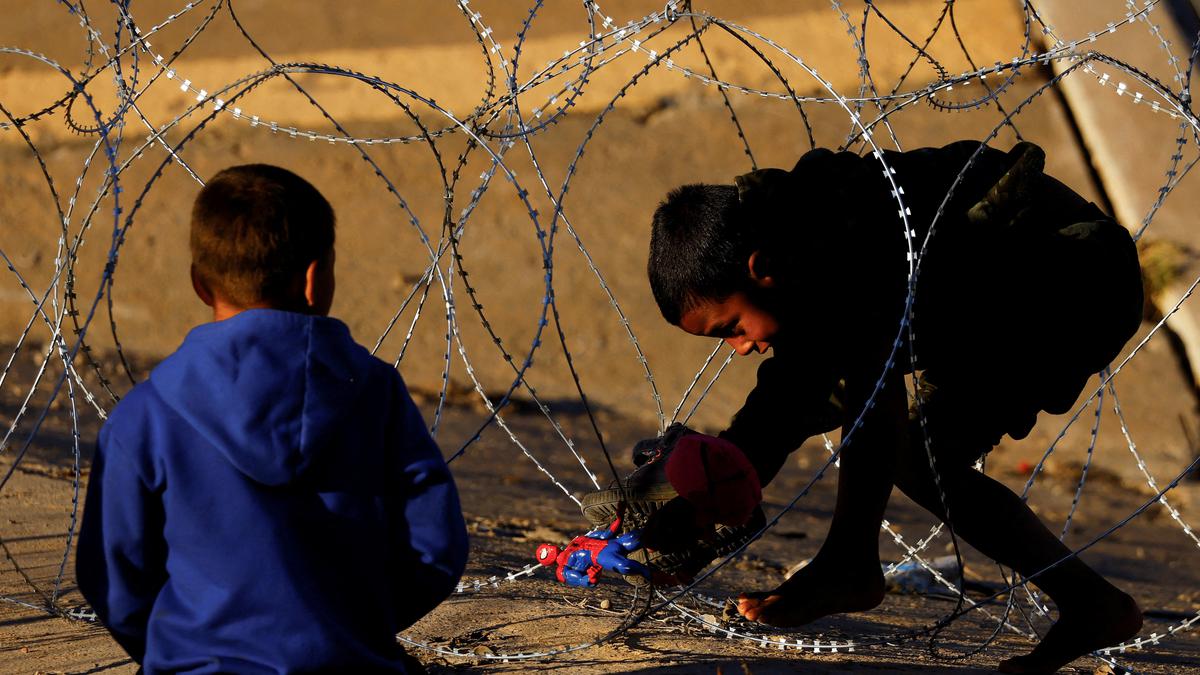 Explained | Why are migrants crossing the U.S.-Mexico border in record numbers?
The Hindu
What is happening at the U.S.-Mexico border now and why are there record numbers of crossings?
U.S. President Joe Biden is visiting the U.S.-Mexico border for the first time since he took office in January 2021 on Sunday, ahead of a visit to Mexico and after announcing new measures to reduce border crossings.
U.S. Border Patrol made more than 2.2 million arrests at the U.S.-Mexico in the 2022 fiscal year, which ended last September, the most ever recorded.
But many of those were individual migrants who tried to cross multiple times after being caught and rapidly expelled back to Mexico under a COVID-era order known as Title 42.
The policy was implemented in March 2020 under Republican former President Donald Trump, an immigration hardliner. Biden, a Democrat, tried to end the Title 42 order, which health officials said was no longer needed, but the termination was blocked in court.
Before last year, Mexico had generally only been accepting expulsions of its own citizens along with migrants from the Central American countries of Guatemala, Honduras and El Salvador. The number of Venezuelans crossing the border plummeted after Mexico agreed to accept expulsions of Venezuelan migrants last October.
Biden announced on Thursday that Cubans, Haitians, and Nicaraguans - who have also been arriving in larger numbers - will now also be expelled under Title 42.
Also Read | Fallout of policy failure: On the U.S. migrant tragedy
More Related News
Mr. Johnson insisted that he has stepped down due to his own lack of "domain expertise".
Mr. Zardari rejected the allegations and also sent a legal notice to Mr. Khan.
The appointments reflect the growing influence of the Indian-American community in U.S. politics
The bank plans to consult with Indigenous groups in designing the $5 note, a process it expects will take several years before the new note goes public.
The U.S. embassy and consulates in India have prepared to receive a record number of visas from Indian students in 2023
"Early investigations suggest that the Israeli regime was responsible for this attempted act of aggression," a letter signed by Iranian ambassador Amir Saeid Iravani said.
The United States has opened an embassy in the Solomon Islands in its latest move to counter China's push into the Pacific.
The statement by Pyongyang's Foreign Ministry came in response to U.S.' plan to increase its deployment of advanced military assets to the Korean Peninsula
The agreement was reached as U.S. Defence Secretary Lloyd Austin was in the country for talks about deploying U.S. forces and weapons in more Philippine military camps.
The Israeli military said the airstrikes targeted a rocket production workshop for the militant Hamas group, which controls Gaza.
Authorities in Pakistan said Wednesday the death toll from Monday's suicide bombing at a mosque in Peshawar increased by one to 101