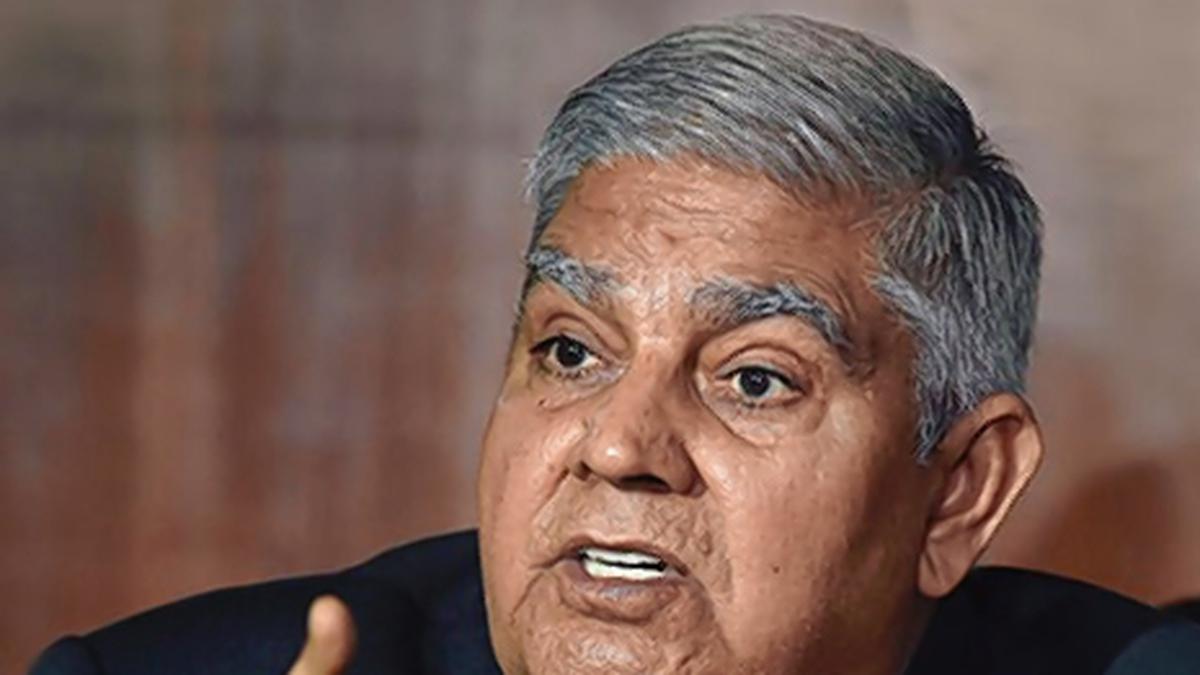 Explained | Understanding the 'basic structure' of the Constitution and Jagdeep Dhankar's criticism of it
The Hindu
A look at the features and evolution of the "basic structure" doctrine propounded in the landmark Kesavananda Bharati case.
The story so far: Vice-President and Rajya Sabha Chairman Jagdeep Dhankar's recent public criticism of the judiciary and remark that courts cannot dilute "parliamentary sovereignty" sparked a debate on the separation of powers, bringing the focus back to the "basic structure" doctrine of the Constitution.
In the backdrop of the ongoing tussle between the executive and the judiciary over the collegium system of appointing judges, the Vice-President once again raked up the Supreme Court verdict which struck down the National Judicial Appointments Commission (NJAC) and the 99th Amendment in 2015.
During his inaugural address at the 83rd All India Presiding Officers Conference, Mr. Dhankar questioned the landmark Kesavananda Bharati case verdict, voicing his disagreement with the top court ruling that Parliament can amend the Constitution but not its basic structure. He said that he does not subscribe to the idea that the judiciary can strike down amendments passed by the legislature on the ground that they violate the 'basic structure' of the Constitution.
What is the basic structure doctrine?
In 1973, a 13-judge Constitution Bench ruled in Kesavananda Bharati v. State of Kerala that Article 368 of the Constitution does not enable Parliament to amend the basic framework of the document. The historic ruling came to be known as the "basic structure" doctrine — a judicial principle that the Constitution has certain basic features that cannot be altered or destroyed by amendments by Parliament. Over the years, various facets of the basic structure doctrine have evolved, forming the basis for judicial review of Constitutional amendments.
How did it evolve?
The Kesavananda Bharati case was the culmination of a conflict between the judiciary and the then-Indira Gandhi-led government. In I.C. Golak Nath v. State of Punjab (1967), the Supreme Court held that Parliament could not curtail fundamental rights guaranteed under the Constitution.
More Related News
He added that he would not hesitate to import coal and mandate thermal plants to run at full capacity to ensure continued supply of electricity
OPS files affidavit objecting to EPS's application that ECI should take the amended bylaws on record ahead of the byelection to Erode (East) Assembly constituency.
Crushed between the State and the Indian Railways, nearly one-third of the people living in Haldwani
Passes away on the day his iconic movie Sankarabharanam was released in 1980
MADURAI William Shakespeare's much-loved comedy, Twelfth Night, proved to be a crowd-puller yet agai
Justice Anita Sumanth, however, grants liberty to them to appeal before the Central Goods and Services Tax officials
Left Front and Congress settle their dispute over four seats while the IPFT is contesting one seat more than the five allotted by ally BJP
The agency has alleged that a part of the 'kickback' was used for the Aam Aadmi Party's poll campaign ahead of the Goa Assembly election in 2022
He says the funds allotted for the projects should be spent within the financial year and the government comes under criticism if there is any delay in completion of the projects
The new web-based application is expected to save time spent by the public on registration