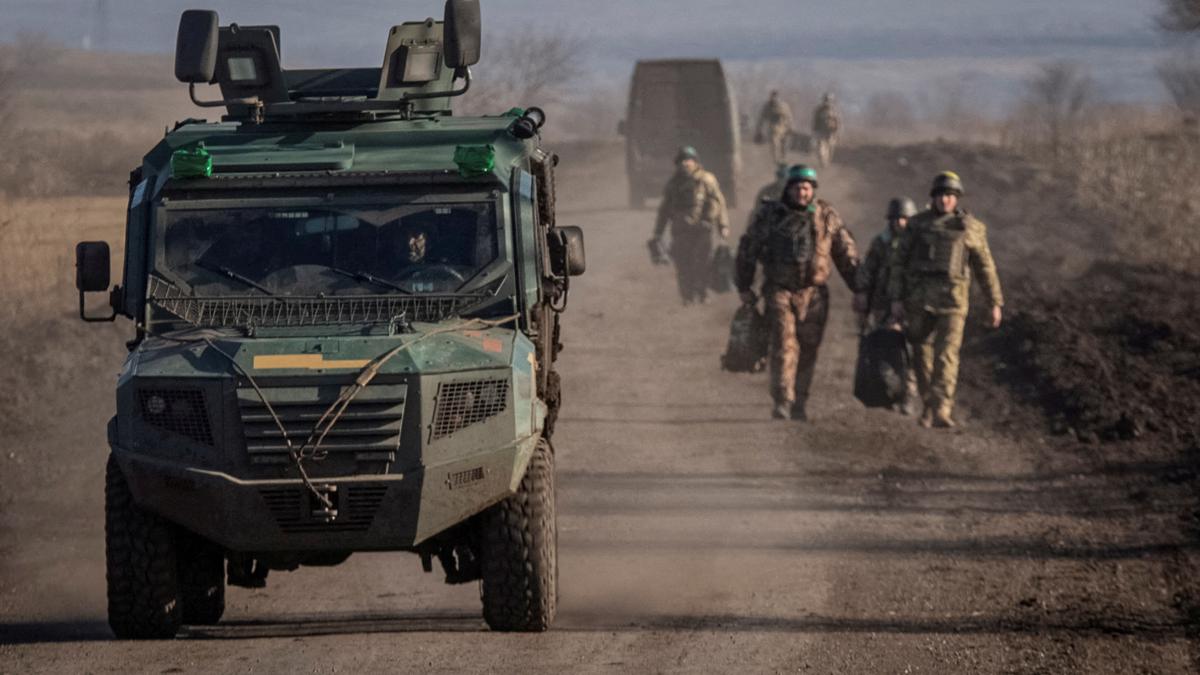 Explained | The next leg of the Russia-Ukraine war
The Hindu
Why is Ukraine asking more weapons and military equipment from NATO allies? Why was Germany reluctant to send its Leopard 2 tanks? What all regions are now under Russian control? Why did the U.S. initially refuse to send its Abrams tanks?
The story so far: As Russia's Ukraine invasion enters its 12th month, all sides are gearing up for a major escalation in the conflict. Russia, which suffered some setbacks last year after its initial thrust into Ukraine, is trying to build battlefield momentum with minor advances. Ukraine, whose troops are struggling to defend the frontlines in the east and south, is asking for heavier weapons from its NATO allies. While Germany's early resistance to sending its Leopard 2 battle tanks to Ukraine created a rift within NATO, it has now finally agreed to send the tanks and allow other countries to re-export German-built tanks to Ukraine. The U.S., after initial reluctance, is also sending its M1 Abrams tanks to Kyiv.
After Ukraine, which launched a counteroffensive in September, recaptured swathes of the Kharkiv Oblast in the northeast and Kherson city in the south, (the only provincial capital the Russians had taken since the war began) the conflict had turned into a war of attrition — until recently.
Russian troops, predominantly the private military Wagner Group, have been trying to seize Bakhmut, a city in Donetsk in the Donbas region which Moscow now claims as its own, for the past six months. As those efforts did not bear fruit, in recent weeks, Russia's focus shifted to Soledar, a town that lies just 18 km from the city of Bakhmut. Russian troops tore through the Ukrainian defences in Soledar rather quickly, taking the town, and making further advances towards Bakhmut.
In the south, Moscow claimed that its troops have pushed through the frontlines in Zaporizhzhia, one of the four Ukrainian provinces Russian President Vladimir Putin unilaterally annexed in September. As of now, Russia controls only parts of the Zaporizhzhia province, including its eponymous nuclear plant, Europe's largest. But by pushing through the frontlines in the east and the south, Russia is mounting enormous pressure on Ukraine's army, which set alarm bells ringing in Kyiv and western capitals.
Ukraine now demands urgent supplies and the West is scrambling for weapons.
Supplies from the West are vital for Ukraine in the conflict. The U.S., Ukraine's largest defence supplier, has committed to sending Kyiv more than $27 billion in military aid since the war began. It is sending ammunition, howitzers, helmets, Humvees and HIMARS rocket systems. The U.S. has also promised to send Stryker combat vehicles and deploy a Patriot missile defence battery.
The U.K. and Germany are the next two big suppliers of military equipment and arms for Ukraine. Earlier this month, London announced that it would provide 14 Challenger 2 battle tanks to Kyiv, while France said it would ship AMX-10RC armoured vehicles, known as the tank killer, to Ukraine. While Ukraine thanked its allies for these commitments, they also said these were not enough to beat the Russians.
More Related News
The agreement was reached as U.S. Defence Secretary Lloyd Austin was in the country for talks about deploying U.S. forces and weapons in more Philippine military camps.
The Israeli military said the airstrikes targeted a rocket production workshop for the militant Hamas group, which controls Gaza.
Authorities in Pakistan said Wednesday the death toll from Monday's suicide bombing at a mosque in Peshawar increased by one to 101
The lawmakers have written a letter to Blinken and Treasury Secretary Janet Yellen, ahead of their upcoming trip to Beijing.
Here's a select list of stories to read before you start your day
Myanmar has been in turmoil since the military's power grab and bloody crackdown on dissent, which has sparked fighting across the country and tanked the economy
Year-on-year inflation in January 2023 was recorded at 27.55%, the highest since May 1975, with thousands of containers of imports held up at Karachi port
The search in Rehoboth, which attorney Bob Bauer said was done "with the President's full support and cooperation"
The initiative comes at a time when the U.S. is seeking to out-compete China in critical technologies and tighten the screws on China's semiconductor industry
The U.S. has indicated solidarity with several Asian nations, several of whom have conflicts with an aggressive China which is flexing its muscles in the strategic Indo-Pacific region
A new innovation bridge will be created to connect defence start-ups on both sides, says Ministry of External Affairs