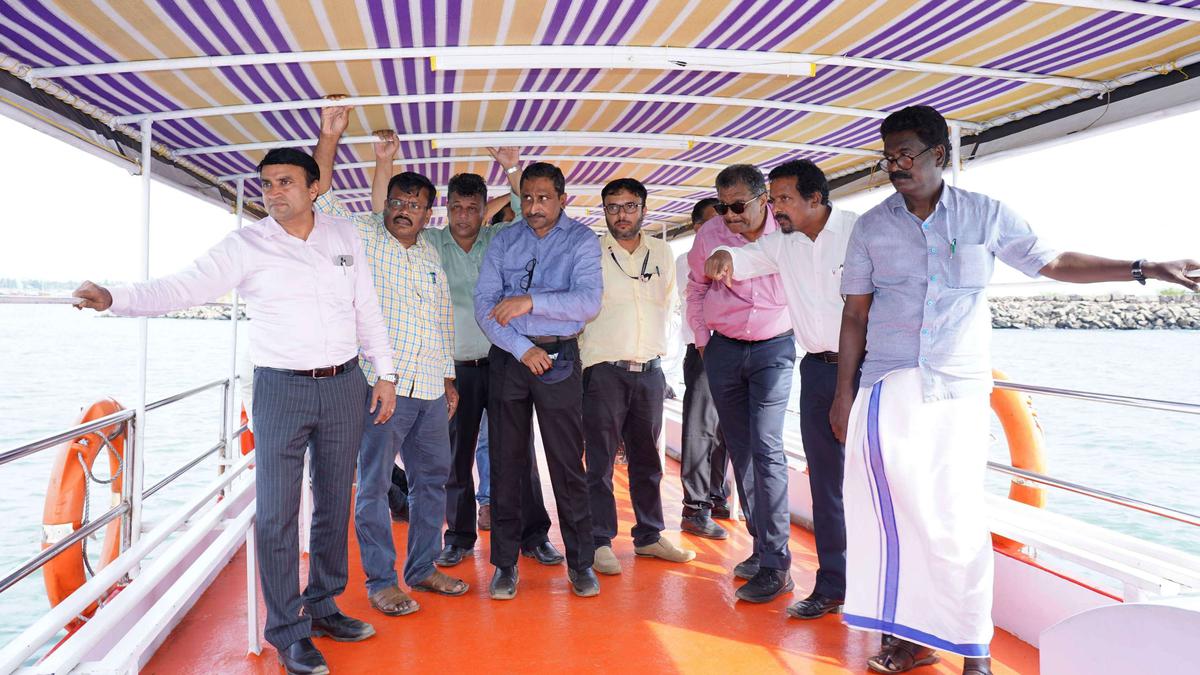 Expert team visits Ponnani to study feasibility for mini port
The Hindu
The mini port project envisages construction of a 100-metre-long wharf near the old jankar jetty at Ponnani
A team of experts visited Ponnani on Friday in order to evaluate the feasibility of setting up a multipurpose port with potential to handle small passenger and freight vessels.
Kerala Maritime Board (KMB) Chairman N.S. Pillai led the team. The team examined the area where the mini port is proposed to be constructed at a cost of ₹50 crore.
The mini port project envisages construction of a 100-metre-long wharf near the old jankar jetty at Ponnani. P. Nandakumar, Ponnani MLA, who took initiative for the project, said a consistent four-metre depth would be ensured for small and medium vessels to dock.
A detailed project report (DPR) will be prepared and submitted in three weeks. Presiding over a meeting held at the PWD rest house at Ponnani on Friday, Mr. Nandakumar said the multipurpose project would give a fillip to tourism in the region.
Ponnani municipal chairman Sivadas Attupuram, KMB Chief Executive Officer T.P. Salim Kumar, harbour superintending engineer Mohammed Ansari, Kozhikode port officer Aswini Pratap, harbour executive engineer Rajeev, senior port conservator V.V. Prasad, former municipal chairman C.P. Mohammed Kunhi, and Harbour Engineering department officials attended the meeting.
More Related News
Tejashwi Yadav alleged that attempts were being made by the Centre to change the history of the country.
A steep rise in rumble strips on the city roads has become a major irritant for motorists, especially two-wheeler riders, who say they are dreading their back-breaking commutes to and from work
West Bengal Chief Minister Mamata Banerjee on June 7 sent top varieties of the State's mangoes to President Droupadi Murmu and Prime Minister Narendra Modi.
Production of the Velocity Vials at SGD Pharma's facility in Vemula is expected to begin in the first quarter of 2024 whereas that of the pharmaceutical tubing will begin in 2025.
Karnataka Today newsletter: Gruha Jyothi to be launched in Kalaburagi, Gruha Lakshmi in Belagavi, and more
Chief Minister Siddaramaiah on Thursday said the Gruha Jyothi scheme will be launched on August 1 in Kalaburagi while the Gruha Lakshmi scheme would be flagged off on August 17 or 18 in Belagavi.
The Director-General of Police (DGP), C. Sylendra Babu, on Thursday claimed that public confidence levels in the All Women Police Stations (AWPs) has increased
The Kerala Financial Corporation (KFC) has reported a massive jump in its net profit at ₹50.19 crore against the previous fiscal's ₹13.20 crore.
The Supreme Court agreed to hear a plea challenging grant of 15-day interim bail to Raghav Magunta, son of YSR Congress Party MP Magunta Srinivasulu Reddy, by the Delhi High Court.
The southwest monsoon arrived in Kerala on June 8, the India Meteorological Department (IMD) said on June 8, four days later than the original forecast date of June 4 and nearly a week after its 'normal' onset date of June 1.
Kuruvai paddy would be raised on 3.59 lakh acres in the Cauvery delta and neighbouring districts this year, M.R.K.Panneerselvam, Minister for Agriculture and Farmer's Welfare, said here on Thursday.