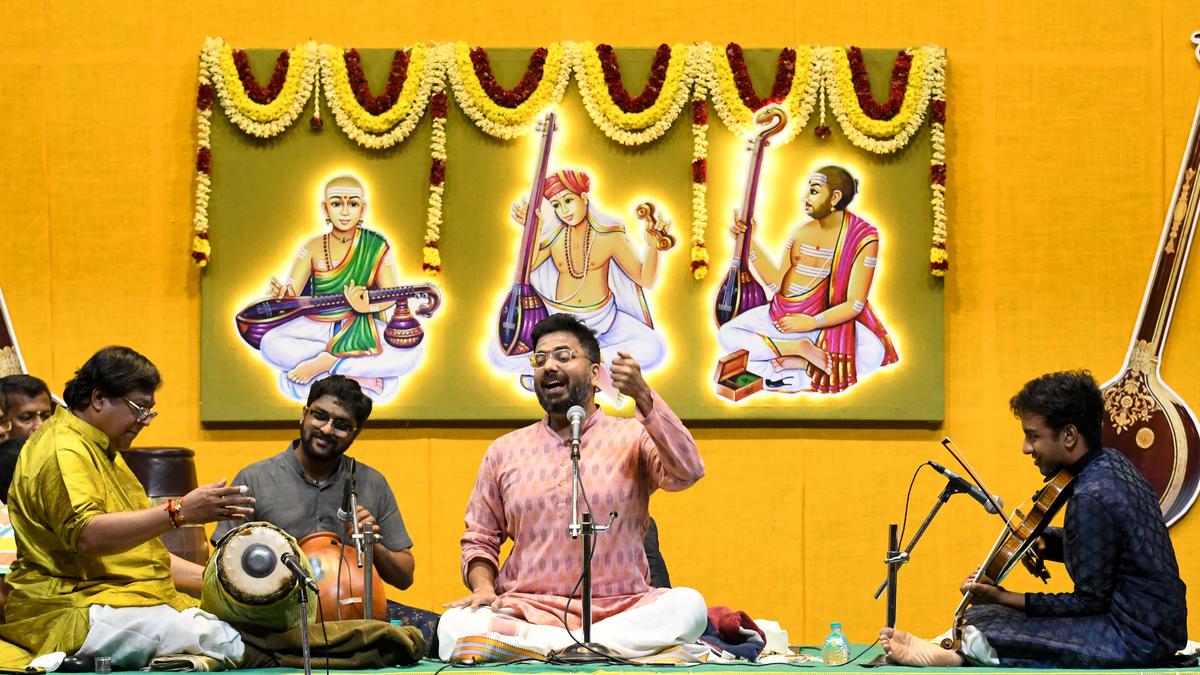 Exotic melody by Bharat Sundar enthrals rasikas
The Hindu
The fourth day of the 71st Annual Music and Arts festival of Sri Sathguru Sangeetha Samajam featured
The fourth day of the 71st Annual Music and Arts festival of Sri Sathguru Sangeetha Samajam featured a vocal concert by K. Bharat Sundar accompanied by "Madurakala Praveena" Thiruvarur Bhakthavatsalam on mridangam, Kamalakiran Vinjamuri on violin and Chandrasekara Sharma on ghatam.
The concert started with Valachi vachi, a Navaragamalika varnam (Kedaram, Shankarabharanam, Kalyani,,Begada, Kambhoji, Yadukulakamboji, Bilahari, Mohanam and Shree ragam), invoking the blessings of Lord Venkatesa, in which he brought out the raga bhavam, ranjaka prayogas, along with the percussionists..
The vocalist in quick succession rendered "maha ganapatim" in raagam naattai by Muthuswamy Dikshitar and made the audience meditate on the supreme Ganapati who is worshipped by sages such as Vasishta, Vaamadeva and others.
The poet-composer Papanasam Sivan says 'Come and protect me, Palani Malai Muruga.' He identifies the divinity he invokes by different descriptions but the repeated 'va va' are the words we hear which is set to the beautiful raga Varali, the melodious supplication by the singer touched the hearts of the rasikas.
The vocalist then went on to sing one of the most popular Tyagaraja's Kriti, "Bantu Reethi Koolu," in Hamsanadam raga. In this kriti, the Saint pleads with Lord Rama to give him the post of guard for the Lord, with the power to kill lust, craze, desire, krodha, hatred and lobha, the six passions, with the sword called Rama Namam. The song was rendered with an exotic melody and striking identity.
Abheri, one of the most popular ragas, known in North India by the name Bhimpalasi and Sri Muthuswamy Dikshitar affectionately called it Devagandharam, was the singer's main raga for the evening for Saint Tyagaraja's Kriti " Nagumo."
The singer concluded the concert with a Lalgudi Thillana "Unnai Saranadainden" in Maand, a fitting finale to the concert.
More Related News
The AIADMK lodges a complaint with Chief Electoral Officer Satyabrata Sahoo
The YSRCP government has neither offered jobs to the BCs nor funds to the scores of corporations formed merely to appease the communities, alleges the TDP leader
The project, worth ₹404.45 crore, was awarded based on a tender floated in October 2021
The party proposes to organise 8,000 grama shabas under the programme till March 30, says Sunil Deodhar
Facility will provide support to the pharma firm's worldwide knowledge services, initially have 800 employees, 1,800 in near future, company says after meeting of leadership with KTR
Composed by Marathi poet Raja Badhe, the song will be adopted on February 19, i.e. on the birth anniversary of Maratha warrior-king Chhatrapati Shivaji
ST panel seeks action-taken report in 3 days, failing which it may exercise powers of civil court to issue summons
The exhibition, broadly reflects the varsity's vision to promote teaching, research and outreach in environmentally clean methods of energy production, conservation and utilisation
Chaos filled the air during the public hearing organised by the Tamil Nadu Pollution Control Board a