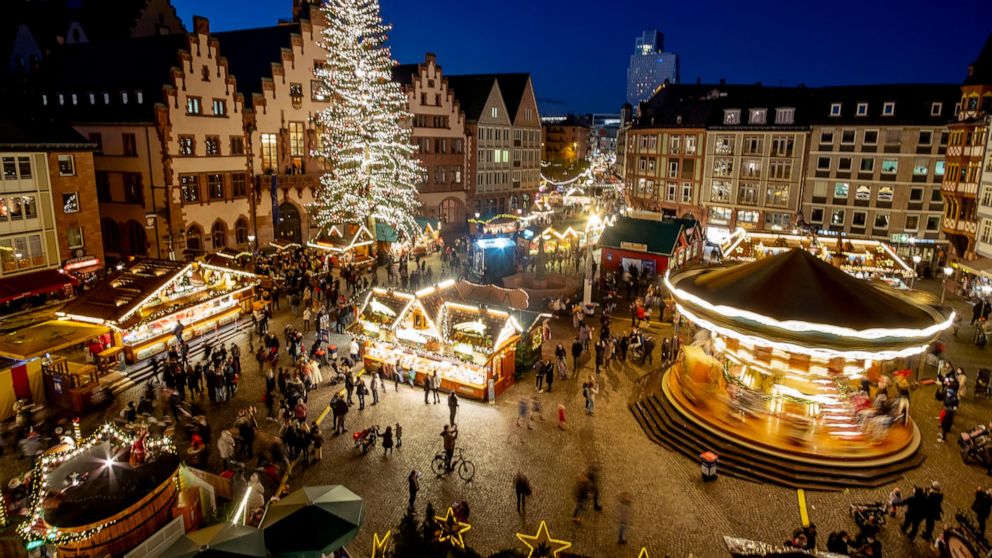 Europe's Christmas markets warily open as COVID cases rise
ABC News
Some of Europe's Christmas markets are warily opening amid surging coronavirus infections
FRANKFURT, Germany -- The holiday tree is towering over the main square in this central German city, the chestnuts and sugared almonds are roasted, and kids are clambering aboard the merry-go-round just like they did before the pandemic. But a surge in coronavirus infections has left an uneasy feeling hanging over Frankfurt's Christmas market.
To savor a mug of mulled wine — a pleasurable rite of winter in pre-pandemic times — masked customers must pass through a one-way entrance to a fenced-off wine hut, stopping at the hand sanitizer station. Elsewhere, security officers check vaccination certificates before letting customers head for the steaming sausages and kebabs.
Despite the pandemic inconveniences, stall owners selling ornaments, roasted chestnuts and other holiday-themed items in Frankfurt and other European cities are relieved to be open at all for their first Christmas market in two years, especially with new restrictions taking effect in Germany, Austria and other countries as COVID-19 infections hit record highs. Merchants who have opened are hoping for at least a fraction of the pre-pandemic holiday sales that can make or break their businesses.
Others aren't so lucky. Many of the famous holiday events have been canceled in Germany and Austria. With the market closures goes the money that tourists would spend in restaurants, hotels and other businesses.
More Related News
Organizers for GivingTuesday say American donors gave $2.7 billion during Tuesday's giving day
There's a new Silicon Valley corporate name change on the block
Airlines are being required to gather information about some passengers that will help with contact tracing if they develop COVID-19
Microsoft Corp. shareholders voted to force the company to more transparently address sexual harassment claims via independent investigations and public reporting.
The head of Visa says he believes the pandemic caused a permanent shift of how consumers choose to pay for goods and services away from cash and into payments
Scientists say it could be weeks before they better understand how dangerous the omicron variant is
General Motors is forming a joint venture with Posco Chemical of South Korea to build a North American battery materials plant as it moves to bring more steps in the electric vehicle supply chain under its umbrella