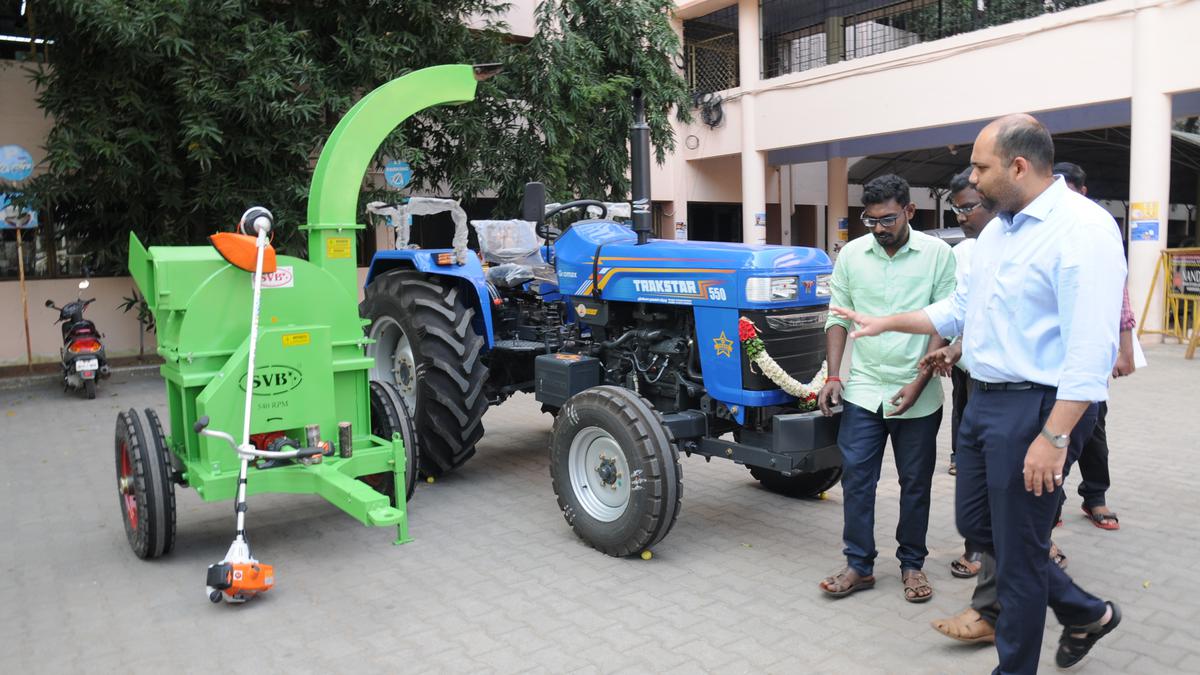 Erode district initiates project to turn forest weed into fuel, ensure income for tribal community
The Hindu
Under the Tamil Nadu Vazhndhu Kattuvom Project, invasive species Lantana camara will be converted into fuel briquettes for supply to industries in Erode, thereby ensuring an income for tribal people, Erode Collector H. Krishnanunni said
The Erode district administration has initiated a project to convert Lantana camara, an invasive species found in abundance across the Sathyamangalam Tiger Reserve (STR), into fuel, and to ensure a regular income for tribal people at Hasanur.
Under the Tamil Nadu Vazhndhu Kattuvom Project (TNVKP), over 50 tribal people were trained to make furniture from lantana at the Talavadi Adivasi Munnetra Sangam in Hasanur. Later, the Hasanur Tribal Lantana Camara Enterprise Group was formed, and the finished products are now being marketed through the Tribal Cooperative Marketing Federation of India (TRIFED) as well as at Aatral Erode, an exclusive retail outlet for self-help groups in Erode.
In a move to provide jobs to more tribal people as well as a regular source of income, District Collector H. Krishnanunni initiated a project to convert the lantana into briquette that can be used as a fuel in furnaces and boilers in industries. Since fuel efficiency in lantana is high due to its high calorific value, fuel briquettes made from lantana are preferred by industries.
Under the Innovation Fund of the TNVKP, a tractor with a trailer, brush cutter and chipper were purchased at a cost of ₹16 lakh and Mr. Krishnanunni handed over the machines to the Hasanur Tribal Lantana Camara Enterprise Group at the Erode Collectorate on Friday, in the presence of G. Dhamodaran, District Executive Officer of TNVKP.
Mr. Dhamodaran told The Hindu that industries in the district purchase 5 lakh tonnes of fuel wood every month from other districts, and there is a good demand for fuel briquettes due to their high fuel efficiency. He said that permission has been obtained from the District Forest Officer of Hasanur Division to remove lantana in 100 hectares from three places in forest areas at Hasanur.
The brush cutter will cut the lantana and the chipper will pulverize and compress the weed to make briquettes that will be collected in the trailer. "Initially, 15 members will be deployed for the work and this will be scaled up to 70 members [in the future]," he said.
Mr. Krishnanunni said though the invasive weed posed a grave threat to forests, projects, including furniture making from lantana, were being implemented through TNVKP to improve the livelihood of tribal people. He said that one tonne of these briquettes is sold for ₹6,000, thereby each working person can get a daily income of ₹300. "The project ensures regular jobs and economic development of tribal people at Hasanur", he said.
More Related News
Yettinahole Integrated Drinking Water Project trial run caused flooding in Sakleshpur taluk, damaging houses, coffee beans, and a road. Locals blamed officers for the damage and raised doubts over quality of work. Project officers and MLA visited spots, assured repair work, and stopped trial run. To ensure efficiency, experts will examine pipeline and find leakage points.
Assembly elections results 2023: BJP leaders credit PM Modi's "charismatic" leadership & development agenda for party's success in 3 States. Home Minister Shah asserts people have put stamp of approval on PM Modi's "good governance".
Retired Air Force officer B. Rama Krishna Rao, who donated blood 257 times, encourages senior citizens to volunteer for blood donation. To mark Navy Day, retired officials of the Navy and Air Force, including S.N. Raju, V.V. Ramana, T. Shiva Sankar, Ch. Bala Raju, V.V.B.S. Thimmarasu, donated blood at New Life Blood Center of Vizianagaram. Awareness of blood donation needed to bridge gap between availability and requirement.
Election Commission of India directs Telangana Chief Secretary to suspend DGP Anjani Kumar for meeting TPCC president while election results were being announced. ECI recommended suspension of DGP for violating model code of conduct. DGP claims he was called to discuss arrangements for swearing ceremony. Suspension orders awaited.
Special Chief Secretary (Energy) K. Vijayanand told the CMDs of power distribution companies (DISCOMs) to be alert to the likelihood of cyclone Michaung causing widespread destruction during its landfall and to promptly take restoration works.
Salem district distributes terrace garden kits to 11,000 residents with ₹62.50 lakh subsidy. Kits include seed packages, bags, organic fertilizers, pesticides & manual. People can learn farming & meet daily vegetable needs through Uzhavar Sandhais.
Lt. Gen. Manjinder Singh assumed office as GOC-in-C of ARTRAC on Dec. 1, 2023. He is an alumnus of Sainik School Kapurthala, NDA, Khadakwasla & IMA, Dehradun. He has commanded a Battalion in J&K, an Infantry Brigade at LoC, an Infantry Division & a Corps. He was decorated with Yudh Seva Medal & Vishisht Seva Medal. He is the Colonel of Madras Regiment since Jan. 2021.
ENC C-in-C V.Adm. Rajesh Pendharkar announces Operational Demo on Dec 10, postponed due to Cyclone Michaung. 2nd edition of Exercise MILAN in Visakhapatnam in Feb 2024, with 50 countries. Highlights: Seminar, Table Top Exercises, DSRV, Multilateral Exercise, City Parade, Social & Cultural Events. Indian Navy to deploy Aircraft Carriers Vikramaditya & Vikrant to Eastern Seaboard.
Telangana election results reflect the aspirations of people there, say Chandrababu Naidu, Lokesh. In a joint message posted on X, they have advised the TDP cadre to refrain from belittling the losers, and added that time has come to focus on elections in Andhra Pradesh.
Sri Venkateswara Institute of Medical Sciences (SVIMS), the super specialty hospital being run by the Tirumala Tirupati Devasthanams (TTD), is laying an enhanced focus on tackling cardiac disorders and cancer care, while adequate thrust will also be given on preventive care through screening services. The paradigm shift in core focus started after R.V. Kumar, former head of CT surgery at Nizam's Institute of Medical Sciences (NIMS), Hyderabad, took over the reins of this institute as its Director and Vice-Chancellor. In an interview with The Hindu, Dr. Kumar spoke about his previous accomplishments and explained the roadmap for the development of the SVIMS.
A collection of images from India's youngest State, which has chosen Congress after handing over two successive wins to BRS.