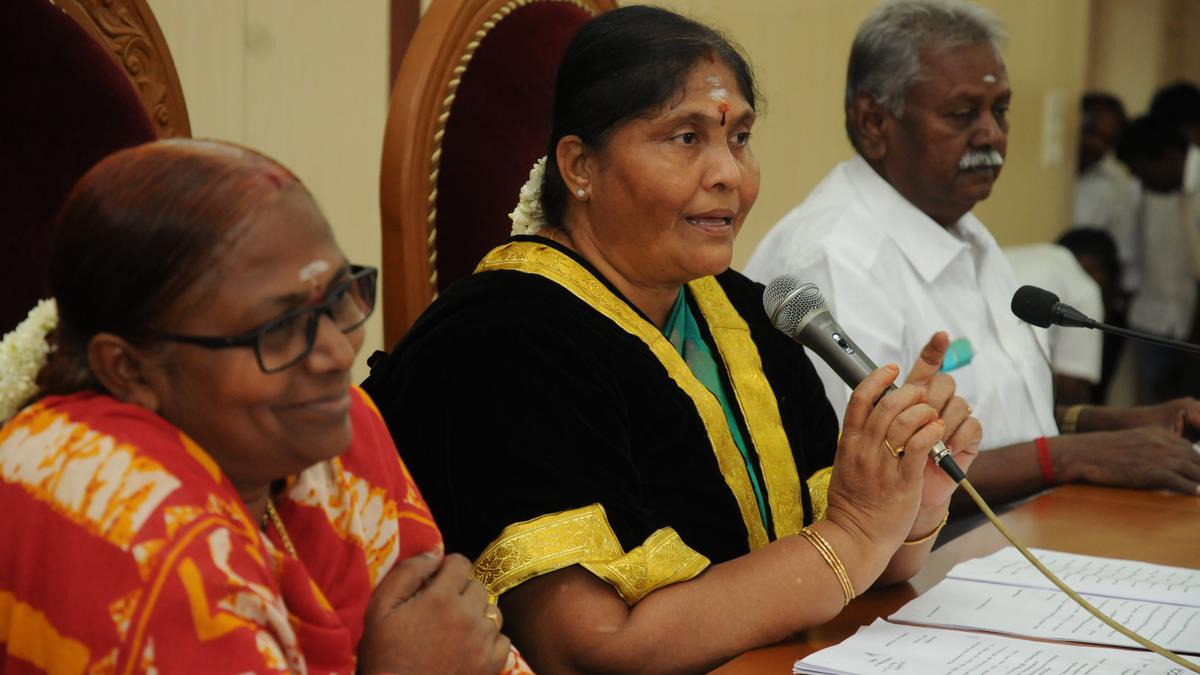 Erode Corportion Councillors claim they are not aware of works carried out in their wards
The Hindu
Councillors in Erode Corp. unable to answer people due to lack of info on works. Private firm to commence work from Oct 1, but details not shared. AIADMK councillors' requests for street lights, roads not fulfilled. Contractor claims no funds allotted, councillors unaware of works. Issues related to drinking water supply discussed.
Councillors at the Erode Corporation have said that details of works carried out in their wards were not shared with them by officials and they are unable to answer people.
During the ordinary and urgent council meetings, chaired by Mayor S. Nagarathinam, held here on Wednesday, both, the DMK and the AIADMK councillors said they learnt that a private firm roped in for solid waste management activities in all the 60 wards will commence work from October 1. But, the details were not shared with us so far, they claimed. The officials had even conducted meetings with staff in their wards without informing them.
Corporation Commissioner P. Janaki Raveendran said the firm is yet to commence its work in the wards and the firm's functioning, work force, wages, vehicle requirements, garbage collection and other details are being studied.
The AIADMK councillors pointed out that their request to install street lights, re-lay roads and other civic issues, when taken up with officials, are not given importance. Our requests have not been fulfilled so far, they added. The councillors said that works were not carried out in their wards and the contractor claims that funds were not allotted. We were not informed of any work and how can we solve peoples' problems, they questioned. Issues related to drinking water supply were also taken up during the meeting.
More Related News
CWI withdraws Dominica as co-host of T20 World Cup due to delay in venue upgrades. CWI understands govt's decision & looks forward to working with them in future. Contingency plans ready; tournament schedule expected soon.
Check out the new adventure zones in and around Visakhapatnam
Someone in China created thousands of fake Meta social media accounts designed to appear to be from Americans and used them to spread polarising political content.
Climate change has been one of the biggest threats of this era posing major challenges to food and water security to not just human beings, but all species. But can science and technology address some of these issues, if not all, and offer a glimmer of hope of a sustainable future? Experts say yes.
India, Australia, U.K. co-hosted 1st Indo-Pacific Conf. in London to address security issues, build resilience & enhance stability. High Commissions of India & Australia welcomed U.K.'s interest in the region. India's High Commissioner rejected allegations of govt. killing separatists & U.S. prosecutors unveiled charges against Indian national in attempted murder-for-hire case. High Commissioner & Australian High Commissioner agreed to allow investigation results to be brought forward.
The workshop is tailored for a diverse audience, beckoning those eager to adopt a millet diet, individuals seeking a healthier way of life, and those grappling with lifestyle disorders.
Top news developments from Telangana today, December 1, 2023
Taslima Nasrin's novel Lajja brought her fame, a fatwa, and exile. Her works have been banned and fatwas renewed, and her views on patriarchy, gender injustice, and sexual freedom have caused controversy. Her new poetry collection Burning Roses in My Garden comprises poems that range in topic from love to language, country, and humanity. Nasrin's voice is soft, wistful, and reflective, and her blend of ideology and sensitivity is unique.
.Varavara Rao allowed to travel to Hyderabad for cataract surgery: NIA court permits activist to travel Dec 5-11; must report to NIA Dec 4 and provide details of journey. Court warns against misuse of liberty.