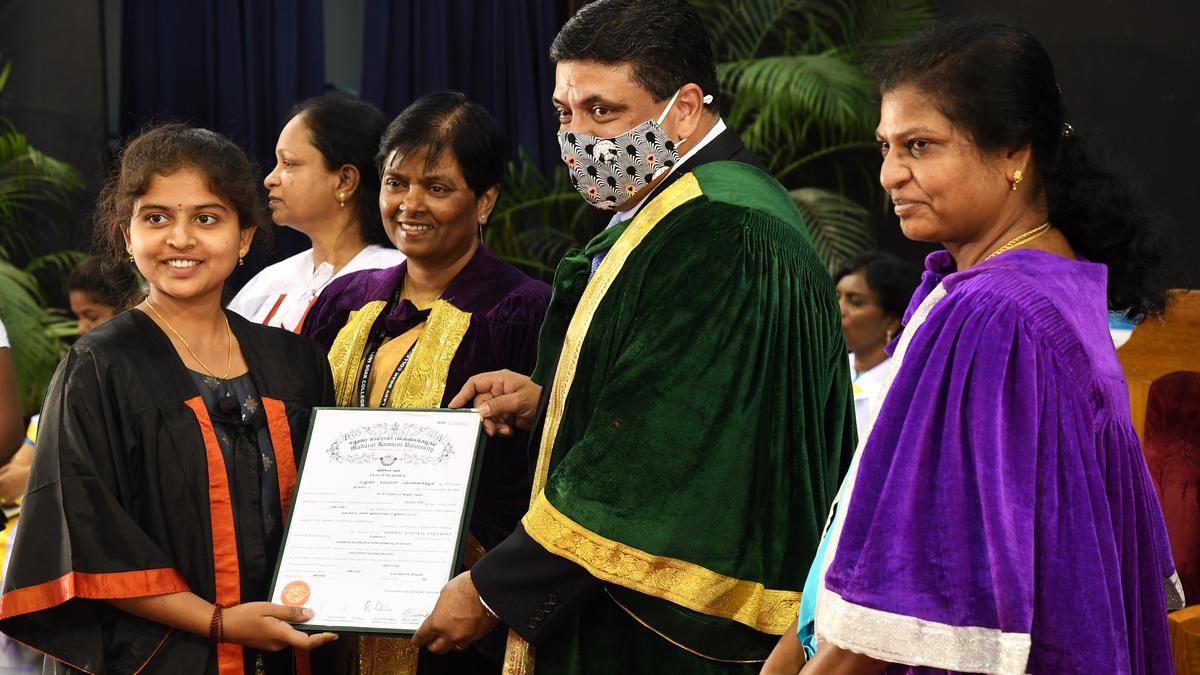 Ensuring education, equality for women marks society's progress, says Finance Minister
The Hindu
MADURAI Education and equal opportunities for women are the core of Dravidian philosophy and are at
MADURAI Education and equal opportunities for women are the core of Dravidian philosophy and are at the heart of a society's progress across the globe, said Minister for Finance and Human Resource Management Palanivel Thiaga Rajan on Saturday.
He was speaking at the 56th graduation day ceremony of Lady Doak College. Principal and Secretary Christianna Singh declared the graduation day open and presented the annual report.
The Minister said that any developed economy that has a high standard of living is marked by the high number of opportunities given for womenfolk in every field.
"We need a lot more women involved in public life. Despite leadership posts being reserved for women, they often act as a vehicle to the ambition of their spouses. But over time, they would grow into the role as they sit in the Constitution seat just like many women have carved a place for themselves in the past," he added.
Mr. Rajan recalled the contribution of many American missionaries to the education and public health sectors of the country, especially Katie Wilcox, founder of the college.
"Life is a journey of discovery of oneself, accepting who we are, and it is our duty to find that path and the occupation that gives full meaning to our life, and also contribute to the society's welfare," he said.
The Minister added that the key to long-term success is to mark uncertainty as a state of being and still be ambitious to realise one's dreams. He encouraged the students to continue to engage in an active role in the society and contribute to the development of the State.
More Related News
Andhra University Vice-Chancellor P.V.G.D. Prasad Reddy flagged off the Mobile Air Pollution Monitoring Facility (MAPMF) at the Department of Meteorology and Oceanography on the university campus in Visakhapatnam on Friday
The National Investigation Agency (NIA) has seized more than ₹7.80 lakh in cash and a vehicle as "proceeds of terrorism" in a case related to the recovery of arms and explosives, smuggled from Pakistan
The Greater Chennai Corporation registered a steep increase in property tax collection on March 31, with collection touching ₹50 crore for the first time on a single day
Posters and hoarding mocking 'turmeric board' appear in Nizamabad
Residents of Sinkukandam and 301 Colony, near Chinnakanal, in Idukki launched a day and night protest at Sinkukandam on Friday morning demanding that the High Court-appointed committee should hear them before submitting its report to the court on April 5.
Police reportedly asked Enforcement Directorate officials to approach the Chief Secretary to probe money laundering angle in the leak of question papers of TSPSC examinations
Assam Chief Minister Himanta Biswa Sarma on March 31 threatened to sue his Delhi counterpart Arvind Kejriwal, while slamming Congress leader Rahul Gandhi for being "morally corrupt".
Qualcomm India will support the initiative under its CSR programmes, prototyping centre T-Works said on Friday, announcing the signing of a grant agreement with the tech company for the PCB fabrication facility.
Some parts of Tamil Nadu may receive light to moderate rain till Tuesday. Chennai is expected to get light rain on April 2
Suspended YSR Congress Party (YSRCP) MLA Kotamreddy Sridhar Reddy has condemned the attack on Bharatiya Janata Party (BJP) national secretary Y. Satya Kumar's convoy, alleging involvement of the ruling party in the incident. ''It was a providential escape for me too. I escaped an attack by a violent mob. My car driver took another route to Nellore after seeing the mob. Democracy is under threat under the YSRCP rule," said the suspended MLA.
The tweets flagged by the government also include older posts related to anti-minority speeches made by political leaders