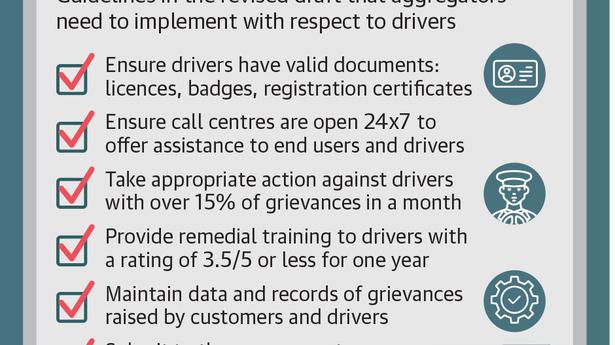 Drivers' unions seek welfare benefits in draft aggregator scheme
The Hindu
Capping of commission, health insurance part of Centre's guidelines, but missing in Delhi govt.'s draft, they say
Drivers' unions in the Capital have expressed disappointment at the Delhi government's failure to include their suggestions seeking welfare benefits in the revised draft of its Motor Vehicle Aggregator Scheme, 2022, which was released last month.
The Indian Federation of App-Based Transport Workers (IFAT), an umbrella organisation of app-based drivers' unions, said it had sent its list of suggestions to the government in a letter dated June 8 after feedback was sought on the scheme's first draft in January. Shaikh Salauddin, national general secretary of IFAT, said the suggestions included capping the commission charged by aggregators at 20%, providing all drivers health insurance of at least ₹5 lakh and accident insurance of at least ₹10 lakh, and giving subsidies to independent drivers and delivery riders making the switch to electric vehicles. With the government inviting public feedback on the revised draft till July 26, the IFAT sent its list of suggestions again on July 20. The IFAT pointed out to the Delhi Transport Department that measures such as capping of commission and providing insurance were already included in the Motor Vehicle Aggregator Guidelines issued by the Union Ministry of Road Transport and Highways in 2020. The Centre's guidelines were issued under Section 93 (licensing of vehicle aggregators) of the Motor Vehicles Act, 1988. "We urged the Delhi government to include these measures in its scheme as they are already a part of the Centre's guidelines," Mr. Salauddin said.
However, the Delhi government has framed its scheme under Section 67(3) of the Motor Vehicles Act, under which no specific master guidelines have been issued for aggregators. A senior official in the Transport Department said the scheme was supposed to be issued under Section 67 and the Centre's master guidelines under Section 93 can be customised based on the specific needs of States and Union Territories. "We have added several measures that were not a part of the master guidelines. For example, the electric vehicle targets for aggregators," Delhi Transport Commissioner Ashish Kundra told The Hindu. The master guidelines specifically exempt e-vehicles and vehicles running on ethanol and methanol from requisites such as obtaining a permit. The Delhi government's draft, however, has set e-vehicle targets for aggregators and imposed penalties, including suspension of licence, for not meeting targets.
On the absence of welfare measures for drivers in the latest draft, a senior official said they were left out as the Centre is framing a social security plan for all gig workers. "There is no point adding these measures now if they end up overlapping with the Centre's plans," the official said. However, Mr. Kundra did not rule out further changes to the revised draft. "The scheme is still open to suggestions and can be amended accordingly in subsequent drafts," he said.
More Related News
Audi has opened bookings for the new Q3, which is likely to be launched in India next month. Custome
Decisions would be taken for making better arrangements for pilgrims after talks with religious leaders, says CM Gehlot.
Djokovic also not expected to be able to enter U.S. Open
Train witnesses overwhelming response with an average occupancy of 63%
The West Indies managed only 125/9 in reply of Kiwi's mammoth total of 215/5
Raju Srivastava was admitted to the hospital after suffering a heart attack on August 10, 2022
The court found Google misled some customers about personal location data collected through their Android mobile devices between January 2017 and December 2018.
Delhi flood control room said the water level breached the danger mark and reached 205.99 metres on August 13 morning
C.P. Muhammad Niyas, Judge, Kerala High Court, will inaugurate the programme at M.K. Damodaran Hall near the Kerala High court