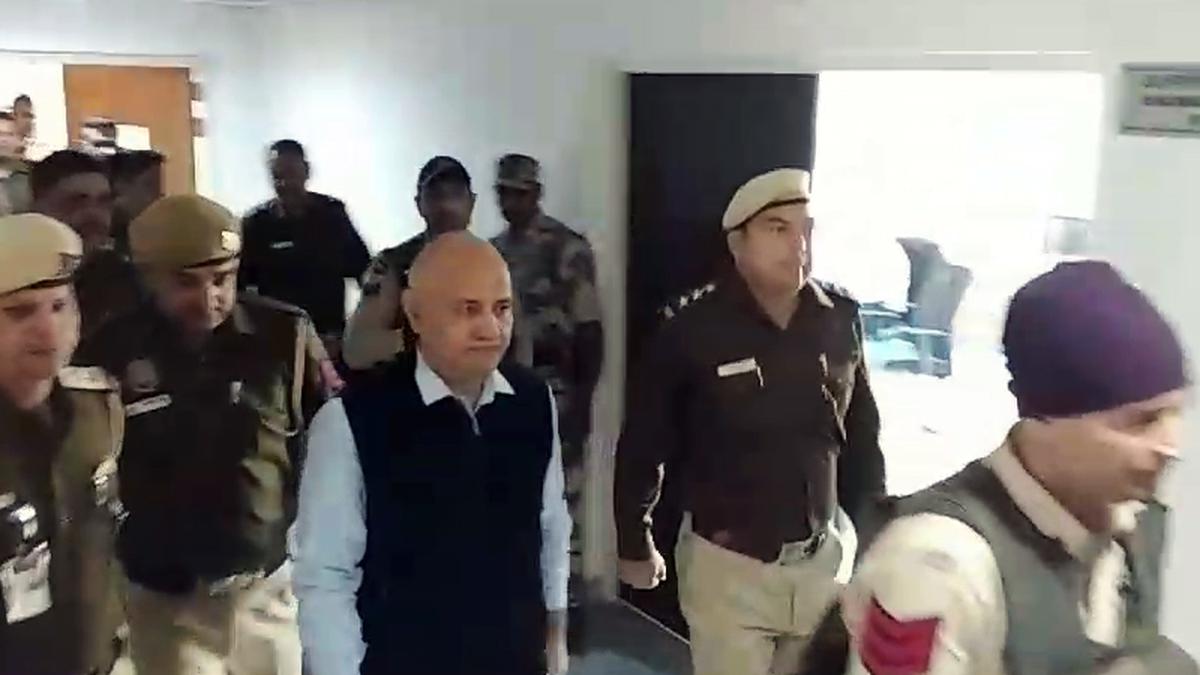 Delhi Excise Policy: Court extends judicial custody of Manish Sisodia till December 11
The Hindu
Delhi Excise Policy: The Rouse Avenue court extended till December 11, the judicial custody of former Delhi Deputy Chief Minister Manish Sisodia.
The Rouse Avenue court on Tuesday extended till December 11, the judicial custody of former Delhi Deputy Chief Minister Manish Sisodia in connection with an alleged excise policy scam. Hearing the matter at length the court noted that several documents are yet to be filed by the Enforcement Directorate for the accused persons.
Meanwhile, the court expressed displeasure with the lawyers to complete the Section 207 of the Code of Criminal Procedure (CrPC) compliance as soon as possible so that the trial could start of the matter.
In February 2023, Mr. Sisodia was arrested by CBI for alleged irregularities in the framing and implementation of Delhi's new excise policy. The policy was withdrawn amid allegations of foul play by the Opposition. Mr. Sisodia is currently in judicial custody.
According to the CBI, Mr. Sisodia had played the most important and vital role in the criminal conspiracy, and he had been deeply involved in the formulation as well as the implementation of the said policy to ensure the achievement of the objectives of the said conspiracy.
However, the court also issued notice to the ED and fixed for hearing the arguments on November 24, on the interim bail plea of Benoy Babu. Benoy worked as a general manager with a liquor company and was arrested by ED in November, last year.
More Related News
PM Modi calls for climate financing, tech transfer to developing countries. India, UAE join forces to shape greener future, advancing global discourse on climate action. India-UAE ties span entire energy spectrum, focus on sustainability. Nations must ensure development priorities of Global South not compromised. COP28 to bring fresh impetus to effective climate action, international cooperation.
A UN FAO report has revealed a staggering hidden cost of agrifood systems surpassing $10 trillion. In India, this manifests as poverty, environmental harm, and health-related issues. To transform these systems, multi-cropping systems can protect farmers, improve nutrition, and positively impact ecology. India's Green Revolution led to monoculture, undermining seed sovereignty, nutrition, and ecology. Privatisation and deregulation increased debt and made farming unviable. Diversified multi-cropping systems rooted in agroecology principles can revitalise land and soil, improve nutrition, and sustain farmer incomes.
CWI withdraws Dominica as co-host of T20 World Cup due to delay in venue upgrades. CWI understands govt's decision & looks forward to working with them in future. Contingency plans ready; tournament schedule expected soon.
Check out the new adventure zones in and around Visakhapatnam
Someone in China created thousands of fake Meta social media accounts designed to appear to be from Americans and used them to spread polarising political content.
Climate change has been one of the biggest threats of this era posing major challenges to food and water security to not just human beings, but all species. But can science and technology address some of these issues, if not all, and offer a glimmer of hope of a sustainable future? Experts say yes.
India, Australia, U.K. co-hosted 1st Indo-Pacific Conf. in London to address security issues, build resilience & enhance stability. High Commissions of India & Australia welcomed U.K.'s interest in the region. India's High Commissioner rejected allegations of govt. killing separatists & U.S. prosecutors unveiled charges against Indian national in attempted murder-for-hire case. High Commissioner & Australian High Commissioner agreed to allow investigation results to be brought forward.
The workshop is tailored for a diverse audience, beckoning those eager to adopt a millet diet, individuals seeking a healthier way of life, and those grappling with lifestyle disorders.
Top news developments from Telangana today, December 1, 2023
Taslima Nasrin's novel Lajja brought her fame, a fatwa, and exile. Her works have been banned and fatwas renewed, and her views on patriarchy, gender injustice, and sexual freedom have caused controversy. Her new poetry collection Burning Roses in My Garden comprises poems that range in topic from love to language, country, and humanity. Nasrin's voice is soft, wistful, and reflective, and her blend of ideology and sensitivity is unique.