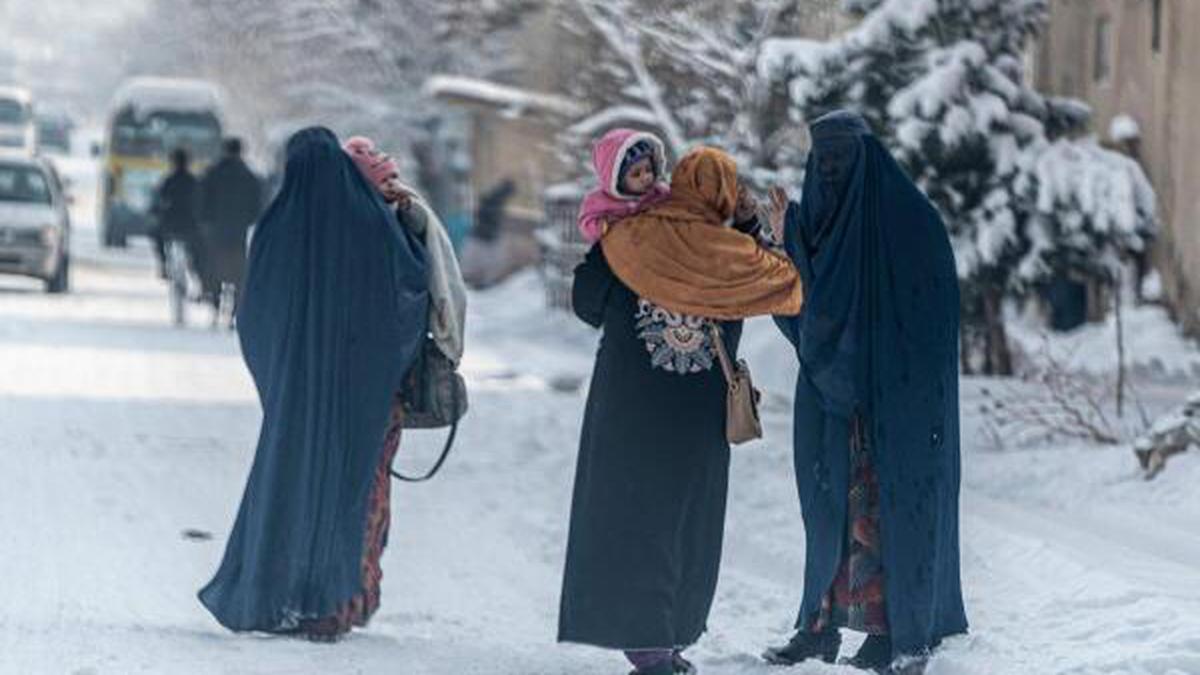 Death toll in Afghanistan cold snap rises to 166, official says
The Hindu
Afghanistan is enduring its second winter since U.S.-backed forces withdrew and the Islamist Taliban surged back into Kabul to reclaim government.
At least 166 people have died in a wave of bitterly cold weather sweeping Afghanistan, an official said Saturday, as extreme conditions heaped misery on the poverty-stricken nation.
Afghanistan has been frozen by temperatures as low as -33 degrees Celsius (-27 degrees Fahrenheit) since January 10, combined with widespread snowfall, icy gales and regular electricity outages.
Aid agencies had warned before the cold snap that more than half of Afghanistan's 38 million people were facing hunger, while nearly four million children were suffering from malnutrition.
The disaster management ministry said on Saturday the death toll had risen by 88 over the past week and now stood at 166, based on data from 24 of the nation's 34 provinces.
The deaths were caused by floods, fires and leaks from gas heaters that Afghan families use to heat their homes, ministry official Abdul Rahman Zahid said in a video statement.
Some 100 homes were destroyed or damaged and nearly 80,000 livestock, a vital commodity for Afghanistan's poor, also died in the cold.
The World Health Organization (WHO) said this week 17 people had died in a single village in northeastern Badakhshan province due to an outbreak of "acute respiratory infection".
More Related News
Suspended YSR Congress Party (YSRCP) MLA Kotamreddy Sridhar Reddy has condemned the attack on Bharatiya Janata Party (BJP) national secretary Y. Satya Kumar's convoy, alleging involvement of the ruling party in the incident. ''It was a providential escape for me too. I escaped an attack by a violent mob. My car driver took another route to Nellore after seeing the mob. Democracy is under threat under the YSRCP rule," said the suspended MLA.
The tweets flagged by the government also include older posts related to anti-minority speeches made by political leaders
Presenting her second budget, Madurai Mayor Indrani Ponvasanth said under the able leadership of Chief Minister M.K. Stalin, Madurai would be given a facelift in all spheres. While heritage buildings, parks and monuments would be preserved, growth and development suited to the modern times would be implemented in all aspects, she said.
With focus on priority areas of emerging economies, plenary sessions of the second Sherpas' meeting under India's G20 presidency begins in Kumarakom.
While the toll charges for a single way journey on the expressway for cars was ₹135, it will be increased to ₹165 and for a return journey on the same day, the charges will jump from ₹205 to ₹250.
"Most of Shaista Parveen's family members are in jail or absconding."
Gujarat Titans skipper Hardik Pandya won the toss and elected to field against Chennai Super Kings in the Indian Premier League opener in Ahmedabad on March 31.
Information and Public Relations Minister Ch. Venu Gopala Krishna on Friday appealed to the rural reporters to enroll in the Diploma in Journalism course being offered by the C. Raghavachari Andhra Pradesh Press Academy (APPA)
A cardiac patient, Udayagiri MLA Mekapati Chandrasekhar Reddy had earlier undergone treatment for the same in Chennai and Bengaluru
The victim reached home and reported the incident to her mother, with whose help she got treated at a hospital.
In the midst of a heated debate surrounding the legacy of Hindu ideologist Vinayak Damodar Savarkar, Maharashtra Minister Mangal Prabhat Lodha has announced plans to celebrate 'Swatantraveer Savarkar Vichar Jagran Saptaha', across the State.