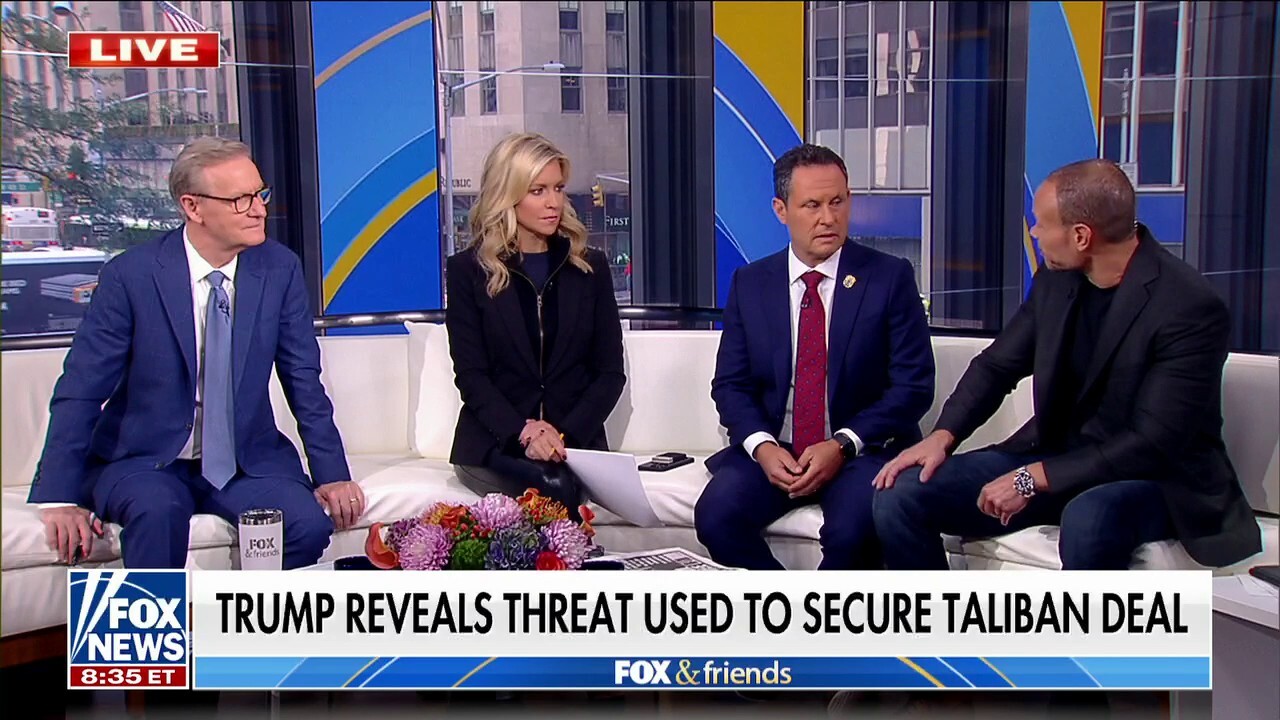 Dan Bongino tells 'Fox & Friends' why Trump's 'madman theory' in foreign policy was successful
Fox News
"Unfiltered" host Dan Bongino joined "Fox & Friends" Friday to discuss Trump's foreign policy and the "madman theory" of dealing with adversaries.
DAN BONGINO: This goes back to what they call the 'madman theory' of geopolitics. It's a real thing. You can look it up. I'm not just being silly about it. And the theory is that you have to be strategically ambiguous so that nobody knows what you're going to do. So they remain frightened. How crazy is that? How exactly? And it's why Kim Jong-Un know this little slob has managed to stay in power, and his family, for decades now because they have no economy, they have nothing. Everybody's afraid he's going to launch a nuke. Well, no sane person would do that. But the catch is, is he sane? So I think what Trump had over Biden is people really thought, for better or for worse, like, gosh, this guy could be crazy enough to really take me out. … Nobody thought he'd move embassies to Jerusalem either, and he just did it.
WATCH TRUMP'S SITDOWN WITH HANNITY:
More Related News
Philadelphia is banning guns at the city's recreational facilities, which have seen 300 gun violence incidents since 2019, officials said Tuesday.
Sen. Ted Cruz discusses how the Biden administration is being "racist" by not doing anything to remedy the situation at the border on "Jesse Watters Primetime."
Fox News host Tucker Carlson reacts to the gas leaks from the Nord Stream pipelines and analyzes what may have caused the incident on Tuesday's "Tucker Carlson Tonight."
GOP Sen. John Kennedy offers some Pelican State wisdom on "Jesse Watters Primetime" about what's really behind the crime surge in major cities across America.
An El Paso woman and a 15-year-old juvenile were arrested Monday in connection with a traffic stop earlier this month where authorities discovered a kidnapped infant.
A New York man has pleaded guilty to obstruction of justice and illegal possession of a weapon after he was found guilty of attempted kidnapping and trafficking.
Republican Gov. Brian Kemp of Georgia says he strongly supports the Atlanta Braves keeping their name. Kemp teamed up with Virginia Gov. Glenn Youngkin at a re-election rally
Former Secretary of State Mike Pompeo says he has a new mission – to battle what he terms is "a woke military," as the West Point graduate launches a campaign
The US Army fired Javeline anti-tank missiles from seven-ton robots during a series of war preparations at a recent exhibition in Fort Worth, Texas
Fox News host Jesse Watters shreds the Democratic Party over their handling of the crisis at the southern border on "Jesse Watters Primetime."
The "Special Report" All-Star panel offered predictions on the political implications of the national crime wave and sounded off on the government spending bill.