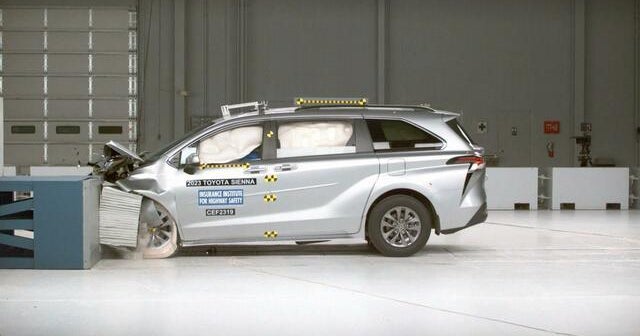 Crash tests show some 2023 minivans may be unsafe for back-seat passengers
CBSN
A series of crash tests conducted by the Insurance Institute for Highway Safety (IIHS) is raising concerns about the safety of 2023 models of four popular minivans: the Honda Odyssey, Toyota Sienna, Chrysler Pacifica and Kia Carnival.
The study by the nonprofit organization found that none of the minivans tested received an "acceptable" or "good" safety rating, a red flag for anyone considering driving or purchasing one of the vehicles. The IIHS focused on how back-seat passengers fare in a head-on collision.
While all the minivans performed well in protecting front-seat passengers, the results were significantly less favorable for the test dummy in the back seat that was the size of a 12-year-old.
More Related News
In an exclusive interview with "CBS Mornings," YouTube CEO Neal Mohan defended the platform's recent decision to suspend monetization of comedian Russell Brand's channel following sexual assault and emotional abuse allegations against him.
If you want to watch Amazon Prime Video shows and movies without advertisements, the service is about to get more expensive — about $3 more per month, or $36 a year.
In a new "CBS Mornings" series, lead national correspondent David Begnaud was surprised with a last-minute plane ticket, embarking on a challenge to find a story within 48 hours of arriving at his destination. "The Amazing Race of Storytelling" began in Savannah, Georgia, where he met Wilbert Boyce.
Washington — Democratic Sen. Robert Menendez of New Jersey and his wife have been indicted by a federal grand jury, according to court filings unsealed Friday.
The bears are back – bigger, hungrier and hopefully, fatter than ever. Fat Bear Week will soon launch at Katmai National Park and Preserve in Alaska, bringing some of the park's most beloved bears to the spotlight to eat their way to get the crown for fattest bear before it's time to hibernate for the winter.
A Louisiana fugitive who has been on the run for 32 years was finally captured in Mexico this week — and video released by the FBI shows him laughing as he's being handcuffed.
A Kansas man has been charged with two counts of murder after detectives in a newly formed cold case unit connected him to the deaths of two women nearly three decades ago.
North Charleston, S.C. — A military pilot whose advanced fighter jet went temporarily missing over the weekend is heard repeatedly requesting an ambulance in a perplexing 911 call from the South Carolina home where he had parachuted to safety, according to an audio recording released Thursday to The Associated Press.
Washington — A State Department IT contractor was charged with espionage after investigators alleged he sent classified documents from sensitive federal systems to foreign government contacts — and likely gave those contacts access to his U.S. government account, the Justice Department announced Thursday.
Salton City, California — Damien Lopez, age 4, has symptoms that many people who live near Southern California's Salton Sea also have.
Actor Matt Walsh has decided to take a pause from participating in the latest season of "Dancing with the Stars" due to the ongoing writer's strike.