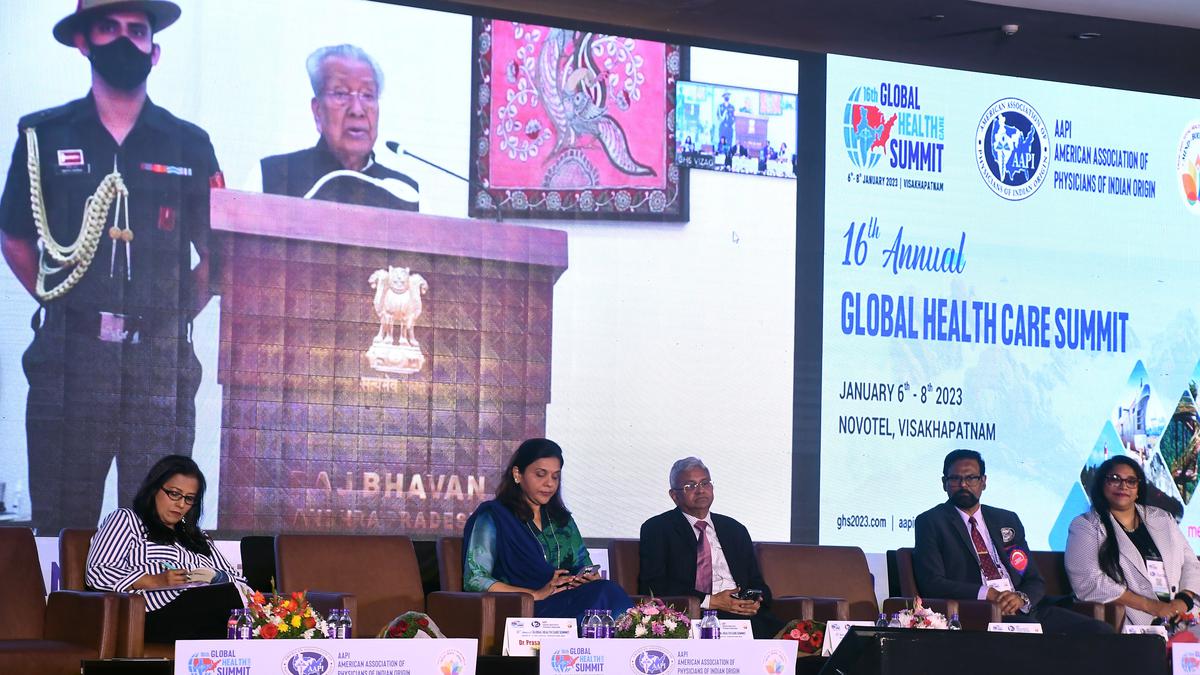 Cooperate with govts. in disease prevention, Andhra Pradesh, TS Governors urge corporate companies
The Hindu
Visakhapatnam
Visakhapatnam
Governors of Telugu States – Biswabhushan Harichandan from Andhra Pradesh and Tamilisai Soundararajan from Telangana – emphasised the need for corporate companies to collaborate with the State and the Central governments in disease prevention as a social responsibility.
Addressing the delegates of the 16th Global Health Summit virtually on the second day here on Saturday, Mr. Harichandan said that the Centre's Ayushman Bharat Yojana is providing quality health to the poor, but it should effectively reach children and women in particular in grass root level.
Ms. Tamilisai said that despite the improvement in health and infrastructure in the country, some women in the villages are still suffering from various conditions due to lack of medical help. Maternal mortality has also become a challenge for the government and other stakeholders, she said. Stakeholders should make extra efforts to reduce the mortality rate and ensure that medical assistance is provided to the tail-end areas in the villages, she added.
More Related News
Two persons drowned in Palar river during idol immersion in Tirupattur. Murali and Poovarasan, both from Natrampalli town, were part of 550 idols immersed as part of Vinayaka Chathurthi festival. Murali was pushed to centre of dam, Poovarasan jumped in to help but both drowned. Bodies retrieved and sent to hospital; case registered.
Hubballi's Ganesh festival ends peacefully with heavy police presence. Leaders led procession in open jeep, joined by youths, women & students. Procession moved at snail's pace, with DJ music & traditional drums. Idol immersed at artificial pond, traffic diverted as precaution. Festival ends on 28th.
The BJP has set an ambitious target of cobbling up 10 lakh people for PM Modi's address, said party insiders. With the mega event, it wants to showcase its strength ahead of the polls, they said.
TNUHDB MD P. Sankar urged officials to ensure Chief Minister M.K. Stalin's schemes reach people. He inspected various schemes, tasted food given to students, inspected Allikuttai lake renovation, visited Urban Primary Health Centre, and inspected Bodinaickenpatti lake renovation. He asked officials to ensure works are completed on time to benefit people..
Several localities in north Chennai have been suffering from inadequate electricity infrastructure when compared to southern areas for several years
Tirunelveli DM R. Selvaraj inspected dev. works in Valliyoor & Nanguneri panchayats. Bus stand, road, help desks, Mahalir Urimai Thogai scheme & underground drainage scheme in Tirunelveli Zone inspected. Collector & officials accompanied. Ensure all eligible women get ₹1,000/month.
A video Pariwar Foodexpress, the first train-themed restaurant at any railway station in Telangana
In Ranipet, four two-wheelers were destroyed in a fire caused by an electrical short circuit. Neighbours and G. Yuvaraj, a councillor, put out the fire and prevented it from spreading. CCTV footage showed no suspicious activity. Police are investigating further.
TNSTC has installed GPS-based kits in 80 'Red buses' to announce bus stops. The app LAMB will show origin, destination, route, location of buses, estimated time of arrival, and list of nearest bus stops.
: Papanasam Dam's water level on Thurs. was 64.50 ft (max 143 ft) with 520.75 cusecs inflow & 412.25 cusecs outflow. Manimuthar Dam's level was 44.80 ft (max 118 ft) with 20 cusecs inflow & 5 cusecs outflow.