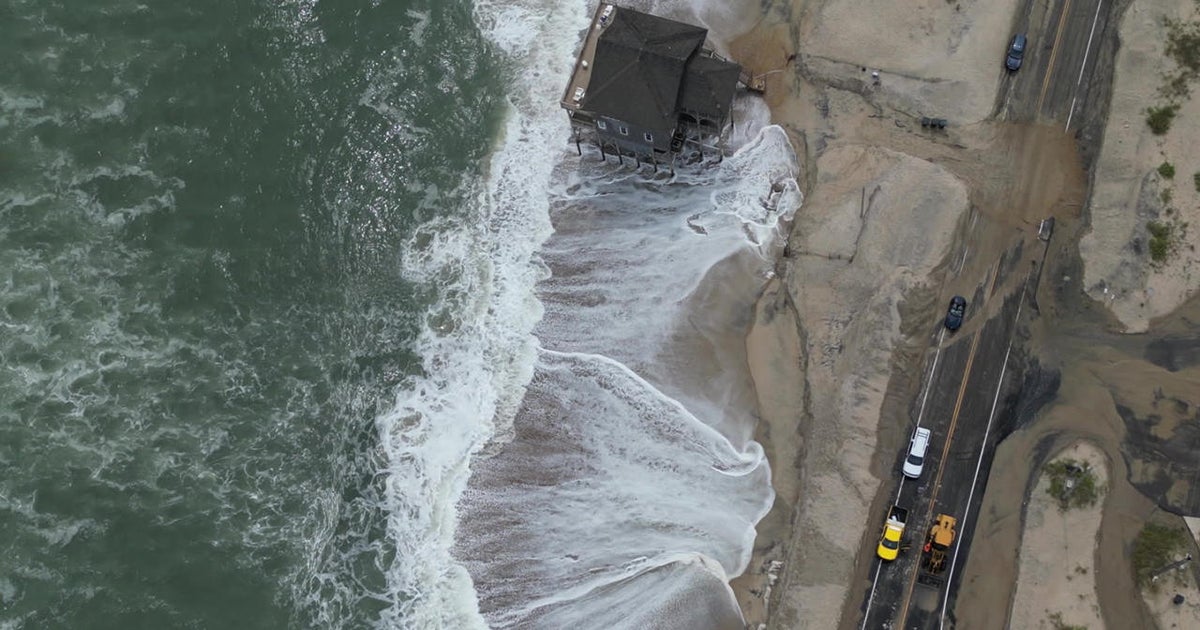 Coastal residents on climate change: "The ocean's coming for you"
CBSN
Thirty years ago Jim Hartshorne looked out at the endless expanse of blue water and decided North Carolina's Outer Banks felt like home. He said that back in 1993, sea level rise was not a concern. "I didn't think it would happen quite as quickly as what it did," he said. "I thought it wouldn't happen in my lifetime; I'd let the kids worry about it. But I've had to worry about it here the last ten years."
The ocean has become an increasingly greedy neighbor. Storms are more frequent, and more fierce. Parts of these Barrier Islands have retreated more than 200 feet in the last two decades. Some beaches are now losing about 13 feet a year, according to the National Park Service.
This past summer, video of the Atlantic claiming yet another beach house in Rodanthe, just up the road from Hartshorne, went viral on Twitter.
More Related News
After she was hired by the high-end Equinox gym in 2018, Röbynn Europe, a Black personal trainer, was quickly promoted to oversee a group of 15 employees. But soon, she alleges, a White employee created a "toxic atmosphere" by repeatedly making vulgar comments about Black women's bodies as well as objecting to her being his boss.
South Carolina's new law banning most abortions at around six weeks will not yet go into effect, after a judge temporarily halted its implementation, pending state Supreme Court review.
The number of Americans hospitalized with COVID-19 has fallen to a new record low nationwide, the Centers for Disease Control and Prevention reports.
When he was 17 years old and in his senior year at a Denver high school, Otis Taylor was told to "cut your hair or leave." So, Taylor left — and became a renowned blues artist. Now, more than half a century later, he finally got his long-awaited diploma.
Washington — Indiana's medical licensing board on Thursday issued a letter of reprimand and levied a fine against the obstetrician-gynecologist who provided an abortion to a 10-year-old rape victim from Ohio. The board concluded that Dr. Caitlin Bernard violated patient privacy laws when she discussed the procedure with a reporter.
Many people know actor Cole Hauser for his role as the ruthless and loyal Rip Wheeler on the hit series "Yellowstone" on Paramount, the parent company of CBS.
In a stark reminder of the growing threat of financial scams, Deborah Moss, owner of a small catering business, found herself ensnared in a sophisticated bank scam that started with a seemingly harmless text message.
Mark Patrick Taylor is Chief Environmental Scientist, EPA Victoria, and Honorary Professor, Macquarie University. Gabriel Filippelli is Chancellor's Professor of Earth Sciences and Executive Director, Indiana University Environmental Resilience Institute, IUPUI.
San Diego — A Southwest Airlines pilot had to take an unusual route to get onto a plane just before a flight to Sacramento from San Diego Wednesday, CBS Sacramento's Bradley Halbleib reports: He had to climb through the cockpit window.
One of the few adult mountain lions in California's Santa Monica Mountains has given birth to a litter of all-female kittens. And on Thursday, the National Parks Service unveiled photos of the adorable litter for the first time.
Although inflation has steadily cooled since peaking in June of last year, electricity costs continue to heat up.