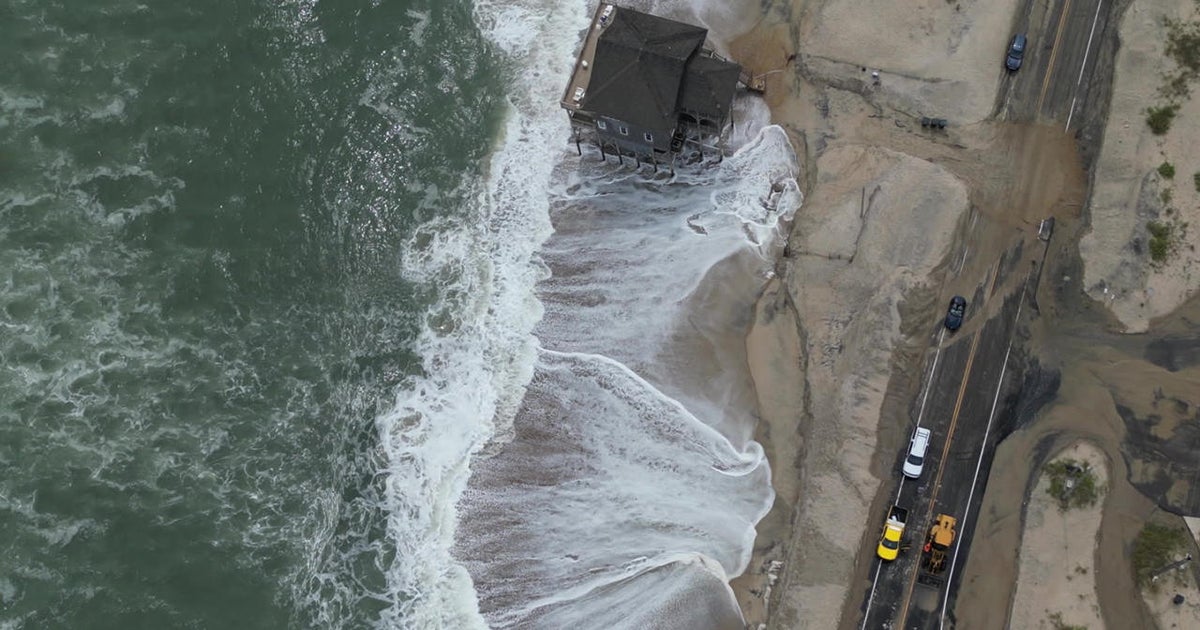 Coastal residents on climate change: "The ocean's coming for you"
CBSN
Thirty years ago Jim Hartshorne looked out at the endless expanse of blue water and decided North Carolina's Outer Banks felt like home. He said that back in 1993, sea level rise was not a concern. "I didn't think it would happen quite as quickly as what it did," he said. "I thought it wouldn't happen in my lifetime; I'd let the kids worry about it. But I've had to worry about it here the last ten years."
The ocean has become an increasingly greedy neighbor. Storms are more frequent, and more fierce. Parts of these Barrier Islands have retreated more than 200 feet in the last two decades. Some beaches are now losing about 13 feet a year, according to the National Park Service.
This past summer, video of the Atlantic claiming yet another beach house in Rodanthe, just up the road from Hartshorne, went viral on Twitter.
More Related News
The man who police say deliberately drove his Tesla over a cliff with three other passengers has been charged with three counts of attempted murder, court documents showed. All four occupants managed to survive the 250-foot plunge off a cliff in San Mateo County, California.
Cindy Williams, who played Shirley opposite Penny Marshall's Laverne on the popular sitcom "Laverne & Shirley," has died. She was 75. Her death was confirmed by a family spokesperson, Liza Cranis, who said Williams "passed away peacefully after a short illness" on Wednesday, Jan. 25, in Los Angeles.
The White House is planning to end COVID-19 emergency declarations on May 11, the most public signal yet that the Biden administration now believes the worst of the pandemic is over, the White House announced Monday.
Video footage of the brutal police beating of Tyre Nichols has reignited the national conversation on policing in America, as well as brought increased scrutiny to specialized police units.
The Shelby County District Attorney's Office said Monday that more charges could be filed as part of the "ongoing investigation" into the death of Tyre Nichols, the Black man who died in Memphis three days after a traffic stop on Jan. 7.
The Virginia elementary school where a 6-year-old boy shot his teacher earlier this month reopened Monday with stepped-up security and a new administrator, as nervous parents and students expressed optimism about a return to the classroom.
LIV Golf, the fledgling professional golf tour backed by Saudi Arabia's sovereign wealth fund, plans to play three tournaments this year at golf clubs owned by the Trump Organization.
The Biden administration's backup plan for tackling student debt could cost twice as much as the government estimates, according to a new analysis. That projection comes as the White House's main debt-relief initiative — a program to forgive up to $20,000 in student loans per borrower — remains mired in legal limbo.
Washington – The Justice Department on Monday told the chairman of the House Judiciary Committee that it cannot comply with his requests for access to information related to the federal investigation into President Joe Biden's retention of classified documents from his time as vice president.
Embattled home goods retail chain Bed Bath & Beyond is closing 87 stores as its financial travails continue.
TikTok CEO Shou Zi Chew will testfy before the House Energy and Commerce Committee in March about the social media platform's consumer privacy and data security practices, its impact on kids and its relationship with the Chinese Communist Party, the committee announced in a news release Monday.