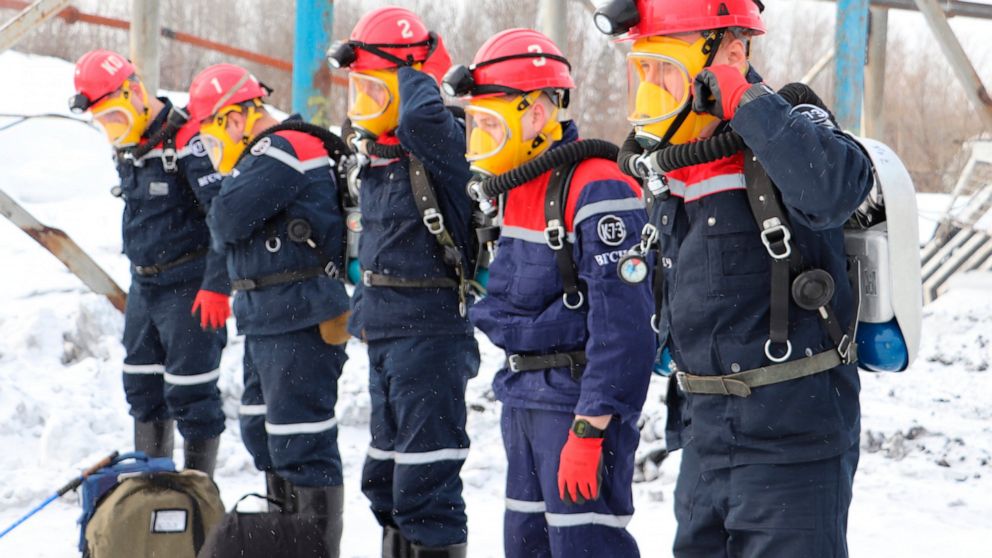 Coal mine fire in Russia's Siberia kills 11, dozens trapped
ABC News
Russian authorities say a fire at a coal mine in Siberia has killed 11 people and injured more than 40 others
MOSCOW -- A fire at a coal mine in Russia's Siberia killed 11 people and injured more than 40 others on Thursday, with dozens of others still trapped, authorities said.
The blaze took place in the Kemerovo region in southwestern Siberia. Russia's state Tass news agency reported, citing an unnamed emergency official, that coal dust caught fire, and that smoke quickly filled the Litsvyazhnaya mine through the ventilation system.
A total of 285 people were in the mine at the time of the incident — 239 of them have been evacuated and 46 other miners are still trapped underground, Kemerovo Governor Sergei Tsivilyov said on his page on the messaging app Telegram. "Forty-three people have been hospitalized with injuries, four of them in serious condition," Tsivilyov said.
Earlier Thursday, Russia's acting minister for emergency situations, Alexander Chupriyan, said 44 miners have been hospitalized with injuries. The difference in injury tolls reported by different officials couldn't be immediately reconciled.
More Related News
Asian stock markets are mixed after a turbulent day on Wall Street as traders tried to forecast the impact of the coronavirus's omicron variant
Organizers for GivingTuesday say American donors gave $2.7 billion during Tuesday's giving day
There's a new Silicon Valley corporate name change on the block
Airlines are being required to gather information about some passengers that will help with contact tracing if they develop COVID-19
Microsoft Corp. shareholders voted to force the company to more transparently address sexual harassment claims via independent investigations and public reporting.
The head of Visa says he believes the pandemic caused a permanent shift of how consumers choose to pay for goods and services away from cash and into payments
Scientists say it could be weeks before they better understand how dangerous the omicron variant is